Mutual Funds
ICICI Prudential Advisor Series - Dynamic Accrual Plan

31.85 0.00(0.00%)
Equities Indices
Nifty 50
10,195.15

10.2600 (-3.3%)

16-03-2018

12:00

Prev Close

10,360.15

Open

10,345.15

High

10,346.30

Low

10,180.25

Details
Equities
Asian Paints Ltd.(INE021A01026)
NSE: Asian Paints
BSE: 500820
Sector: Chemicals
NSE Mar 16 2018, 4:01


1,160.80 23.90(+3.90%)

BSE Mar 16 2018, 4:01


2,260.90 23.90(+3.90%)

View Details
About InvestOnline.in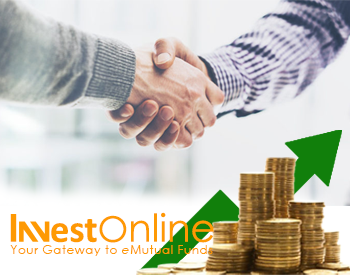 InvestOnline.in is the leading investment platform for Mutual Fund Investments. It was built on the idea of constant innovation for our clients. At InvestOnline, our clients come first. They are at the heart of everything we do, and they inspire us to set new benchmark in services and building wealth.
At InvestOnline, our clients are not just the numbers. Nothing is predefined. We strongly believe that each client is unique and strive to offer personalized solutions for every client. We work together with our clients and help them achieve ever-changing goals. Our dedicated Relationship Managers assist you in creating your personalized investment plan, at no cost.
We have developed state-of-the-art investment platform powered by latest technology that is unmatched in the industry. Our focus is customercentric, to deliver operational, delivery and service quality standards that help our clients to achieve complex financial goals.
At InvestOnline, our customers get access to various tools to manage their portfolio efficiently. Customers can transact in wide array of financial products such as mutual funds, PMS, Life and non-life insurance products, fixed income products like company fixed deposits. We strive to offer investment solutions that are hassle-free. InvestOnline offers convenience in transacting in the most simple, accurate and cost-effective manner.
InvestOnline is India's first feature-rich website backed by cutting edge technology. It offers a single gateway to access multiple mutual fund investments. The investor can purchase, redeem, switch and set-up SIP with no technical knowledge. Investonline simplifies the world of mutual fund investment.