Fund Manager
Mr. Pranay Sinha

Education: B.com Experience: 21 Years
Mutual Funds
ICICI Prudential Advisor Series - Dynamic Accrual Plan

31.85 0.00(0.00%)
Equities Indices
Nifty 50
10,195.15

10.2600 (-3.3%)

16-03-2018

12:00

Prev Close

10,360.15

Open

10,345.15

High

10,346.30

Low

10,180.25

Details
Equities
Asian Paints Ltd.(INE021A01026)
NSE: Asian Paints
BSE: 500820
Sector: Chemicals
NSE Mar 16 2018, 4:01


1,160.80 23.90(+3.90%)

BSE Mar 16 2018, 4:01


2,260.90 23.90(+3.90%)

View Details
Articles
logo come here
text will come here text will come here text will come here text will come here
Blogs

Research Guide for Mutual Fund Investment Research Guide for Mutual Fund Investment Research Guide for Mutual Fund Investment Research Guide for
February 28 - 2018
View All
Money Heart Beat

Research Guide for Mutual Fund Investment Research Guide for Mutual Fund Investment Research Guide for Mutual Fund Investment Research Guide for
February 28 - 2018
View All
Investment Pal
Authorised Participants
Mutual Fund units are issued to a few designated large participants called Authorised Participants (APs). The APs offer buy and sell quotes for the ETFs on the stock exchange, which enable investors to buy and sell the ETFs at any given point of time whenever the stock markets are open for trading.
Systematic Investment Plan
(SIP)
What is a systematic investment plan or SIP?
A systematic investment plan or SIP is a smart way to invest in mutual funds at regular intervals. SIP allows an individual to regularly invest a fixed sum of money in any mutual fund scheme. Through SIP, an individual can accomplish his financial goals and cultivate the habit of saving money. Under SIP, money can be invested in any mutual fund scheme on a quarterly, monthly or a weekly basis. As per the payment mode, a fixed sum of money is deducted from the investors' bank savings account.
How does SIP work?
A systematic investment plan is one of the most disciplined ways of investing in mutual funds to build a strong financial corpus for the future. Based on the ongoing market rate, an investor is allocated a pre-defined number of units which increases or decreases his fund value. Every time an investor pays the pre-determined SIP amount, additional units are purchased at the ongoing market rate and are added to the investor's fund. Investors benefit through the system of rupee-cost averaging and the power of compounding.
What is Rupee-Cost Averaging in SIP?
We all know that mutual fund market is volatile in nature. But when you opt for SIP, your money investment receives more units when the price is low and you get lesser units when the price is high. Thus, this averages out the purchase cost of your mutual funds. SIP helps you beat the market volatility as it helps you get average price per unit over time which determines your overall return.
What is the power of compounding?
The larger the tenure, the higher the value of the fund as life compound interest accumulates over the period of time. Due to the power of compounding, an early investor always accumulates more wealth than the one who comes in later.
Benefits of Investing in Systematic Investment Plans
Flexible plans:
SIP mutual funds are very flexible in nature as investors can easily decrease or increase the amount of money to be invested. Also, SIP plans can be discontinued at any point in time. SIP also offers flexible payment mode as investors can invest money in monthly, quarterly or weekly basis.
Lowest lockin period:
If you are looking to avail tax benefits, then investment in ELSS mutual funds can be done in SIPs. ELSS mutual funds have a lock-in period of 3 years compared to other tax saving schemes.
Good return rate in comparison to RD and FD:
In comparison to RD and FD, mutual funds allow you to beat market inflation in an efficient manner by giving you high returns.
Convenient:
Investing in SIP is convenient as you can issue standing instructions to your bank to automatically auto debit the sum of your investment.
Long-term gains:
With the power of compounding and rupee-cost averaging, SIPs offer long-term benefit by giving attractive returns.
Start with just Rs. 500:
You can start investing in mutual funds through SIP with an amount as low as Rs. 500. Such a small amount won't burden your pocket and would also provide you with attractive returns over the years.
How Should You Invest in Mutual Fund-SIP or Lump sum?
Very often first-time investors get confused whether to invest money on a lump sum or monthly basis.
So here is a table that will help you make the right decision
| SIP Invetsment | Lump sum investment |
| --- | --- |
| Investment can be made in quarterly, monthly or weekly basis | Investment is made one time |
| Gets you better returns during market lows | Gets you better returns during market high |
| Protects investors from market crash | Lump sum investments often lead to major loss of money during market crash |
How to Invest in SIP?
You can easily start investing in SIP with InvestOnline.in. But before you actually start investing your hard-earned money with SIP, it is important you decide on the following things:
Determine your financial goals: Every mutual fund scheme serves a specific goal and purpose. So before investing, set your financial goals and accordingly choose the fund that suits your requirement. Our financial experts specially handpick the mutual funds for you on the basis of your financial requirements and income details.
Set a timeline: Determine a period during which you would require funds. This will be your investment tenure and you will have to keep paying the money till the end.
Decide how much you can invest: Using InvestOnline's SIP calculator, figure out how much you can invest regularly to accomplish your set financial goals.
Consult a financial expert: Consult InvestOnline.in's financial experts to select the best mutual fund that suits your budget and requirement.
How to Start Investing in SIP with InvestOnline.in?
Now that you have set your financial goals and have calculated the sum of your SIP investment, here's how you can start investing in SIP mutual funds with InvestOnline.in:
Visit investonline.in
Click on mutual funds and select start investment
Choose the fund you would want to invest in and click on 'invest now'. You can also delegate the task of choosing the best mutual fund for you to the InvestOnline team
Add the selected mutual fund to the cart
Complete your KYC. To invest in mutual funds through InvestOnline.in it is mandatory to complete your KYC documentation and have a net banking account. You can easily upload your documents through our platform and there is no need of going through any cheque and form filling process
On completing the KYC, your SIP mutual fund investment would be processed and you would receive a confirmation purchase mail in your mailbox
FAQs on Systematic Investment Plan (SIP)
How much money do I need to start SIP?
You can start investing in mutual funds via SIP with an amount as low as Rs. 500.
What are the things to check while investing in mutual funds through SIP?
Always check the performance of the fund house, fund manager, risk parameters, charges and fees and the rankings of the fund.
Does SIP allow me to invest in all types of mutual funds?
Yes, with SIP you can invest in all types of mutual funds including debt funds, equity funds, hybrid funds and others.
Is it safe to invest in SIP?
Yes, it is safe to invest in SIP as you are investing your money in mutual fund schemes. However, the risk component varies depending on which fund you are investing in.
20 Years SIP Returns Calculator
DIY Systematic Date
We will populate the SIP transactions from your chosen start start date within the next 15 minutes. Future SIP transactions will be populated automatically on the transaction date.
Lightning SIP
Lightning Systematic Investment Plan (L-SIP). The market can never be timed! True, but then market does offer timely opportunities. However, the investor is never sure of market direction. To make the best of a unique market opportunity Investonline.in allows investors to make a lightning purchase of a large amount in the desired scheme and then create a SIP of a comfortable number to keep adding to the scheme.
Variable SIP
Align the wealth creation investment plan with a gradually rising investment pattern to fast-track wealth creation with our unique VARIABLE SIP. With rise in inflation year on year, investors miss out on periodically increasing their SIP investments too. This tool helps the investor to set up a gradual increase in the committed SIP amount after a fixed period.

Example: Investor sets up a SIP from May 01 for Rs. 5000/- At the same time can choose to increase future SIP investments after every quarter or half yearly or yearly by either a fixed amount, say Rs. 100/- or by a set percentage '%' increase, say 10%.

Mitigate the risk of rising inflation by choosing Variable SIP now for a faster wealth creation plan.
Proceed To Complete Registration
Feedback
Sir Winston Churchill had said "To IMPROVE is to CHANGE, to be PERFECT is to CHANGE OFTEN"

At InvestOnline we believe that there is always room for improvement; hence help us with your valuable feedback.
Thanks for your Valuable feedback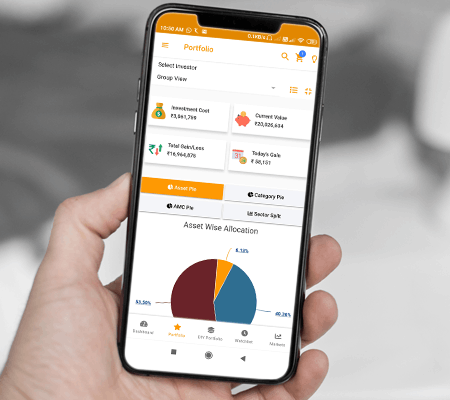 Welcome
Sign in to your account
benefits of registration
Family Login

Cart Purchase

DIY Portfolio

Choice of
50+ Banks

Financial Tools

Portfolio Reports
free instant registration
Already have an account? Login
Please Validate Your Mobile / Email
Customize Ticker
Track the movement of your favourite scrips without the hassle of refreshing the page! You may choose upto 10 securities of your choice to customise the ticker. Choose from BSE, NSE or Forex. The data will refresh automatically with the new rates every 3 minutes. You may choose to add/delete the securities as per your requirements.
Select Investment Type
Lumpsum
SIP
Successfully added to DIY Portfolio
Registration Successful
Congratulations, you have successfully registered.
Update Bank Details
Start Investing
Modal title
Could not auto fetch details
DIY Transaction Status
DIY Transaction Processed Successfully
Password Reset Email Sent
Scan to open on Mobile
PAN details
of
ACCEPT & PROCEED
Add Primary Bank details
of
Documents pending for uploading
You have not uploaded your PAN Card and Cheque leaf.
These documents are required for account activation and investments.