Mutual Funds
ICICI Prudential Advisor Series - Dynamic Accrual Plan

31.85 0.00(0.00%)
Equities Indices
Nifty 50
10,195.15

10.2600 (-3.3%)

16-03-2018

12:00

Prev Close

10,360.15

Open

10,345.15

High

10,346.30

Low

10,180.25

Details
Equities
Asian Paints Ltd.(INE021A01026)
NSE: Asian Paints
BSE: 500820
Sector: Chemicals
NSE Mar 16 2018, 4:01


1,160.80 23.90(+3.90%)

BSE Mar 16 2018, 4:01


2,260.90 23.90(+3.90%)

View Details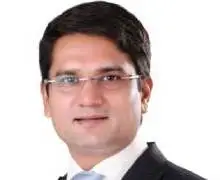 CEO'S DESK
Equity market continued to be volatile during July-Sept quarter...
Read More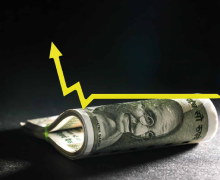 Cover Story
Soaring Inflation
What It Means For Central banks, The Economy and...
Read More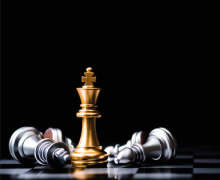 State Of States
Increasing Competitiveness To Boost Exports...
Read More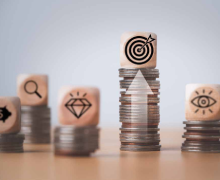 Ambitious Targets
How Indian Savings Can Help Achieve Its Ambitious Targets...
Read More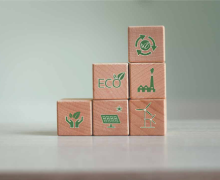 Changing Structure
Implications for Employment and Growth...
Read More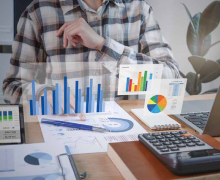 Corporate Performance
Hoping For Revival Despite The Mix Of Good, Bad and Ugly...
Read More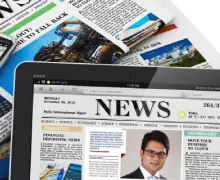 Media
InvestOnline strives to share knowledge and actionable...
Read More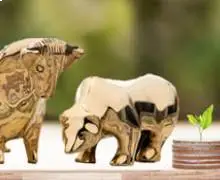 Market Update
Performance of Select Mutual Fund Schemes as on...
Read More
CEO's Desk
Dear Investors,
Equity market continued to be volatile during July-Sept quarter due to aggressive tightening of policy rates by US Fed and RBI. While both the key indices Nifty and Sensex reached close to their all-time high levels during the quarter, they headed downwards sharply over the last ten days of the quarter.
Both S&P BSE Sensex & CNX Nifty rose by 8% respectively during the July-September quarter. Mid and small-cap indices outperformed their large-cap peers with the S&P BSE Mid-cap and S&P BSE Small-cap indices gaining about 14% and 15% respectively during the quarter. Among sectoral indices BSE Consumer Durables and BSE Capital Goods were top performers while BSE IT and BSE BSE Oil & Gas were worst performers during the quarter.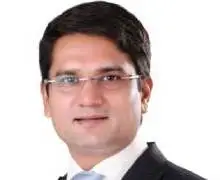 India's retail inflation, which is measured by the Consumer Price Index (CPI), spiked to 7.00 per cent in August, up from 6.71 per cent in July, snapping out of its three-month downward trend. With this, the CPI continued to remain above the Reserve Bank of India's (RBI) upper margin of 6 per cent for the eighth consecutive month.
The Monetary Policy Committee (MPC) of RBI has again hiked the repo rate by 50 basis points (bps) to 5.90 per cent on the last day of the quarter, following its earlier hikes. The MPC has raised the key interest rate by 190 bps so far in this financial year in a bid to check the raging inflation. However, despite the move, retail inflation continues to remain above the upper tolerance level.
India's factory output, which is measured in IIP witnessed a growth of 2.4 per cent YoY in July 2022, following an upwardly revised 12.7 percent rise in the previous month. It was the weakest increase in industrial activity since March, as mining output declined (-3.3 percent vs 7.8 percent in June).
The S&P Global India Services PMI increased to 57.2 in August 2022 from July's four-month low of 55.5, and above market consensus of 55. The latest reading was the 13th straight month of expansion in the sector, amid a faster rise in both output and new orders, while employment rose to the fastest pace in over 14 years.
The 10-year Government bond yield after peaking at 7.6% in June 2022 has ended the July-September quarter at 7.398%, down by 0.202 bps from the recent peak as there was renewed hope in the market that the inclusion of Indian bonds in global bond indices could bring billions of US Dollars into India. Indian Bonds are likely to get included in JP Morgan Bond Index - EM. This could bring in approximately USD 30 Billion flows next year. This news has kept Indian Bond yield in a narrow range despite rate hikes and increase in global bond yields.
India's GDP grew 13.5% growth in the April to June quarter of this year, due to low base effect. The central government's fiscal deficit touched 20.5% of the annual target in the four months through July 2022 as against 21.3% a year ago, reflecting improvement in public finances.
As we enter into third quarter of FY 2022-23, global central banks are in the mode of aggressively raising the interest rates. The US Federal Reserve has recently increased the interest rates again by 75-basis points. The Fed fund rate now stands at 3-3.25 per cent. It is expected that the aggressive rate hikes will continue for the rest of the year in spite of the US growth now being projected to slow down sharply as the ultimate goal of the Fed is to bring down inflation to their target two per cent level. The Federal Reserve forecasts the US economy to grow at a rate of just 0.2 per cent in 2022. This is sharply lower against the 1.7 per cent growth projected by the Fed in June this year.
The major three drivers of global growth - the US, Euro Zone, and China are all facing formidable headwinds and are slowing down. The relentless rise in the dollar index and US bond yields are roiling equity markets globally. Till the rate hike cycle continue to go on globally, global equity markets, including the Indian markets will remain volatile for the time being.
However, India is relatively better placed than the rest of world to face these headwinds as it does not face any risk of recession in near future. Although Indian market will not remain immune to the sell-off in global markets but it is likely to emerge as an 'oasis in the desert' as there are some distinct trends indicating India's resilience and potential to outperform. The 16 percent YoY growth in credit, at a 9-year high is indicative of an economy in sharp growth rebound. The corporate debt to GDP is at a 15-year low and the banking sector is in a sweet spot with improving asset quality and rising credit demand. The economy is on the verge of a capex. Capacity utilization in manufacturing at 75.3 percent is aiding the capex. Leading indicators like rising demand for capital goods reinforce this optimism. Pick-up in investment, both public and private, can trigger a virtuous cycle of growth.
Among the major risks for the markets are accelerated monetary tightening, sharp increase in US yields, spike in inflation and commodity prices, slowdown in China and FPIs outflows.
We feel that in such times of uncertainty and market volatility investors should be a bit cautious and stick to their investment plans as per their risk profile and asset allocation. We feel that this is not the time to be adventurous for the investors. Equity investors looking to invest lump sum need to follow a staggered approach and could invest around 10-15% on every 3-5% drop in the equity market. For debt fund investors, low duration funds and shorter duration funds should be the preferred option as the interest rates have still not peaked out.

Soaring Inflation: What It Means For Central banks, The Economy and The Consumers
At its off-cycle Monetary Policy Committee meeting on 04 May 2022, the RBI surprised the market with a 40-bps rate hike changing its policy stance and further hiking the rate in June 2022. As a result, the policy discourse has changed after COVID stuck year (FY2022).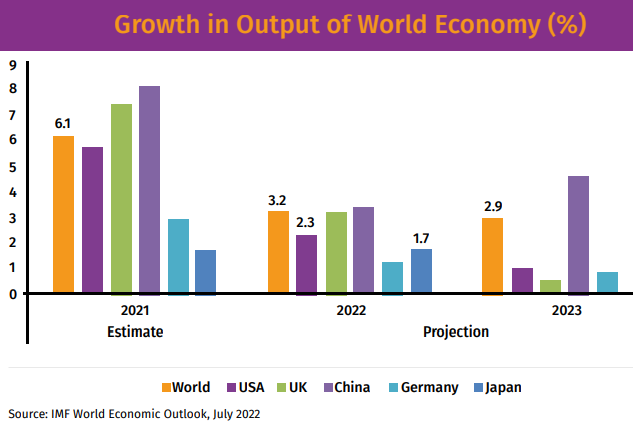 The inflation has worsened due to tensions between Ukraine and Russia. The scenario is same across the globe. As of June 2022, inflation in the U.S. was 9.1%, up from 8.3% in April 2022. There is a similar situation in almost every country with inflation rocketing to 9.4% in June 2022 in the United Kingdom. As a result, interest rates have been raised in many countries, including the U.S., the UK, India, and the Eurozone. Inflation, geopolitical tensions, and monetary tightening now threaten the world economy's recovery. U.S. GDP has already fallen by 1.6% in the first quarter of 2022.
In India, inflation breached the RBI's comfort zone in January 2022, reaching 7.79% in April 2022. The RBI raised the Repo rate in response to rising inflation and monetary tightening by other central banks. While geopolitical tensions have little impact on the economy with most high frequency indicators of demand in the green zone, the Indian economy may be affected by a combination of monetary and geopolitical forces in the coming months.
The Four Quarters of FY2022 -
Due to large monetary and fiscal policy supports and the vaccination drive, the global economy recovered from the COVID-19 pandemic. Nevertheless, the impact was palpable. The price of crude and base metals has increased, especially since the beginning of the year and Inflationary pressures caused supply constraints. Globally, the Delta variant of COVID-19 and sticky inflation contributed to uneven recovery in the first half of 2022.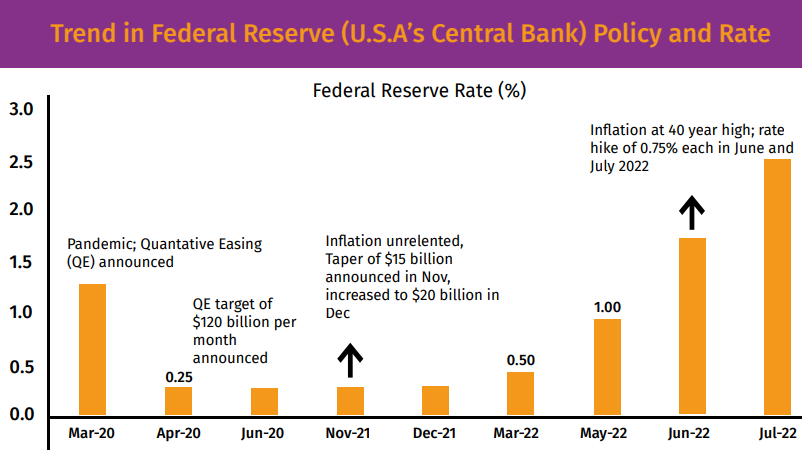 "While geopolitical tensions have little impact on the economy with most high frequency indicators of demand in the green zone, the Indian economy may be affected by a combination of monetary and geopolitical forces in the coming months."
The global economy had regained some traction after the shock of delta variant in the first half of 2021. Global economic prospects deteriorated significantly in the second half of 2021 and initial months of 2022 due to the new variant of COVID - Omicron, Ukrainian and Russian tensions, and the resulting sanctions. Global growth is expected to decline from 6.1% in 2021 to 3.2% in 2022 as a result of the shock of the war and monetary tightening, financial market volatility, pandemic and unequal vaccine access.
FY 2022 began on a positive note for India, with favourable macroeconomic shifts pointing towards a recovery in the economy and inflation returning to the RBI's comfort zone. In the aftermath of a very difficult FY 2021, which changed the world forever, people breathed a sigh of relief. In the last quarter of the FY 2021 and FY 2022, India turned the crisis into an opportunity and adopted the mantra of Aatmanirbhar which became the cornerstone of our growth strategy.
With the devastating second wave, FY2022 was something of a roller coaster. Most high frequency indicators showed COVID-19 causing havoc in April 2021 A reddish hue appeared during that month, which faded by June 2021. Despite GST e waybill generation slowdown in January 2022, the impact of Omicron variant was mild, as demonstrated by two-wheeler sales, tractor sales data. The outlook for FY 2023 is uncertain due to geopolitical tensions, inflation, and monetary tightening around the world.
The Global Factor -
A vaccination drive had brightened recovery prospects across the globe following a year of uncertainty surrounding the COVID-19 outbreak. In 2021, world output expanded by 5.9% after contracting by 3.1% in 2020.
Several countries have experienced longer-than-expected supply disruptions due to delta variant outbreaks. As a result, the supply chain was further stressed, leading to higher inflation around the world. Through 2021 and 2022, inflation in the USA exceeded the target level of 2%. In the Euro area as well as other countries around the world, the situation is pretty much the same.
The U.S. inflation rate spiked to 4.2% in April 2021, the highest since September 2008. Globally, this led to elevated inflation not just in the USA but across most countries, causing dilemmas among policy makers regarding the nature of inflation (transient or not) and the timing of reversing expansionary policies. Geopolitical tensions following the Omicron outbreak have further exacerbated inflationary pressures. The U.S. inflation rate reached 9.1% in June 2022, up from 5.4% in July 2021. Although policy makers around the globe have implemented expansive policies in order to assist economic recovery, persistent inflationary pressures have compelled them to propose policy normalization. As a result of the COVID pandemic, the Federal Reserve raised its benchmark interest rate by 25 basis points in March 2022, followed by 50 basis points in May 2022 and 75 basis points in June 2022.
Many central banks have hiked interest rates in recent years to tame inflation, including the Bank of England, which has done so five times in a row since December 2021. It is evident that the shock of the war, coupled with monetary tightening, financial market volatility, and the pandemic and unequal access to vaccines will have a lasting impact on the world economy.
Due to the increase in interest rates in the USA, the dollar has appreciated against all currencies except the Russian Rouble. The Dollar Index reached 100 in May 2022 and has been steadily increasing since then. As a result of this increase, inflation will be exported to other countries through the depreciation of their currencies. Rate hikes are expected to slow down economic recovery and have sparked fears of stagflation around the world. Over the next few months, these global factors will continue to have an impact on the Indian economy.
The Great Indian Rebound -
After contracting by 4.8% in FY 2021, the Indian economy rebounded by 8.1% in FY 2022. After the pandemic, the Indian economy recovered to its pre-pandemic level. It was mainly due to the concerted efforts of monetary and fiscal policymakers, with liquidity enhancement and Aatma Nirbhar reforms and package playing a significant role.
In comparison with other countries, India's response to the pandemic and lockdown was relatively light on fiscal measures.
During the first lockdown in 2020, the Government of India announced a package of 20 lakh crores to stimulate the economy. The government's policy response was to direct credit to small businesses and individuals and to boost capital expenditure. During a normal recession, policy's role is to raise aggregate demand and output consistent with full utilization of resources. In the event of a pandemic-induced recession, policy responses are dependent on the state of the public healthcare system. In an uncertain environment due to the virus, large cash transfers may not lead to a higher level of spending. If they do, supply chain disruptions can lead to inflation.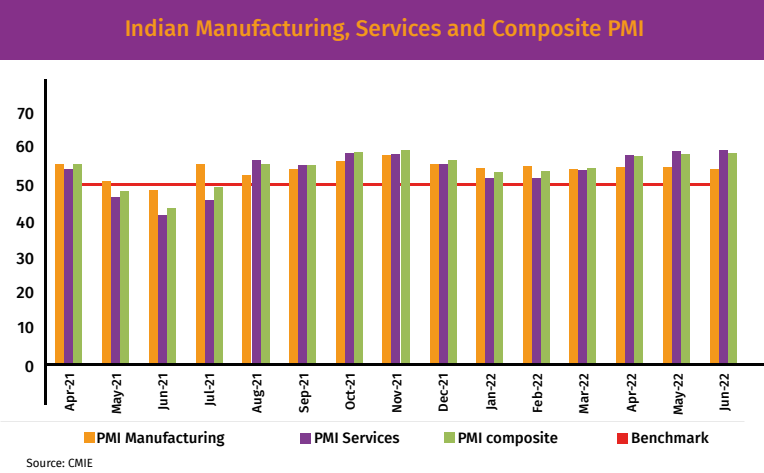 "During the first lockdown in 2020, the Government of India announced a package of 20 lakh crores to stimulate the economy. The government's policy response was to direct credit to small businesses and individuals and to boost capital expenditure."
There were a variety of sections included in the 'AatmaNirbharBharat' package, including migrant workers, the agriculture sector, micro, small and medium enterprises, and street vendors. It involved frontloading transfers to farmers and distributing free food grains. Production-linked incentives were subsequently implemented to boost India's manufacturing sector. India's economic recovery has relied heavily on this sector.
In April 2021, we witnessed the outbreak of the second wave of COVID-19 and its devastating impact on millions of lives and livelihoods. As a result of localised lockdowns and a higher vaccination rate in the country, the Indian economy maintained the growth momentum it had established in the last quarter of FY 2021, and GVA at basic prices increased by 18.1% in the first quarter of FY 2022. In the second and third quarters of FY 2022, the Indian economy gradually grew as the deadly Delta variant-induced second wave waned.
The highly transmissible Omicron variant led to an increase in COVID cases in the last quarter of FY 2022, but the mild nature of the disease and its sudden downturn did not adversely affect the economy. In terms of the impact of the war, the Indian economy has remained resilient so far due to its own macro-fundamentals. While GVA growth from October-December 2021 to January-March 2022 slowed - bringing the annual growth in FY 2022 to 8.7% from 8.9% in NSO's second advance estimates - recent high-frequency indicators of economic activity indicate that momentum has picked up in FY 2023 across a wide range of sectors.
High frequency data corroborate our reading of quarterly GVA data and provide a more detailed picture of the economy's recovery and the impact of COVID-19's second and third waves.
In the month of April 2021, we saw a decline in many indicators such as Domestic tractor sales (-25.5%), GST eway bill (-17.5%), and Two-wheeler sales (-33.5%) which were influenced by Delta variants in the country.
According to the positive high frequency data indicators, the impact has largely passed by June 2022.
There was less death from Omicron variant than Delta variant, and it did not adversely affect the economy as much as the second wave (induced by Delta variant). In the month of January 2022, passenger car sales (12.2%), two-wheeler sales (12.2%) and other similar indicators confirm this.
Most indicators were in green in March 2022 despite the tense geopolitical situation, especially domestic tractor sales which increased by almost 40%. However, we did see a drop in e-way generation in May and June 2022, resulting in a plateauing of GST collections. Domestic two-wheeler sales have crossed pre-pandemic levels, and domestic tractor sales remain robust due to the success of Rabi crops.
The demand for farm labour has increased in June 2022 due to Kharif crop sowing in rural areas of the country and the consequent increase in demand for farm labour under MGNREGA.

For 11 consecutive months, the Purchasing Managers' Index (PMI) of the manufacturing sector has remained above the benchmark of 50 in FY 2021-22. PMI records above the mark of 50 in April and May 2021 reflect the localized nature of lockdown following COVID-19. Also in January 2022, the economy remained positive.
While PMI services shrank in May-July 2021, the touch sensitive service sector was left reeling in the wake of second wave lockdowns in the states.
In June 2022, PMI services expanded at the fastest pace in over 11 years, growing to 59.2 from 58.9 in May 2022.
At the beginning of the FY 2022, the Indian unemployment rate, which skyrocketed to 23.5% in March 2021 due to COVID-19, dropped to single digits. Despite the COVID-19's second wave in April and May of 2021 resulting in an increase in unemployment, it eventually declined to its pre-second wave level by July 2021. It remained around 6-7% through FY 2022, indicating that the economy has gradually recovered and is becoming more open, especially the touch sensitive services sector.
A major indicator of employment generation in the economy is the Labour Force Participation Rate (LFPR). If the same continues to fall, it will lead to low employment generation and people dropping out of the workforce. The number has been below 40 since January 2022. According to this, the recovery from the pandemic has been uneven. Since then, the LFPR has remained below 40 and reached the lowest level in a year in June 2022. Using this indicator, we can see that unemployment levels are higher than those reflected in Trends in Inflation-Expectations and Realities. India's inflation rate, which breached 6% for most of FY 2021, remained range-bound in half of FY 2022. In 2021, both developed and developing countries experienced elevated inflation as a result of pandemic-related disruptions in supply and logistics, a rebound in global commodity prices, and a release of pent-up demand.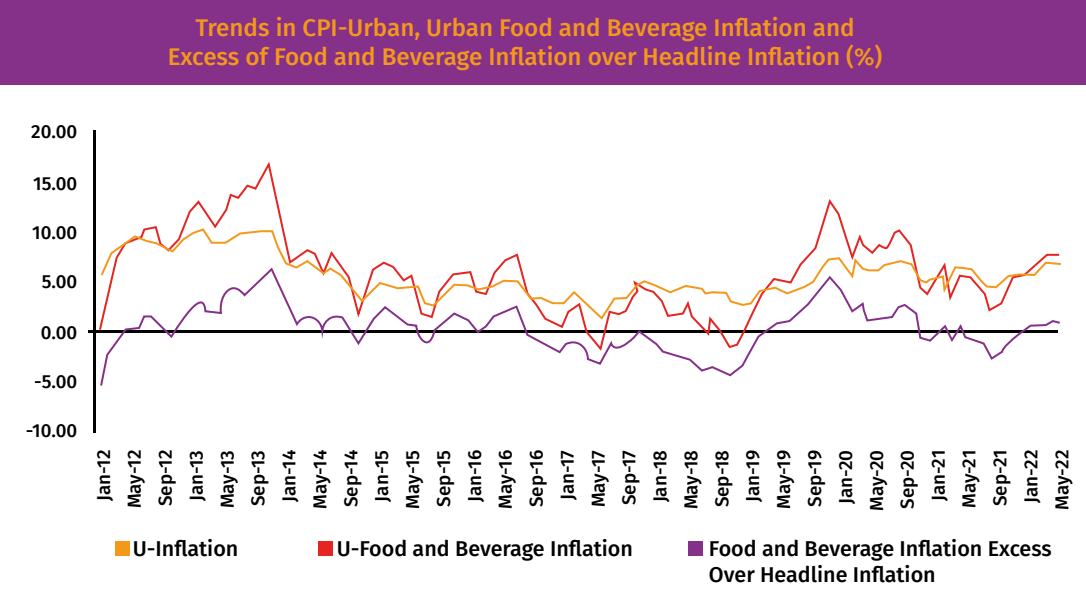 As a result of localised lockdowns induced by COVID-19's second wave, headline inflation in India reached the upper tolerance level of the inflation target, causing a sharp increase in inflation in all three major groups - food, fuel, and core - during May-June 2021.
Food and beverage inflation continued to drive headline inflation in FY 2022, although its contribution to headline inflation decreased from 54.8% a year earlier to 35.9%. A sharp rise in the price of liquefied petroleum gas (LPG) and kerosene in October 2021 resulted in a negative shift in food and beverage inflation over headline inflation during the second quarter of FY 2022 as fuel prices scaled new peaks and reached an all-time high of 14.3%.
The headline inflation rate remained well within the target limit of 4 +/- 2 percentage points until the start of Q4 FY 2022. As a result of increased supply side bottlenecks, coupled with the tense geopolitical situation as a result of Russia-Ukraine tensions, commodity prices have been on the rise. Between February 25 and March 29, 2022, the Indian basket of crude oil averaged $111.86 per barrel, according to the Petroleum Planning and Analysis Cell (PPAC). In May 2022, headline inflation declined to 7.04% from 7.79% in April 2022. As a result, inflation appeared to have peaked in May 2022. The government has taken a number of measures to curb inflation. By reducing indirect taxes on fuel, fiscal measures have directly contributed to lower inflation in May 2022.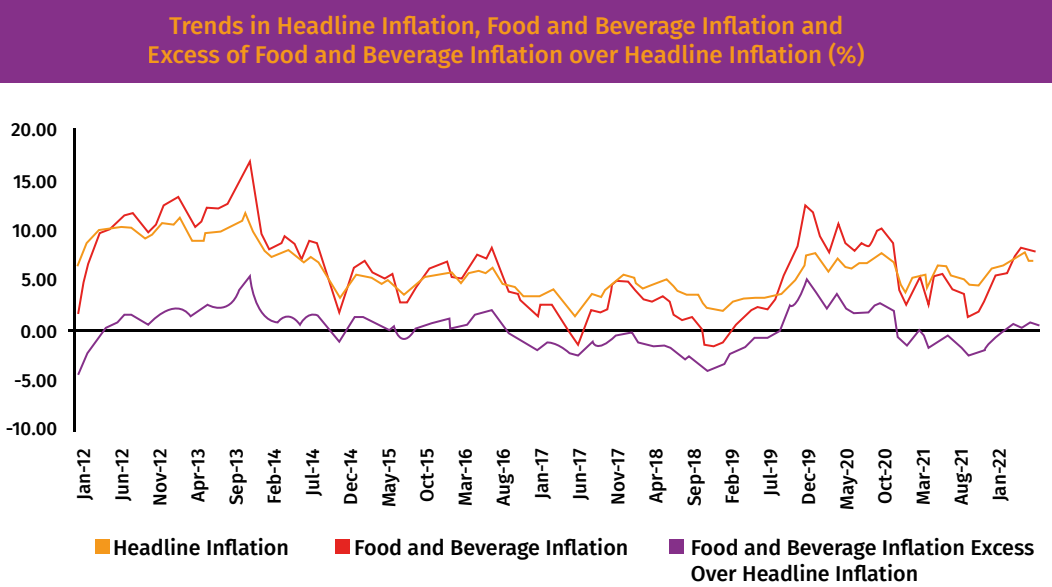 It was in May 2022, the Central Government reduced excise duty on petrol by Rs 8 per litre and on diesel by Rs 6 per litre. Customs duty on raw materials for steel and plastic was also reduced. Due to this measures, the price of petrol fell by 2.4% while that of diesel dropped by 2%. As the result of duty reduction, the prices of fuels were lower in June compared to May 2022. These measures have helped to bring down CPI to 7.01% in June 2022.
If one observes the inflation trend, it is evident that urban inflation has been higher than rural inflation by 0.8 percentage points throughout 2021. August was the month of exception when both, urban and rural inflation, stood at 5.3%.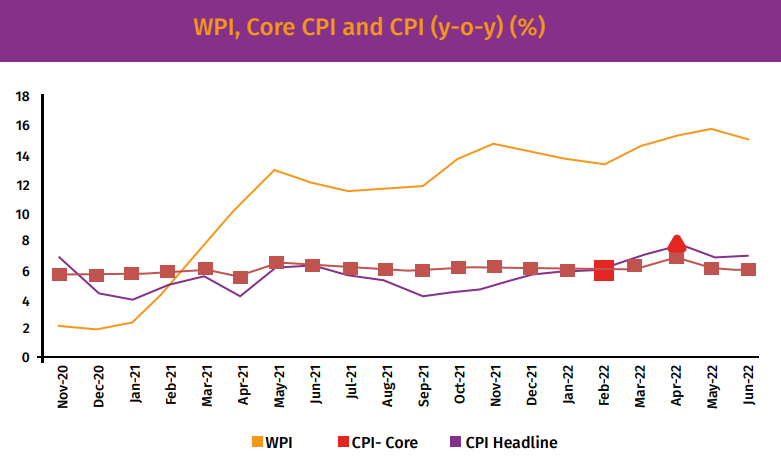 However, for most of the months in FY22, the core inflation has been higher than headline inflation. This tells a lot about the structural nature of inflation. The price rise was seen even in non-food segments like clothing, health, transport etc. This means that manufacturers are passing the higher cost to the consumer. It is to be noted that throughout FY22, the inflation at the wholesale level remained in double-digit territory. In general, wholesale inflation is lower than headline inflation, but starting March 2021, this pattern has reversed. Since March 2021, the difference between headline and wholesale inflation has been 7.3% on average. The reason could be that wholesalers are not fully passing on the price increase to retailers. This phenomenon is known as "Inflation-in-the-pipeline." It is very likely that these price shocks will eventually be passed on to the ultimate consumers.
Interest Rate Movement -
Extreme risk aversion and increased volatility in the financial markets were brought on by the COVID-19 pandemic. The goal of monetary policy and liquidity operations in FY 2021 was to lessen the negative effects of the COVID-19 pandemic's catastrophic economic destruction on the Indian economy. Between March and May 2020, the Monetary Policy Committee (MPC) reduced the policy repo rate by 115 bps. These initiatives, supported by both traditional and non-traditional liquidity measures, helped to maintain orderly market conditions while boosting mood in the financial markets. In all market categories, interest rates and bond yields fell in FY 2021, thereby shrinking the spreads.
"This means that manufacturers are passing the higher cost to the consumer. It is to be noted that throughout FY22, the inflation at the wholesale level remained in double-digit territory"
In an effort to keep bond rates in control and keep the government's borrowing costs low, securities worth $1 Trillion were sold in open market operations in the first quarter of FY 2022. The benchmark 10 year government bond received support from this. The 10 year G-Sec yield traded between 5.96-6.10% during the quarter to conclude at 6.05%.
Due to monetary tightening in the United States and India in the first quarter of FY 2022-23, yields increased even more. By the end of June 2022, yields had toughened to 7.45%. Since core components are now being affected by inflation, the Federal Reserve may raise rates again in September 2022, which could cause government bond yields to increase globally.
The Implications For The World Economy -
As recently as a few months ago, central banks anticipated that they could tighten monetary policy fairly gradually. The pandemic related shocks and Russia's invasion of Ukraine appeared to be the primary cause of inflation, which was predicted to fall quickly after these pressures subsided.
As pricing pressures spread to housing and other services and inflation rises to multi-decade highs, central banks are now aware of the need to act more quickly in order to prevent an unmooring of inflation expectations and tarnishing their credibility. To avoid future adjustments that could be much more difficult and disruptive. Policymakers should take note of the lessons learned from the past and act decisively.
Interest rates have already been sharply increased by the Federal Reserve, Bank of Canada and Bank of England, and all have indicated they expect to continue raising them this year. For the first time in more than ten years, the European Central Bank just increased interest rates.
The current fiscal and monetary tightening should reduce demand for both energy and non-energy related goods, particularly in interest sensitive sectors like consumer durables. In the absence of more disruptions in the commodities markets, this should result in a slower or even negative increase in the price of products. It may also result in a negative increase in the price of energy. As the epidemic loosens its grip and lockdowns and production interruptions become less common, supply-side pressures should diminish.
However, the central banks and markets were taken aback by how quickly inflation soared, and the future of inflation is still very uncertain. If supply chain disruptions subside and global policy tightening leads to swift drops in energy and commodities prices, inflation may reduce more swiftly than central banks anticipate.
However, inflation risks still seem to be heavily skewed to the upside. There is a significant chance that high inflation will stick around and inflation expectations will drift.
The rate of inflation in the services sector - for everything from housing rents to personal services-seems to be increasing from already high levels, and it is unlikely that it will decline soon. Rapid nominal wage increases might make these pressures worse. In nations with robust labour markets, nominal salaries may begin to rise quickly, more quickly than what businesses could realistically absorb, with the ensuing increase in unit labour costs being passed on to consumers as higher prices. Such "second round impacts" would result in higher inflation expectations and more sustained inflation. Finally, a prolonged period of high inflation may result from a further escalation of geopolitical tensions that sparks a new increase in energy costs or exacerbates current problems.
Markets appear to be placing large odds on the likelihood that inflation may rise over central bank targets over the coming years, despite the market-based information on "average" inflation forecasts outlined above appearing to be encouraging. Markets indicate a substantial likelihood that inflation rates of over 3 percent will continue in the US, the euro region, and the UK in the upcoming years. The most likely scenario is one of moderate global growth in late 2022 and early 2023.
High inflation keeps putting a strain on family budgets and eroding consumer confidence. While this is happening, the post-pandemic boom in tourism and consumer services is starting to slow down. In the coming year, investment and consumer durables spending will be constrained by the lag effects of tighter monetary policy and rising interest rates. Thus, it is anticipated that global real GDP growth will drop from 5.8% in 2021 to 2.7% in 2022 and 2.3% in 2023. Global growth is anticipated to rebound to 3.0% in 2024 as inflation declines and financial conditions improve. The key to the prediction of a soft landing is a slowdown in price and wage inflation.
In light of the current economic climate, a global "soft landing" would be indicated by a decline in input and output price inflation, a stabilization of labour markets, and efficiently operating financial markets. Recent drops in the price of industrial and agricultural commodities are beneficial for the fight against inflation. The IHS Markit Materials Price Index has decreased 20% since its early March peak as of mid-August. Due in major part to sluggish demand from mainland China, crude oil prices have fallen below $100 per barrel. Consumers in most regions of the world should feel some comfort as a result of the decline in commodity prices as it is transferring downstream to intermediate and finished goods. Global consumer price inflation is predicted to decline to 4.5% in 2023 and 2.6% in 2024 after increasing from 3.9% in 2021 to 7.6% in 2022. The low level of inventories in the energy and metals markets, however, might make the near-term outlook gloomier due to new supply shocks.
In turn, tighter monetary policy will be crucial in bringing inflation under control. The ability of central banks to achieve a gentle landing and hit their inflation goals without raising interest rates above the current inflation rate remains to be seen. The COVID-19 epidemic and the energy shift have affected supply in ways that have contributed significantly to the recent rise in inflation. The tightening financial conditions are essential to reducing inflation and calming excessive demand. The amount of tightness will change depending on the surroundings. The federal funds rate in the US is anticipated to increase to a range of 3.50-3.75% in December 2022 and remain there for an entire year. The European Central Bank acts more cautiously when the Eurozone enters a recession later in 2022 and raises its refinancing rate to its long-run neutral rate of 2.00% in January 2023. Emerging markets that depend on capital inflows to cover trade and fiscal deficits are at risk as a result of investors' flight to safety. Western Europe will enter a recession due to issues with the energy supply and high prices. As high inflation reduced household earnings and consumer confidence hit a record low, the UK entered a recession in the second quarter. The UK recession is anticipated to last into the first quarter of 2023, with consumer price inflation at 10.1% year over year (y/y) in July and rising (with a 75% hike in gas and electricity rate caps in October).
Due to inventory build-up and penned-up demand for services, the second quarter's real GDP growth in the Eurozone was stronger than anticipated (0.7% q/q). However, due to persistent energy supply constraints, rising costs, the on-going Russia-Ukraine conflict, and tightening financial circumstances, growth prospects are quickly eroding. Real GDP growth is anticipated to decline from 5.2% in 2021 to 2.9% in 2022 and 0.8% in 2023 due to the likelihood that the Eurozone will face a moderate recession in late 2022 and early 2023. Germany and other northern European manufacturing hubs are particularly vulnerable to interruptions in Russian energy supplies. The US economy is characterized by a contradiction of rising employment and stagnant real GDP.
Do not refer to the first two quarters of 2022's real GDP decline as a recession. The employment rate, industrial production, real personal income before transfers, and real retail sales have all increased significantly since December 2021. In the meantime, a severe slowdown in inventory growth has reduced real GDP. Our prediction anticipates a period of slow economic growth until the end of 2023, as notable losses in residential and commercial building are offset by modest increases in consumer expenditure and government purchases. Prior to increasing up to 1.7% in 2024, real GDP growth is predicted to decline from 5.7% in 2021 to 1.5% in 2022 and 1.0% in 2023. The US unemployment rate will probably increase from 3.5% in July to 4.8% in mid-2024 as a result of GDP falling short of potential.
Mainland Chinese economy is still having trouble. In China, the real GDP is anticipated to increase in the third quarter after falling 2.6% q/q in the second quarter, despite July data showing weak growth in services and manufacturing.
The dynamic zero-COVID policy of the government will continue to be in effect until at least March 2023, impeding a return to normalcy and reducing the efficacy of the government's new stimulus initiatives. The local government's finances are suffering as a result of the on-going severe downturn in the property market and decreased land sales. It is anticipated that real GDP growth will decrease from 8.1% in 2021 to 3.8% in 2022 before increasing to 4.9% in 2023.
As other regions struggle, the growing economies of Asia-Pacific will help to sustain global development. Asia Pacific's real GDP growth is anticipated to accelerate to 4.5% in 2023 after falling from 6.2% in 2021 to 3.8% in 2022. Five to seven per cent growth rates are anticipated for Bangladesh, Cambodia, Vietnam, India, Indonesia, and the Philippines. This performance is a result of robust intraregional growth dynamics brought about by regional free-trade agreements, effective supply chains, low costs, and consistent inflows of foreign direct investment.
To sum up Global inflation is anticipated to decline in 2023 and 2024 as global demand slows and supply disruptions ease. Real GDP is anticipated to average 2.5% in 2022 and 2023, signalling a soft landing for the world economy. However, this economy will have multiple speeds, and a slight recession in Western Europe is anticipated to occur in late 2022 or early 2023. Other significant nations will avoid recessions but underperform.
State Of States – Increasing Competitiveness To Boost Exports
India's goal of becoming a $5 trillion economy in the near future is intrinsically connected to an export-focused strategy for growth.
To achieve US$1 trillion in merchandise exports in the near future, this would require a quick development of India's external commerce through a combination of infrastructure support and a sensible policy push. A concerted government effort in this regard led to the FY22 export target of US$400 billion being surpassed, a historic accomplishment that, if maintained and improved upon, would vault India into the league of major exporting nations going forward. However, the ability of India to maintain this strong export performance will largely depend on the states' willingness to actively collaborate with the Center in the effort to increase India's worldwide influence.
The Export Preparedness Index (EPI), 2021 has been introduced by the NITI Aayog in partnership with the Institute of Competitiveness to evaluate how ready states are to support exports. Based on their readiness to encourage exports, the states and union territories are ranked according to the Index. The goal is to encourage competition among states so that they can increase their export performance and readiness for larger international transactions. The Index would also assist the states in comparing their performance to that of the states with the highest rankings and learning from their mistakes.
The 36 states and union territories are ranked overall based on how each state performs in each of the four areas of export preparedness: policy, business ecosystem, export ecosystem, and export performance. The index considers eleven sub-pillars, including the export promotion policy, the constitutional framework, the business environment, infrastructure, and transport connectivity, access to finance, export infrastructure, trade support, R&D infrastructure, export diversification, and growth orientation, for a thorough and detailed analysis.
"India's goal of becoming a $5 trillion economy in the near future is intrinsically connected to an export-focused strategy for growth.......The 36 states and union territories are ranked overall based on how each state performs in each of the four areas of export preparedness: policy, business ecosystem, export ecosystem, and export performance."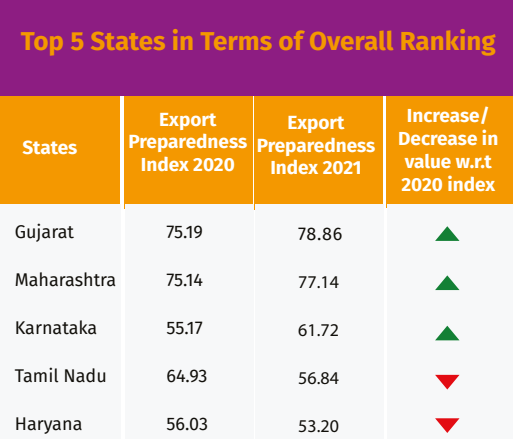 At the aggregate level, the ranking indicates that coastal states are among the top achievers. Landlocked states follow closely behind, whereas Himalayan states and city states/union territories have lower scores on the index. Rankings for export readiness place the coastal states, which also enjoy significant industrial activity, at the top. Gujarat, a coastline state, has been given the top spot as a result. Maharashtra, Karnataka, and Tamil Nadu are listed after this. Fifth in the list is Haryana, a landlocked state.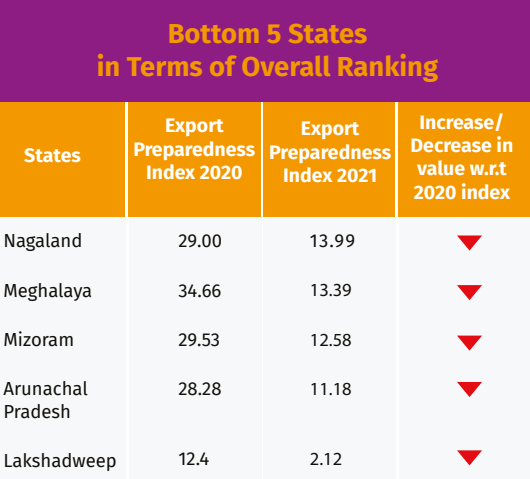 Being closer to the coast does not, by itself; guarantee that a state will receive a high rating on the index. Among the primary export drivers are state-level industrial development and a favourable business climate. This is demonstrated by the fact that, despite being coastal states, West Bengal, Kerala, and Goa rank in the middle of the pack in terms of export preparedness. Lakshadweep, an island city state, ranks last in the Index, followed by Arunachal Pradesh, Mizoram, Meghalaya, and Nagaland. Now let's examine how each state performs in relation to the four main enablers that support export growth. The Policy pillar is the first. This pillar demonstrates whether the state has implemented export promotion policies that are accommodating and offered a supportive institutional setting to encourage exports at the subnational level. It consists of two supporting pillars: the institutional framework and the export promotion policy. According to the ranking at the state level, Madhya Pradesh received the highest rating for the policy pillar. Maharashtra, Karnataka, Gujarat, and Odisha follow this closely. Lakshadweep received the lowest rating, followed by Delhi, Dadra, Nagar, and Haveli, Daman & Diu and Arunachal Pradesh. A comparison with the overall rankings demonstrates that exports at the sub-national level are often positively impacted by a supportive policy environment. As a result, the top-scoring states in the EPI, Gujarat, Maharashtra, Karnataka, and Tamil Nadu, also perform well under the policy pillar. In a similar vein, Madhya Pradesh, which is ranked first in the policy pillar, is ranked eighth in the index, placing it among the top states.
However, the comparison also shows that policy does not improve the state's position on its own. This is supported by the fact that, although placing 17th under the policy pillar, Haryana holds down the fifth spot in the EPI. Similar to how Tamil Nadu is ranked fourth in the EPI, Assam is ranked seventh in the policy pillar, placing it ahead of Tamil Nadu, although Assam is ranked fifteenth overall. Another state that performs well in terms of policy but falls short overall is Bihar.
The business ecosystem pillar is the second. This has to do with the state-provided environment that encourages investment and builds the necessary infrastructure for growing businesses. An effective business ecosystem improves the exporting industry's backward and forward connections, increasing output and growth. The Business Ecosystem pillar assesses a state's performance in relation to four sub-pillars, including the business climate, infrastructure, connectivity to transportation, and access to finance. The state with the best rating in this category is Delhi. Following this are the top-ranking exporting states with an excellent EPI score: Maharashtra, Karnataka, Haryana, Gujarat, and Tamil Nadu. Lakshadweep takes the bottom spot, then Ladakh, Nagaland, the Andaman and Nicobar Islands, Arunachal Pradesh, and Meghalaya. These states are likewise at the bottom of the EPI ladder as a whole.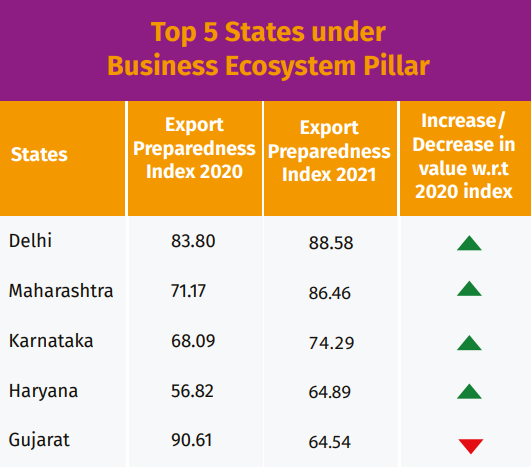 Delhi is the top state in this pillar, yet it comes in at number 12 in the overall EPI. This demonstrates that even though the state has the best infrastructure - excellent transport connectivity, well-established air cargo facilities, multi-modal transport hubs, highest internet connections, provision of higher credit to exporters, and attraction of higher foreign investment - there are other factors, such as low scores on policy and export ecosystem and moderate ranking on the export promotion pillar, which have an impact on export preparedness. These factors include low scores on policy and the export ecosystem, as well as a moderate ranking on the export promotion pillar.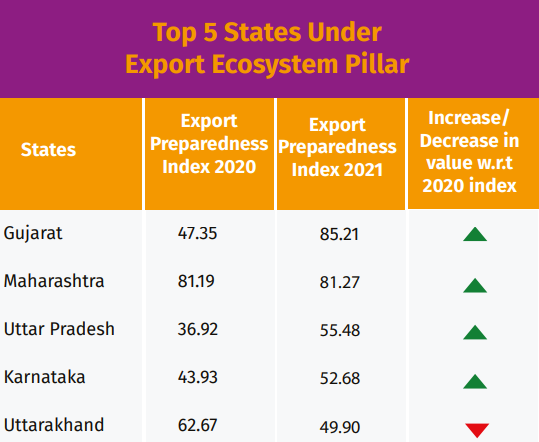 An export ecosystem serves as the third pillar. This pillar's objective is to evaluate the export-specific business climate. This includes cues like geographic industrial parks for export promotion, zones for export promotion, the existence of trade guides, the quantity of inspection agencies, and other export-friendly measures. It includes three sub-pillars, including R&D infrastructure, business trade support, and export infrastructure. Under this pillar, most coastal states have done well. Gujarat has the best results. Maharashtra, Uttar Pradesh, Karnataka, and Uttarakhand follow this.
Many of these governments have established robust export infrastructure, including hubs and parks for export promotion. In addition, the government has started TIES scheme projects to fill infrastructural shortages, and handholding exporters is also done through training and capacity building programs among the top ranking states. Lakshadweep, which has the lowest ranking under this pillar, is one of the low performers, followed by Ladakh, Mizoram, and Nagaland.
Performance in Exports is the fourth pillar. The only output-based criterion that looks at the export footprint's breadth and diversification across States and Union Territories is this one. Growth and orientation and export diversification are its two sub-pillars.
Gujarat again takes the top spot in this category. The state contributes a large portion of manufacturing exports, which indicates significant value addition. Similar to this, Andhra Pradesh in second place and Maharashtra in third followed by Punjab and Tamil Nadu in fourth and fifth place, Mizoram, one of the underachievers, got the lowest rating. The following state is Lakshadweep, and the other three least prepared states under the pillar of export performance are Manipur, Arunachal Pradesh, and the Andaman and Nicobar Islands.
The overall results shows that the top-scoring states overall are those that have consistently scored well across all four pillars. For instance, Gujarat earns the top spot in the EPI thanks to a strong performance across a number of categories, including infrastructure, business and export environments, and policies for export promotion. The same is true for Karnataka and Maharashtra, both of which have improved their scores by performing well across all of the pillars and sub-pillars.
Numerous states have performed admirably in certain pillars while struggling in others. but overall have performed well. A good example of this is the state of Haryana, which performs well in the business and export ecosystem pillars, as well as the export performance pillar, but not as well in the policy pillar.
Even though some states, like Bihar and Chhattisgarh, have regulations in place that favour exports, their infrastructure is lacking, which contributes to their poor overall score. There are tons of more instances like this. All of this has clear implications for states that are starting on the path to boosting export competitiveness and turning India into a significant exporter in the near future.
To conclude, Indian states must ramp up their competitiveness in all respects. Only then India will be able to realise its true potential.
How Indian Savings Can Help Achieve Its Ambitious Targets -
Savings rates play a significant role in economic growth, especially in developing nations like India. Savings from households, businesses, and the government are required to pay for private investments and capital development as well as the borrowing needs of the public sector and are crucial for medium-to- long-term growth sustainability. The government needs to focus on starting, both a micro- or household-level and a macro-level, a virtuous cycle of saving, investing, and growth.
Notably, the Indian economy grew during the first decade of the twenty-first century, at the same time that savings and investment activity significantly increased. The savings rate, which peaked at 37.8% of GDP in 2007–08 (when India appeared to have entered a positive cycle of investment and growth), declined drastically to 28.2% of GDP in 2020–21.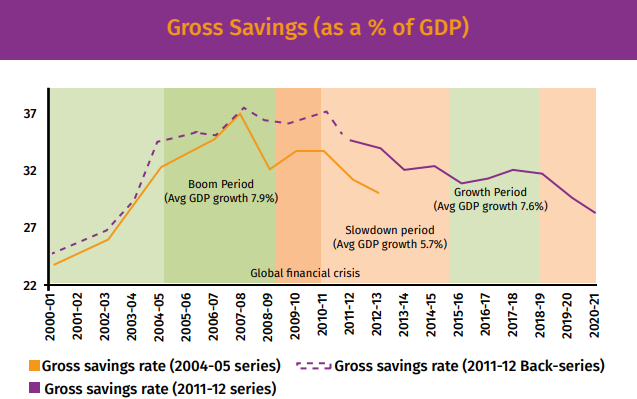 The savings rate reached a high of 32.1% in the second decade, from 2014–15 to 2017–18, when the Indian economy grew at a 7.6% annual pace. Thus, the subsequent drop in savings rate to 28.2% is cause for concern. The contraction in GDP coupled with an increase in family savings due to the pandemic did not help either as the gross savings rate as a percentage of GDP stayed on a downward trend.
Disaggregated Savings of Households -
Savings for tangible assets like a home, land, and farm equipment have made up the majority of the household sector. Even then, savings into physical assets, as a percentage of GDP, have significantly decreased from 15.9% in 2011–12 to 10.3% in 2020–21. Additionally, the percentage of physical assets in total household savings has decreased from 67.3% in 2011–12 to 57.9% in 2019–20. The percentage of savings invested in gems and jewellery has also decreased. On the other hand, throughout the same time period, the percentage of net financial savings increased from 31.1 to 41%. The pandemic has only accelerated this shift in the composition of household savings in India.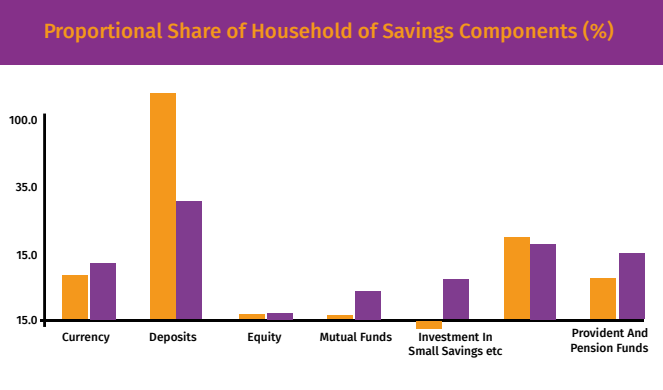 This shift in the way that households save money is positive. Financial savings are more productive and essential for the economy, since savings in physical asset are substantially less effective and difficult for the banking system to access.
The focus has shifted away from investments in physical assets towards investments in financial assets as a result of significant policy reforms like demonetisation, GST, RERA, bank consolidation, as well as the falling interest rates as the government has aggressively targeted inflation through various policy measures. The perspective of investors has also been altered as a result of post-Covid shifts in trends, such as the culture of embracing digitalization and rental services. Instead of purchasing tangible assets like real estate or gold, the younger generation favours liquid and quick-moving financial assets.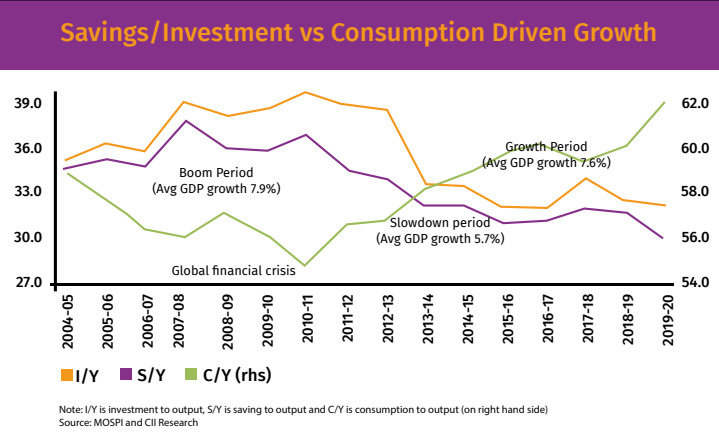 Positive evidence of the growing financialization of the economy can be seen from the increase in gross household financial savings. However, it is important to critically examine each component to understand how the funds are saved and where they are going.
The portfolio of Indian households is shown in the below graph, which shows the share of various financial instruments. It is clear that Indian households have been diversifying their financial holdings.
The trend is to move away from poor yielding fixed deposits. The rise in the proportion of equity and mutual funds in household savings indicates a growing interest in the stock market.
This is encouraging since it gives the government access to additional funds to finance its budget deficit. In addition, the share of provident and pension funds has also witnessed increase in the share of savings. This is due to the government initiatives to increase pension coverage, such as the opening of the National Pension System (NPS) to the general public and the launch of the Atal Pension Yojana for the unorganized sector. However, the proportion of insurance in savings has been on decline, despite increasing marginally during COVID-19. There is an urgent need to increase awareness about insurance products and increase public participation just like Provident Fund or Pension Fund. The increase of retail participation in capital markets is a good sign as it offers more money for commercial projects.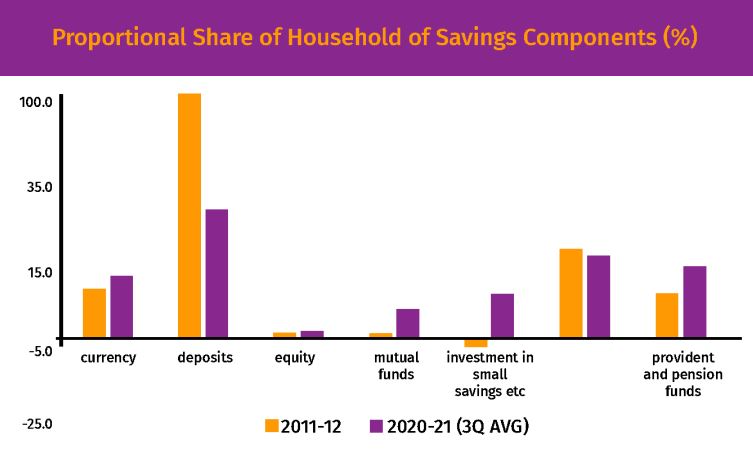 Conclusion -
When India's economy entered the beneficial cycle of savings and investment, it grew the fastest. Falling savings, particularly into physical assets, have contributed to the decline in the domestic family savings rate. This has been caused by a decline in the growth of disposable incomes, an increase in bank borrowing, and the depletion of savings to cover consumption and existential needs. The trend towards financialization of the economy and diversification of the financial portfolio of Indian households into more productive assets is beneficial, though, as seen by a decline in the share of savings made on precious metals like gold and silver and an increase in financial savings. This development will assist India in raising money domestically to support economic growth.
In the future, it is anticipated that structural shift away from agriculture, along with increased urbanization, digitalization, investment education, and a sizable working-age population who favours fast-moving assets would further push the savings rate. Additionally, efforts should be made to financialize and diversify household savings in rural India. This will help to support the MSMEs that have suffered from the pandemic. With domestic savings serving as its mahout, The Indian elephant needs to pick up pace if it is to achieve its ambitious 2047 vision.
Changing Structure of Rural Economy of India - Implications for Employment and Growth
The majority of the population of India lives in rural areas. Rural areas accounted for 68.8 per cent of the country's population and 72.4% of its workforce according to the 2011 Census. Rural share of population, workforce, and GDP is declining over the years due to steady urbanization. Over the period 2001-2011, Indian urban populations grew by 32.8% while rural populations grew by 12.18%.
A major reason for the rise in urban population during this period was the rural-urban migration and the reclassification of rural settlements as urban. In terms of population, India is expected to remain mostly rural until 2050, when urban populations are predicted to overtake rural ones. In search of better economic opportunities, rural to urban migration is often perceived as placing severe pressure on urban amenities and forcing low wage migrants from rural areas to live in unhygienic and deprived circumstances. Creating employment opportunities in rural economic activities is important for improving socioeconomic conditions for the vast majority of the population in the country and for preventing unplanned migration from rural to urban areas. Additionally, reducing the disparity in income between rural and urban households, which has remained persistently high, requires improvement in rural households' economic conditions. In order to achieve this, rural economy growth must be significantly higher than urban economy growth. Rural economy and employment are traditionally driven by agriculture. A significant source of economic growth and transformation in rural and total economies is the transition of output from agriculture to more productive non-farm sectors. There has been some academic observation that a similar transition is occurring in the Indian economy, but very slowly.
The contribution of the rural areas in economy of India for the period 1970-71 to 2011-12 is seen from its share in national output and employment.
In 1970-1971, rural areas employed 84.1% of the total labour force and produced 62.4% of the national product (NP). In the following years, the rural share of national income declined sharply until 1999-2000. In addition to a decline in employment, the share of rural income and output in the national economy also declined. It is clear from the declining share of rural output in national output that a substantial portion of the country's economic growth during the period under review was attributed to capital-intensive sectors in urban areas, but they didn't generate significant employment during this time. In spite of this, the difference between rural and urban employment and output increased from 22 percentage points in 1970-71 to 28 percentage points in 1999-00.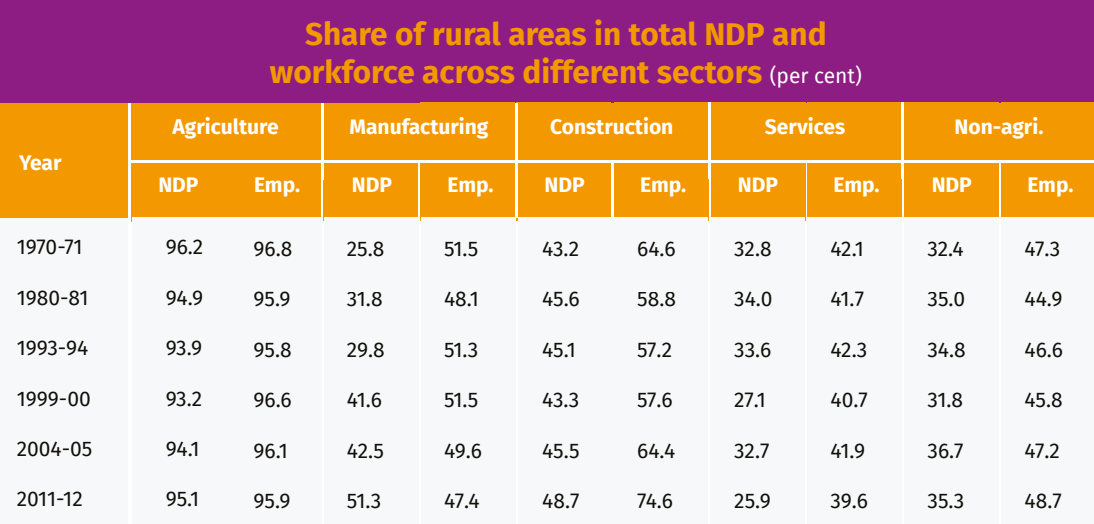 As the rural economy grew, its growth rate caught up with that of the urban economy after 1999-00. As a result, the rural contribution to total NDP stabilised at around 48 per cent. Even though there was acceleration in the growth rate of national NDP from 2004-05 to 2011-12, the rural share in national NDP decreased slightly. In contrast, rural employment declined steadily from 76.1 to 70.9 per cent in 1999-2000. During 2011-12, the difference between the rural share in output and employment narrowed to 24 per cent due to a fast decline in the rural share in total employment. Despite the fact that urban economic activity has surpassed rural economic activity in terms of output, urban employment accounts for less than half the number of rural jobs. As a result, there is a large disparity between rural and urban worker productivity.
The disaggregation of rural output and employment by sector shows that the rural economy has undergone significant changes over time. As well as producing almost all agricultural products, rural areas also contributed 48.7% of nonfarm employment and one-third of non-farm output. There are large variations and interesting patterns in the contribution of rural areas to the non-farm economy.
A structural change in the rural economy of India could be seen in the four decades between 1970-71 and 2011-12, as the rural economy grew from Rs. 229 billion to Rs. 34167 billion at current prices and from Rs. 3199 billion to Rs. 21107 billion at 2004-05 prices. The number of people employed increased from 191 million to 336 million during the same period. Despite almost a sevenfold increase in rural India's output, employment couldn't even double over a four-decade period. It is very useful to understand the transition of the rural economy in the country by comparing the growth rates across sectors and over different periods. NDP and employment growth rates during three sub periods are shown below. This table presents the sectors' composition from 1970-71 to 1993-94 (termed the pre-reform period), 1993-94 to 2004-05 (termed the post-reform period), and 2004-05 to 2011-12 (termed the period of economic acceleration).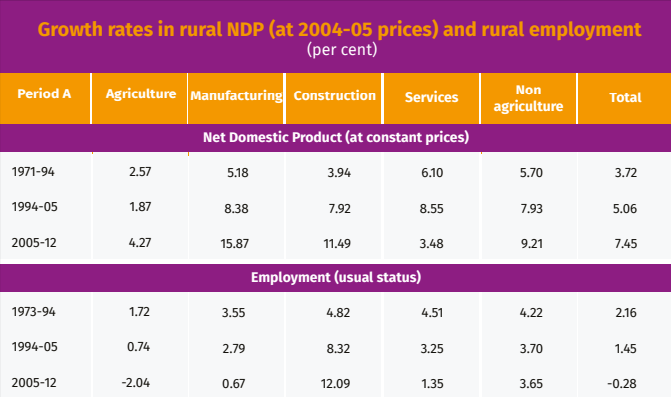 Over the period 1970-71 to 1993-94, agriculture contributed 2.57 per cent of the NDP growth, while non-farm sectors contributed 5.70 per cent. Therefore, agriculture's share of rural NDP declined from 72.4% to 57% by 1993-94. During the pre-reforms period, the manufacturing, construction, and service sectors each experienced 5.18, 3.94, and 6.10 percent annual growth, respectively, and their share in rural NDP increased by 2, 2 and 10 percentage points.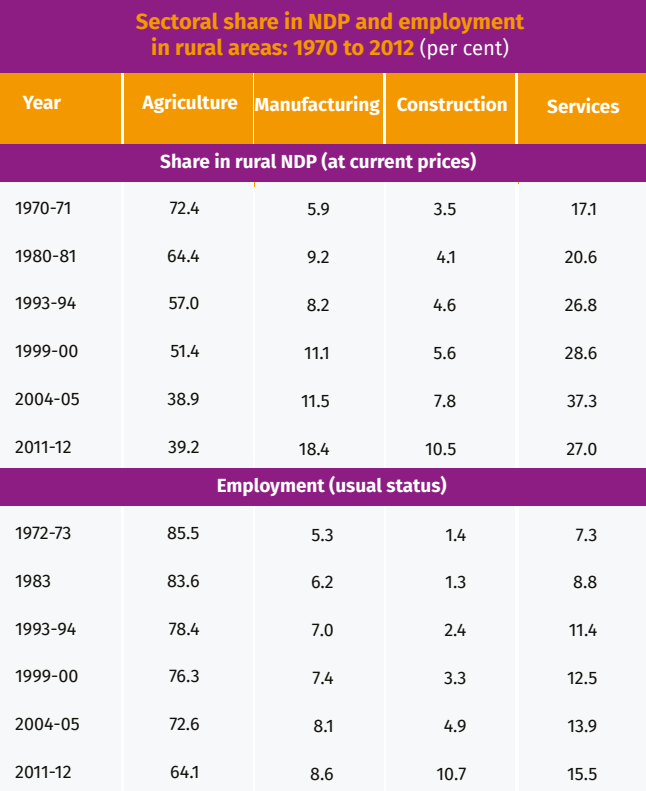 An impressive 4.27 per cent annual growth rate was registered by the agriculture sector between 2004-05 and 2011-12. The non-farm sector also grew at a faster rate of 9.21 per cent. This period is referred to as the "period of economic acceleration" due to growth in both agriculture and non-farm sectors. A 7.45 per cent annual growth rate was recorded in the rural economy over this period. A major difference between agricultural and non-agricultural prices occurred between 2004-05 and 2011-12, and the growth rate in agriculture and non-farm sectors was almost the same at current prices. In 2011-12, the agricultural share of rural NDP at current prices stood at 39.2%, a marginally higher level than in 2004-05.
Non-farm rural sectors were unable to absorb the labour-force leaving agriculture, which resulted in sluggish growth followed by negative employment growth in rural areas. After 2004-05, employment elasticity in rural areas also declined, reaching the negative range as shown in the table above. In response to the growing population and the workforce moving out of agriculture, rural economies are concerned about their ability to provide productive jobs. As time has passed, employment growth in the non-farm sector has slowed in the manufacturing and services sectors, but has accelerated in the construction sector.
A sector-by-sector analysis of output and employment in rural India.
Agriculture:
The results presented in the earlier sections show that agriculture has gradually declined as a contributor to rural output. In terms of economic development, this is considered to be a desirable change. In spite of this, over-dependence on agriculture for employment continues to pose a challenge. For the first time, India's agriculture workforce decreased between 2004-05 and 2011-12. A 2.04 per cent decline was recorded. The agriculture sector employed 64 per cent of the rural workforce in 2011-12, yet produced only 39 per cent of the rural output. For 2011-12, 84 million agricultural workers in rural areas would need to shift to non-farm sectors in order to bring agriculture's share of total output and employment into line. A 70 per cent increase in non-farm employment seems quite challenging.
Manufacturing:
Manufacturing output in rural areas registered annual growth rate of 5.18 per cent between 1970-71 and 1993-94. The post-reform period (1993-94 to 2004-05) witnessed higher growth rate of 8.38 per cent, which further accelerated sharply to 15.87 per cent during 2004-05 to 2011-12. Significantly higher growth in manufacturing compared to other sectors raised its share in rural NDP from 5.9 per cent in 1970-71 to 18.4 per cent in 2011-12 as mentioned in the table above pointing to a clear trend towards industrialization in rural areas. However, the signs of industrialization in rural areas were not visible through the changes in employment structure. Between 1972-73 and 1993-94, manufacturing sector added 10.29 million jobs (29% of incremental non-farm jobs) and its share in total rural employment increased from 5.3 per cent in 1972-73 to 7.0 per cent in 1993-94. During the next decade (reforms period) the sector added 7 million jobs (23.4% of incremental non-farm jobs) and its share in total rural employment increased only by 1 percentage point to 8.1 per cent in 2004- 05. During the recent period between 2004-05 and 2011-12, employment in the manufacturing sector increased merely by 1.2 million jobs (4.9% share in incremental nonfarm jobs).
The results further reveal that rural areas contributed 58 per cent of the incremental manufacturing sector output in the country as compared to only 25 per cent share in incremental employment (5.3 million) between 2004-05 and 2011-12. This leads to the inference that manufacturing sector in rural areas used more capital-intensive production technology as compared to the urban areas after 2004-05. As the new industry in rural areas relied much more on capital than labour, it failed to address the goal of employment generation for rural labour-force.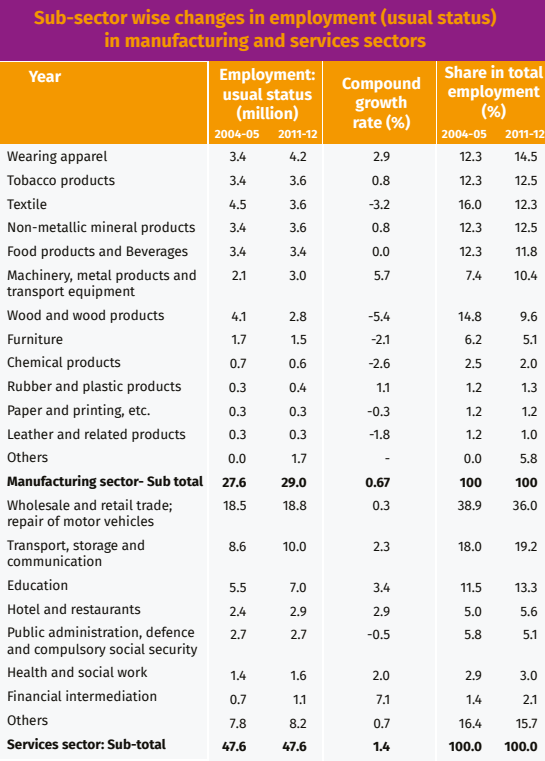 The manufacturing sector's main employment-producing subsectors include clothes, tobacco products, textiles, non-metallic mineral goods, food items, and drinks. Between 2004–2005 and 2011–12, the majority of these subsectors had either stagnant growth or a decline in employment. The biggest obstacle for rural people to enter the manufacturing sector appears to be a lack of technical knowledge and skills. The NSS surveys paint a sombre picture of the degree of technical knowledge and education held by rural workers. In 2011–12, more than three-fourths of the 15–59 year old rural workers lacked even a secondary education. Additionally, only 1.3% of rural workers in the 15- to 59-year-old age range had technical training. Only 14.6% of rural employees between the ages of 15 and 59 had undergone any type of vocational training, which aims to improve the knowledge, abilities, and attitudes of skilled or semi-skilled workers in a variety of trades. Female workers have a lower degree of education and technical training than their male counterparts, according to gender-disaggregated data. These data imply that the establishment of industries and the enhancement of infrastructure are insufficient prerequisites for boosting employment in rural areas. The development of successful human resources programs must go hand in hand with the improvement of industrial infrastructure in rural areas if rural youth are to receive the requisite education and training to meet the demands of the manufacturing sector.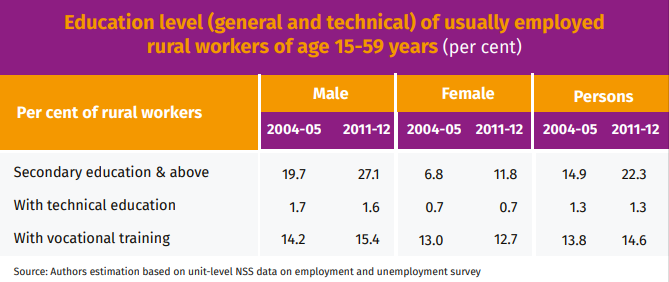 Services Sector:
The second-largest contributor to output and employment in rural areas was found to be the services industry. In the 2011–12, the sector provided around 27.0% of all rural output and employed 15.50% of the rural labour force. In the pre-reform period, the services sector's actual annual NDP growth in urban and rural areas, respectively, was 5.94 and 6.10 per cent. In the years after the reform, the growth surged to 8.94 and 8.55 per cent, respectively. Urban areas maintained growth in the output of the services industry between 2004–05 and 2011–12 at 8.42%, whilst in rural areas it fell to 3.48%. Although the services sector has significantly contributed to the structural change of the Indian economy, its recent successes have primarily benefited metropolitan areas. In 1993–1994 the wholesale and retail trade and repair of motor vehicles made up 27% of the total service sector NDP. By 2004–2005 this subsector had grown at an impressive annual rate of 11.7%. Between 1993–1994 and 2004–2005, the whole services sector in rural areas grew by 8.5% annually as a result of this and the noteworthy expansion in other subsectors such hotel and restaurant, transport, storage and communication, and financial services.
Trends in Disparity in Worker Productivity:
The reduction in economic disparity remains a major goal of development in an economy. This section examines trends in disparity in income per worker (worker productivity) at different levels:
Between farm and non-farm workers in rural areas
Between non-farm workers of rural and urban areas, and
Between rural and urban areas
Disparity in worker productivity between farm and non-farm workers in rural areas:
Estimates of income of worker in various categories and in rural and urban areas since 1970- 71 are presented in the below table. In year 2011-12 per worker income varied from Rs. 33,937 for agricultural labour to Rs.1,71,836 for rural non-farm workers. In the same year a cultivator earned 2.27 times the income earned by a labourer from agriculture. At the same time, per capita income of non-farm workers was more than twice the income of cultivators. These results show that among rural workers, agricultural labours are at the bottom in terms of worker productivity. Rural non-farm sector offers 2.76 times productive employment than the farm sector. The disparity in worker productivity between different categories of rural workers remained consistently high during the past four decades. Nevertheless after 2004-05, disparity among different categories of workers (except between non-farm workers of rural and urban areas) witnessed declining trend.

The wide variation in worker productivity arises due to composition of rural output, overdependence on agriculture sector and nature of the work performed by different categories of workers. In the year 1970-71, 85.5 per cent of the rural workers engaged in agriculture produced only 72.4 per cent of the rural output and worker productivity in non-farm sector was 2.25 times the worker productivity in farm sector. Subsequently, due to significantly higher growth in non-farm sector, the share of agriculture in rural output declined by 33.5 percentage points till the year 2004-05 but agriculture share in rural workforce declined by meagre 12.9 percentage points. Consequently, the disparity in worker productivity between farm and non-farm sectors increased to more than four times by the year 2004-05.
During 2004-05 and 2011-12, acceleration in rate of agricultural growth coupled with simultaneous withdrawal of agricultural workers and increase in relative prices of agricultural produce resulted in the narrowing down of disparity in worker productivity between farm and non-farm sectors to the level of the year 1993-94. These trends clearly indicate scope to reduce disparity between farm and non-farm sectors through employment diversification towards non-farm sectors and acceleration in the growth in farm output.
Conclusions and Strategic Options for Pro-employment Growth:
The empirical evidences on the changes in rural economy during the past four decades lead to following conclusions and strategic options to promote pro-employment and equitable growth in the rural areas.
About half of the national income and more than two third of the total employment is generated in rural areas. Apart from producing almost all agricultural output, rural areas contributes about half of the manufacturing and construction sectors output and one quarter of the services sectors output in the country. The rural areas are characterized with the low level and wide disparity in worker productivity.
The declining rural share in national output without a commensurate decline in its share in total employment during the past four decades implies that a much faster growth in capital-intensive sectors in urban areas did not generate adequate employment to absorb rural labour.
The higher dependency on rural areas for employment is a major reason for low level of per worker income. Temporally, contribution of rural areas in total output and employment registered striking changes across different sectors. The production base of manufacturing sector shifted to rural areas significantly, but without a commensurate increase in rural employment during the past forty years preceding 2011-12. The services sector lost heavily to urban areas both in terms of output and employment. It was only the construction sector where rural share in both output and employment improved and employment grew at a faster rate as compared to output. Although construction activities improve rural infrastructure and have a multiplier effect on the economy, proportionately less output growth than the employment indicates a limited productive employment generation capacity in this sector.
During the four decades from 1970-71 to 2011-12, rural output increased almost seven times (at constant prices) and rural economy has now turned more non-agricultural with the share of agriculture in rural income reduced to 39 per cent. However, the rural employment during this period could not even double. In fact the employment growth decelerated over time and reached a negative range after the year 2004-05. The decline in rural employment between 2004-05 and 2011-12 was due to withdrawal of labour force from the agriculture sector, majority of whom did not join the non-farm sectors. The employment insensitive growth in rural areas warrants special attention towards the non-farm sectors, particularly manufacturing and services sectors, to provide productive employment to the rising population and labour force leaving agriculture.
Contrary to a common perception the evidences point out defeminisation of rural workforce between 2004-05 and 2011-12 as female workers withdrew from agriculture work in large numbers. About one third of the entire reduction in female labour force got engaged in education activities, while rest of them confined themselves in household activities. Increasing enrolment for education is a desirable trend in terms of improvement in their education level and skills. Greater efforts will be required to create productive employment opportunities in non-farm sectors for those educated youth who will join the labour force after acquiring education in the near future.
It is puzzling to note that majority of the female workers who withdrew from farm works and stayed back at home belong to the agricultural labour households, whose economic conditions are not very good. Clearly, female of agricultural labour households do not prefer to go for farm work. Some evidences indicate non-availability of non-farm employment opportunities rather than lack of willingness for outside work as the reason for de-feminisation of rural workforce. There is evidence that female labour participation rate further declined after 2011-12. It is necessary to formulate attractive avenues for the female workers to bring them out of domestic boundaries and engage in productive activities.
Withdrawal of workforce from agriculture witnessed between 2004-05 and 2011-12 has reduced dependence on agriculture and brought convergence in the contribution of agriculture in rural output and employment to some extent. However, to match employment share with output share of agriculture another 84 million agricultural workers are required to quit agriculture and join more productive non-farm sectors. This amounts to about 70 per cent increase in the non-farm jobs in rural areas.
Workers moving out of agriculture and those entering rural labour-force are getting largely absorbed in construction activity, as, employment growth in manufacturing and service sector in rural areas decelerated sharply after 2004-05. Rural manufacturing adopted more capital-intensive production as compared to the urban manufacturing and it failed to address the goal of employment generation for rural labour-force. Most of the labour-intensive manufacturing sub-sector such as wearing apparel, tobacco 24 products, textile, non-metallic mineral products, and food products and beverages witnessed either stagnation or fall in employment between 2004-05 and 2011-12. As conventional manufacturing has failed to generate rural jobs, despite very high growth in output, India need to look for different type of manufacturing for rural areas. Labour intensive medium, small and micro (MSME) enterprises seem to be an appropriate alternative for rural employment generation.
The lack of required skills and technical knowledge are the main barrier for rural workers to enter manufacturing sector. Setting up of industries and improvement in infrastructure are the necessary but not sufficient conditions for increasing rural employment which require effective human resources development programmes to impart necessary skills and training to rural youth to match the job requirement in manufacturing sector.
Services sector has played a major role in structural transformation of Indian economy but its achievements during the recent years were mainly concentrated towards urban areas. This sector in rural areas witnessed deceleration in output as well as employment after 2004-05. An important reason for this is increased reliance of rural consumers on service providers located in urban areas. Rural areas have comparative advantage in services like post-harvest value addition, on farm storage, primary processing, grading etc.
The absolute level of income per worker has increased at modest rate over time. However, over the years, the disparity in worker productivity remained consistently high among different categories of workers with agricultural labour being at the bottom. Nevertheless the recent years have witnessed a declined trend in disparity in worker productivity. The efforts to reduce disparity among different worker categories requires acceleration in employment diversification towards non-farm sectors through creation of conducive rural infrastructure and imparting skills and training to largely unskilled rural workers, and improving growth in farm output.
Linking processing to production through efficient value chain, contract farming and direct linkage between factory and farm offers considerable scope for rural employment generation as well as raising farmers' income. Overall, transformation of rural economy must include strong measures for employment generation and shifting workers out of conventional agricultural activities.
In the wake of capital intensive production preferred by manufacturing sector and anticipated threats to jobs posed by emerging technological innovations like new automation, artificial intelligence, IOT, robotics etc. there is a need for a rethink on pursuing traditional development approach of shifting workforce from agriculture to manufacturing and services. India should explore possibilities of creating blue collar jobs in and around agriculture. This also looks desirable as withdrawal of labour from agriculture has already started affecting some farm activities and farmer's income adversely and there is serious shortage of skilled workers in agriculture needed for specialised operations and adoption of modern technology. The reasons for workers preferring to move from agriculture to non-agriculture are low wages, stress of manual work and irregular employment. These three problems can be addressed by innovative approaches in production and post-harvest activities. These can be harnessed by developing and promoting new farm models based on knowledge and skill based agriculture and post-harvest on farm value addition. PMKVY can play a major role in this by promoting and imparting skills required in modern agriculture, value addition and primary processing.
Corporate Performance: Hoping For Revival Despite The Mix Of Good, Bad and Ugly
Investment is essential for any nation's economic development. It has a multiplier impact that boosts an economy's size and competitiveness in addition to helping to increase productivity. Recognizing its importance, the Indian government has concentrated on reviving capital spending and energizing public investment through a variety of channels, including the Gati Shakti initiative, the National Monetization Pipeline, and the National Infrastructure Pipeline (NIP).
As the pandemic recedes, the levers for a boost in capital spending appear to be falling into place. In the most recent March quarter, which just ended, fresh investment increased significantly.
The data shows that even before the pandemic struck, the corporate sales were on decline year-over-year, During the FY20, corporate sales declined in Q2, Q3 and Q4 as well. The PAT margin (per cent) also decreased, falling from 15.2% to 9.6% during Q2 to Q4 of FY20. This downturn affected the whole economy. Such underwhelming results were a sign of the general decline in the economy due to low consumer demand.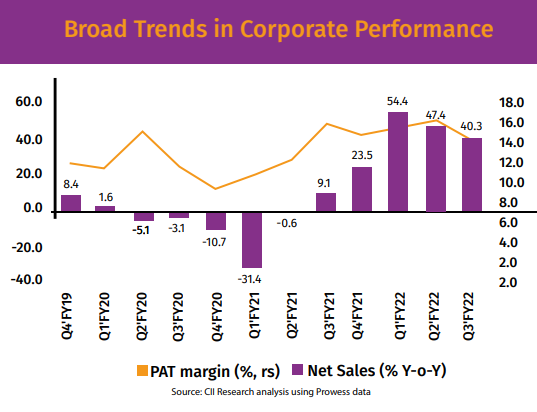 This poor corporate performance persisted until Q1 of FY21. The lockdowns hindered productions and service-based operations. This also had an effect on the way people spent money. The slowdown in global trade harmed both raw material imports and exports. The corporates were forced to turn to cost rationalization and boosted efficiency to reduce losses, which raised the PAT margin from 9.6% in Q4 FY20 to 10.7% in Q1 FY21.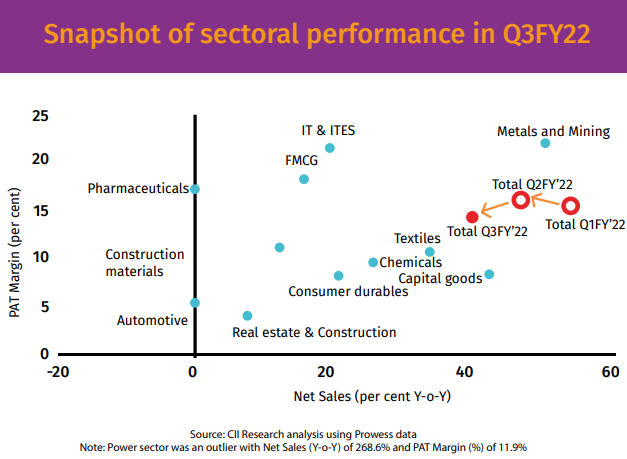 The government is making efforts to ramp up investments as a part of its strategy to boost economy. The March quarter saw the investments in new projects worth Rs 5.13 lakh crore, bringing the total print for FY22 to Rs 14.45 lakh crore. This represented a 68.9% gain over the course of the year as economic activity recovered further. The level is still lower than it was prior to the pandemic, though. Investments in the public and private sectors both increased during FY22. Private sector investment more than doubled in FY22, while public investment increased by 15.5%. These numbers make it very evident that the Union budget for 2022, which placed a strong emphasis on government capital spending, established the pattern for investment in private sector.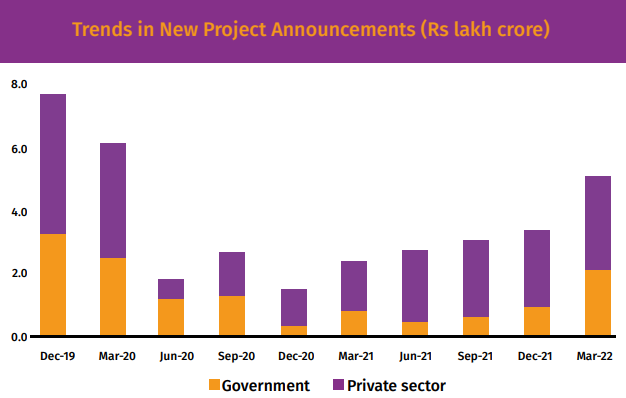 The Revival Of Corporate Sector -
India's corporate resurgence was noticeable from Q2 of FY21 to Q1 of FY22, both in terms of net sales and PAT margins. The growth was spread across industries and was partially fuelled by a low base effect. The strong corporate performance was aided by bottled-up demand from rural areas, the running down of precautionary savings made during the pandemic, and the low cost of capital. Q2 and Q3 of FY22 exhibited sustained corporate performance despite restrictions. In spite of the fact that y-o-y growth exhibited a dip due to low base effect from Q1 FY21, net sales increased significantly compared to the previous quarter. Corporate profitability also remained high, with PAT margins nearly doubling from the levels prior to the pandemic. During 2022, PAT margin increased from 15.7% in the first quarter to 16.3% in the second quarter.
"India's corporate resurgence was noticeable from Q2 of FY21 to Q1 of FY22, both in terms of net sales and PAT margins. The growth was spread across industries and was partially fuelled by a low base effect."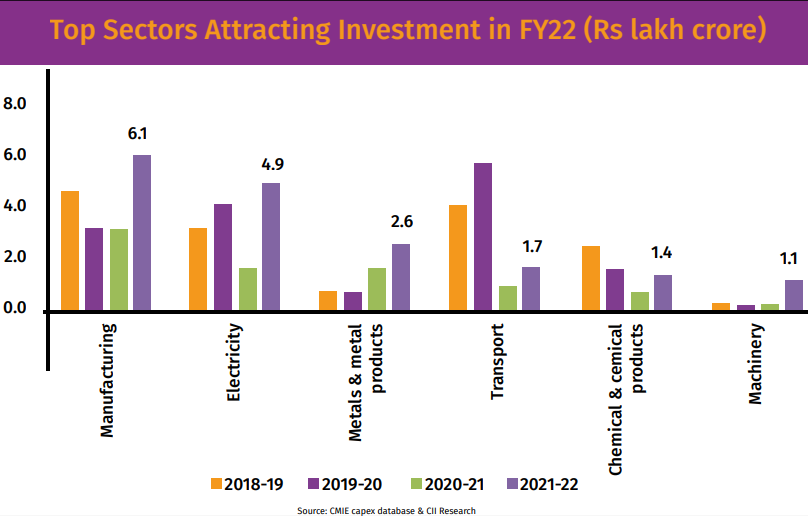 However, the PAT margin (per cent) declined to 14.5% in the third quarter of FY22 from 16.3% in the second quarter. This demonstrated that strain symptoms appear to have materialized. In Q3FY22, the price of Brent crude increased by 79% year over year, while that of steel and aluminium increased by 48% and 31%, respectively. The cost of gas and coking coal also increased significantly. Despite sales increases in some areas, these high raw material and input costs ultimately hurt manufacturers' corporate profitability.
In Q3 of FY22, the sector's performance was uneven in terms of net sales and profitability. Although net sales in industries like FMCG and power have increased, their profit margins have been squeezed by growing input and raw material costs. On the other side, miners and metals saw significant profits as a result of higher metals prices. Sectors like autos, building and real estate, construction materials, and textiles suffered a fall in both y-o-y net sales and PAT margin while consumer durables' profitability barely increased year over year (per cent). This was an indication of a wider economic slowdown as falling consumer demand reduced sales and high input and transport costs ate into earnings.
The threat of a war between Russia and Ukraine has driven up commodities prices as well as logistics and transportation expenses. Additionally, it has hampered international supply networks, causing shortages and delays in vital raw material inputs. These can be viewed as having a negative impact on the company's profitability in the final quarter of FY22. The high prices of commodities around the world, however, are expected to benefit some industries, which will benefit their PAT margins. For the fourth quarter of FY22, these factors will keep corporate performance inconsistent.
However, despite uneven corporate performance, all industries saw a strong increase in new investments. With the print in FY22 reflecting 89.2% greater investments than the previous year, the manufacturing sector continued to draw increased investment. Electricity, Metals and Metal Products, Transport Services, Chemicals and Chemical Products, and Machinery were among the other important industries that garnered higher investments in FY22.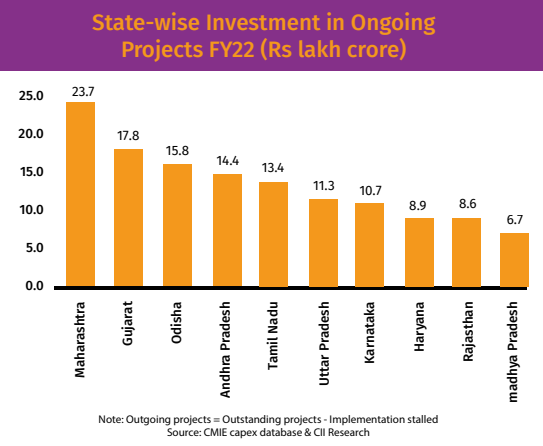 The government's Production Linked Incentive (PLI) scheme, which aims to increase India's manufacturing competitiveness, promote scaling up, and generate gainful employment, hopes to increase the investment in the manufacturing industry. Additionally, the PLI programme is aimed at attracting multinational corporations aiming to relocate some of their manufacturing to India as part of a China +1 manufacturing strategy. The total cost of declared or ongoing PLI plan projects is currently Rs 22,460 crore (as on 27th April, 2022). The greatest outstanding project investment as of right now is in the electronics sector, followed by the white goods sector.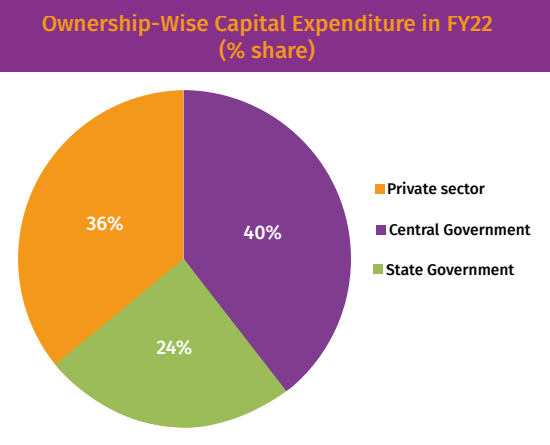 Compared to FY21, private sector investment in the nation expanded by 7.2% by the end of FY22 to reach Rs 74.4 lakh crore. On the other hand, the government's (central + state) total capital expenditure in absolute terms (measured by the value of ongoing projects) stood at Rs 135.2 lakh crore in FY22, suggesting that even though private investment has shown faster signs of recovery, it is the government's CAPEX, which accounts for 65% of total CAPEX, that is doing the heavy lifting. The majority of capital expenditures are made by the central government, a sign that it is allocating funds there in order to support economic growth.
On an overall basis, the business climate looks robust in India with 72 percent of businesses planning to make more capital investments this financial year. Capital investments, contrary to other types of spending, display long-term confidence among businesses in the economy. Capital expenditure going on an exceeding trajectory, thus, talks about the strong base that the Indian economy has created for its businesses. Spending on technology and construction-related activities are likely to have increased by 10 per cent and 9 per cent respectively for businesses that spend on these categories. This equates to 74 per cent and 66 per cent of businesses, respectively, likely spending more on these categories in this year.
Media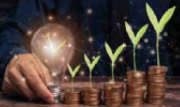 Understanding Various Types Of Returns
Why do people invest in mutual funds? They invest in a hope of getting capital appreciation or regular income. Generally, Return on Investment is a standard used to measure the performance of a mutual fund scheme. This post discusses...
Read More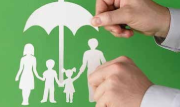 Traditional Life Insurance Policies vs The Term Plan
The traditional endowment plans Policies vs The Term Plan typically have 10 to 20 year policy terms. They offer a fixed lump sum payment at the end of the tenure or regular income payouts at predetermined periods, depending on the...
Read More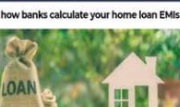 Know how banks calculate your home loan EMIs
Almost everyone has more than one loan at one point or other. As soon as you think about a home loan, you think of EMIs or repayments. It can be difficult to repay the amount if you don't plan properly. Home loan calculators are highly...
Read More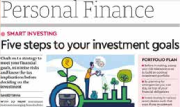 Smart Investing - Five steps to your investment goals
Over the years, mutual funds have gained popularity as a favoured tool for participating in capital markets. The vast universe of mutual funds can be overwhelming for investors, but with patience and discipline, it is possible to...
Read More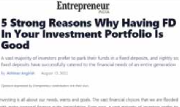 5 Strong Reasons Why Having FD In Your Investment Portfolio Is Good
Investing is all about our needs, wants and goals. The vast financial choices that we are flooded with make personal finance quite intimidating. Even now, a vast majority of investors prefer to park their funds in a Fixed Deposit...
Read More
Market Update
Fund Performance - Large Cap
| | 1yr | 2yr | 3yr | 5yr | 7yr | 10yr |
| --- | --- | --- | --- | --- | --- | --- |
| KOTAK BLUECHIP FUND (G) | -2.87 | 22.42 | 16.11 | 11.93 | 11.56 | 13.32 |
| EDELWEISS LARGE CAP FUND (G) | -2.21 | 21.20 | 14.50 | 11.77 | 11.40 | 13.30 |
| BARODA BNP PARIBAS LARGE CAP FUND REG (G) | -1.34 | 20.95 | 13.74 | 11.43 | 10.99 | 14.06 |
| CANARA ROBECO BLUECHIP EQUITY FUND (G) | -3.21 | 20.93 | 16.61 | 13.49 | 13.02 | 13.39 |
| IDFC LARGE CAP FUND REG (G) | -1.53 | 19.39 | 14.83 | 10.47 | 11.40 | 11.36 |
Fund Performance - Mid Cap
| | 1yr | 2yr | 3yr | 5yr | 7yr | 10yr |
| --- | --- | --- | --- | --- | --- | --- |
| EDELWEISS MID CAP FUND REG (G) | 5.21 | 35.38 | 27.02 | 15.31 | 15.20 | 20.02 |
| PGIM INDIA MID CAP OPP FUND REG (G) | 5.72 | 40.54 | 38.10 | 19.09 | 16.38 | - |
| QUANT MIDCAP FUND (G) | 15.29 | 43.40 | 36.41 | 20.18 | 16.66 | 15.83 |
| BARODA BNP PARIBAS MIDCAP FUND REG (G) | 1.51 | 30.53 | 24.34 | 11.87 | 12.98 | 18.00 |
| AXIS MIDCAP FUND (G) | -0.47 | 26.50 | 22.22 | 17.37 | 15.00 | 18.91 |
Fund Performance - Small Cap
| | 1yr | 2yr | 3yr | 5yr | 7yr | 10yr |
| --- | --- | --- | --- | --- | --- | --- |
| QUANT SMALL CAP FUND (G) | 3.46 | 48.75 | 50.72 | 21.24 | 17.31 | 14.88 |
| KOTAK SMALLCAP FUND (G) | 2.79 | 43.81 | 33.69 | 17.83 | 17.80 | 19.63 |
| EDELWEISS SMALL CAP FUND (G) | 7.34 | 41.56 | 33.43 | - | - | - |
| CANARA ROBECO SMALL CAP FUND REG (G) | 11.64 | 44.81 | 38.67 | - | - | - |
Fund Performance - Tax Saving
| | 1yr | 2yr | 3yr | 5yr | 7yr | 10yr |
| --- | --- | --- | --- | --- | --- | --- |
| IDFC TAX ADVANTAGE REG (G) | 3.44 | 34.06 | 23.05 | 13.01 | 14.48 | 16.70 |
| QUANT TAX PLAN (G) | 12.33 | 44.33 | 38.50 | 22.24 | 23.22 | 20.19 |
| EDELWEISS LONG TERM EQUITY (TAX SAVINGS) FUND (G) | -0.63 | 23.40 | 14.78 | 9.85 | 9.96 | 13.07 |
| PGIM INDIA ELSS TAX SAVER FUND REGULAR (G) | 2.35 | 29.49 | 18.50 | 12.20 | - | - |
| CANARA ROBECO EQUITY TAXSAVER FUND REG (G) | -0.04 | 25.27 | 20.89 | 15.65 | 14.27 | 15.04 |
| BNP PARIBAS LONG TERM EQUITY FUND (G) | -6.23 | 17.29 | 12.50 | 9.15 | 9.62 | 13.56 |
Know More