Mutual Funds
ICICI Prudential Advisor Series - Dynamic Accrual Plan

31.85 0.00(0.00%)
Equities Indices
Nifty 50
10,195.15

10.2600 (-3.3%)

16-03-2018

12:00

Prev Close

10,360.15

Open

10,345.15

High

10,346.30

Low

10,180.25

Details
Equities
Asian Paints Ltd.(INE021A01026)
NSE: Asian Paints
BSE: 500820
Sector: Chemicals
NSE Mar 16 2018, 4:01


1,160.80 23.90(+3.90%)

BSE Mar 16 2018, 4:01


2,260.90 23.90(+3.90%)

View Details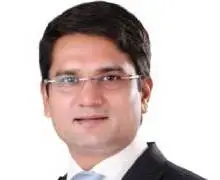 CEO'S DESK
Indian equity markets corrected sharply during the April-June...
Read More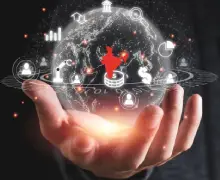 Cover Story
FDI Powerhouse
India has made it a consistent priority to change...
Read More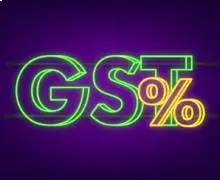 GST
The indirect tax system in India underwent a massive...
Read More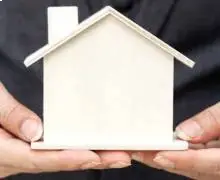 Real Estate
COVID-19 changed the economies of the world...
Read More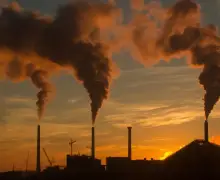 PLI Schemes
PLI is the magic phrase that can instantly make...
Read More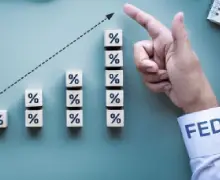 Interest Rate
Inflation has hit the highest level in 40 years...
Read More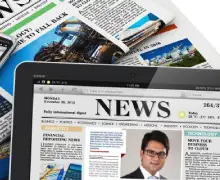 Media
InvestOnline strives to share knowledge and actionable...
Read More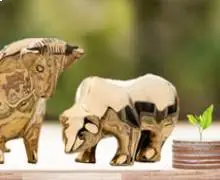 Market Update
Performance of Select Mutual Fund Schemes as on...
Read More
CEO's Desk
Dear Investors,
Indian equity markets corrected sharply during the April-June quarter due to rising inflation, aggressive tightening of rates by central banks and FPI outflows. The key benchmark indices viz. S&P BSE Sensex & CNX Nifty both went down by around 10% during the quarter. Large caps outperformed Mid-caps and Small-caps during the quarter. After correction, frontline indices are now almost at the same levels where they were a year ago, thus wiping out the gains made during last one year. Among sectoral indices BSE Auto and BSE FMCG were top performers while BSE Metal and BSE IT were worst performers during the quarter.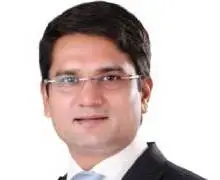 The consumer price index-based (CPI-based) inflation rate cooled and came in at 7.04 per cent in May 2022 against 7.79 per cent in April on the back of the base effect and cheaper food prices. With this, the retail inflation numbers have now remained above the Reserve Bank of India's upper limit of 2-6 per cent tolerance band for 5 straight months. India's industrial output, measured by the Index of Industrial Production (IIP), accelerated 7.1 per cent YoY in April as against 1.9 per cent YoY in March.
India's dominant services sector expanded at the fastest pace in 11 years in May on strong demand, although inflationary pressures touched new highs, restricting optimism and weighing on consumers' wallets. The S&P Global India Services Purchasing Managers' Index rose to 58.9 in May from 57.9 in April, its highest since April 2011 as the reopening of the Indian economy continued to help lift growth in the service sector.
The 10-year Government bond yield ended the quarter at 7.450 %, up by 0.607 bps from the previous quarter due to the rising crude oil prices which is forcing the government to borrow more. Going forward, inflation data, crude oil prices, government's fiscal situation and movement of US treasury yields will decide the direction of G-Sec yields.
India's GDP grew 4.1 per cent year-on-year in January-March quarter. Q4FY22 corporate earnings growth continued to remain healthy at the aggregate level, though less broad-based.
As we enter into second quarter of FY 2022-23, economic activity has continued to normalize with the lifting of pandemic restrictions but a spike in retail inflation due to energy and commodity price rises caused by the Russia-Ukraine war poses a risk to growth prospects.
The Indian economy has been facing high levels of imported inflation on account of rise in global commodity prices caused by supply disruption, prompting RBI to take speedier measures to anchor inflation expectations and lower the systemic liquidity levels.
The Reserve Bank of India (RBI) has already increased the repo rate to 4.90% in an attempt to control inflation. Persistently high inflation will force RBI to hike interest rates further to curb price pressures.
Overall, we are cautious on the markets in the near term as high inflation, liquidity tightening across the world, geopolitical events and concerns of global slowdown are likely to keep the market volatile in next few months. However, we feel that recent market corrections offer opportunities to invest in equities for the long run as over the medium to long term, India's economic growth is likely to bounce back due to factors such as favourable policy environment, impact of PLI schemes, Government thrust on infrastructure spending and opportunities arising from shift of global supply chain. Also, unlike the US, India's corporate profit to GDP ratio is still not high and hence in cycle terms, India is away from peak both in terms of corporate profits and valuations.
We feel that in such times of market volatility investors should stay invested and should not stop their SIPs & STPs. They should follow a disciplined approach and continue investing in a staggered manner in this decline. Equity investors looking to invest lump sum need to follow a gradual approach and could invest 10-15% on every 3-5% drop in the equity market. For debt fund investors, low duration funds and shorter duration funds should be the preferred option as the interest rate outlook still remains hawkish.

Making India An FDI Powerhouse: The Opportunities and Challenges
India has made it a consistent priority to change its economy in order to increase manufacturing and attract investors. The most recent few months have been fraught with turbulence. The dynamics of international trade have been affected, first by trade wars and then by the COVID. Because of the one-of-a-kind nature of the current economic climate, businesses have begun revaluating their business plans, actively seeking new investment opportunities, and not being afraid to take some calculated risks.
A robust economy, unrivalled access to markets, a sizeable labour force (a demographic dividend), a government focused on reform, and an abundance of natural resources are some of India's strengths when compared to those of other countries. Foreign investors have a wide variety of opportunities to invest in these, and they have the potential to establish dynamic value chains.
Many countries' economic strategies have been reset as a result of the COVID-19 epidemic. India is going through a similar period, and foreign direct investment (FDI) will play a key part in this. Over the years, the government has taken determined steps to ensure an environment that is safe and secure. The FDI reforms have yielded positive results. India's FDI policy is facilitating and investor-friendly.
As evidenced by the fact that total FDI inflows1 increased by 55 per cent, i.e. between US$ 231.4 billion in 2008-14 and US$ 358.3 billion in 2014-20.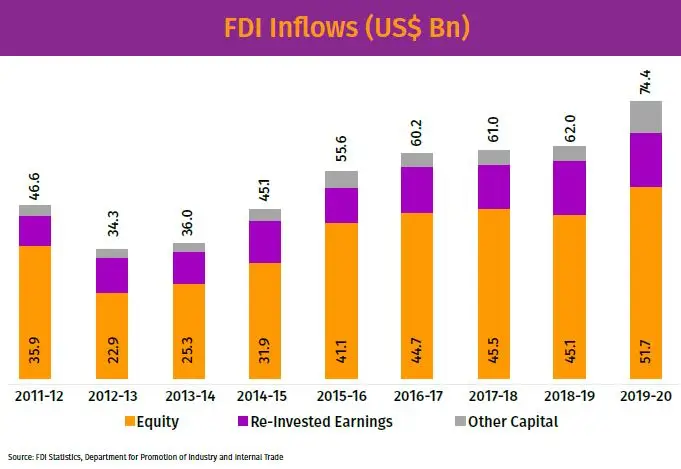 "Significant progress has been achieved in opening up numerous sectors of the economy; India comes out on top when compared to other emerging markets in Asia such as Indonesia, Malaysia, and the Philippines."
The following are examples of commitment to attracting FDI -
What Makes India An Attractive FDI Destination?
Consistently lowering FDI barriers and increasing attractiveness.
According to the OECD's FDI restrictiveness index, India's overall limitations on foreign direct investment (FDI) are high. They went from 0.42 to 0.21 in the span of the past 16 years, which is a significant decline. Mining, manufacturing, building, power, and services are all examples of areas where major investments have been made in India. Significant progress has been achieved in opening up numerous sectors of the economy; India comes out on top when compared to other emerging markets in Asia such as Indonesia, Malaysia, and the Philippines.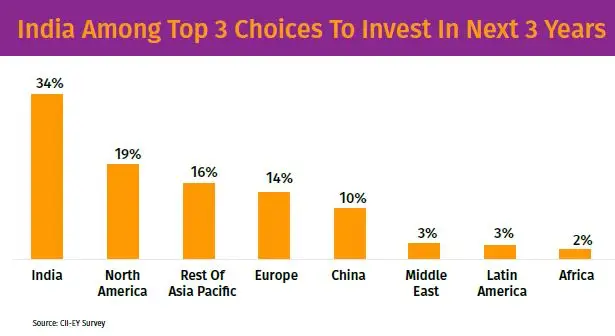 In the meanwhile, it has not yet reached the levels of foreign direct investment (FDI) openness seen in OECD countries. (The average across all OECD countries is 0.06), Vietnam (0.13), or Brazil (0.08). Given the circumstances, the government's continuous focus on foreign direct investment (FDI) and other economic reforms, such as the significant structural improvements in agriculture that began in 2020, should continue to boost India's appeal to FDI.
The overall amount of foreign direct investment (FDI) in India is expected to more than double from the USD 36 billion it was in 2013-14 to USD 74.4 billion in 2019-20 during the course of the last eight years. India has received foreign direct investment from Mauritius and Singapore.
However, in comparison to its counterparts, India may have more space to grow its foreign direct investment relative to its gross domestic product. The ratio has averaged 1.8 percent throughout the course of the previous eleven years (2009-2019). Now this is significantly lower than what other countries like Vietnam have achieved over the same period of time. During the decade of the 2000s, when China's GDP was expanding by double digits, the country's foreign direct investment to GDP ratio was roughly 4 percent. This indicates that India now has a greater capacity to entice direct investments from other countries.
Despite the impact of COVID-19, India had total equity foreign direct investment (FDI) inflows of US$ 30.1 billion in the first half of FY21. This is a 15.4 per cent increase from the US$ 26.1 billion received in the same period in FY20.
Outside of the four major states, there is a considerable opportunity that has not yet been taken advantage of. Over three quarters of the foreign direct investment (FDI) into the country came from the states of Maharashtra (28 percent), Karnataka (19 percent), Delhi (16 percent), and Gujarat (10 percent) (From October 2019 to June 2020).
The top ten states in India receive 97% of the total foreign direct investment (FDI) flowing into the country. Because the rest of India's states are larger than many other large countries across the world in terms of population and GDP, they are locations that will have opportunities in the foreseeable future.
Where Do Opportunities Exist?
Opportunities exist in industries that require a modest level of ability and a large amount of labour.
India's Services Sector and high-skill Manufacturing5 sectors—automotive manufacturing, chemical manufacturing, drug manufacturing, and pharmaceutical manufacturing—attracted 89 per cent of all foreign direct investment (FDI). It has had a limited amount of success in attracting foreign direct investment (FDI) in low-skill manufacturing sectors such as textiles and clothing, leather, footwear, and furniture in comparison to its rivals. The performance of India's exports has also reflected this trend recently. This relationship refers to a potential future strategy in which India may need to take measures to attract foreign direct investment (FDI) in low-skill labour-intensive sectors in order to join global value chains and utilise its large workforce.
India's growth story will be driven by the rising middle class and reforms under the ease of doing business.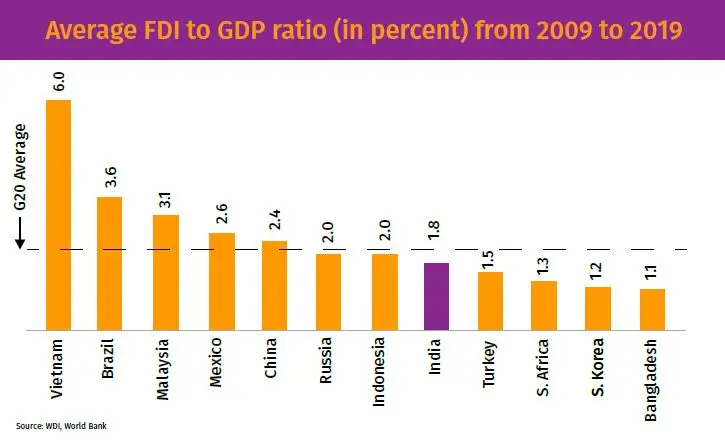 The International Monetary Fund (IMF), in its most current World Economic Outlook, which was published in October of 2020, forecasted that India's economy will grow at an annual pace of 8.8 per cent in 2021, making it the economy with the fastest growth rate in the world. Because of the expansion of the middle class, consumer spending is expected to increase by 42 per cent between the years 2020 and 2025, as measured in terms of US dollars at constant prices, according to a projection made by IHS Markit. Because of this, India is a desirable place for FDI investments. Technology companies have already received approximately US$ 17 billion in foreign direct investment (FDI) in the first seven months of 2020, despite the pandemic. The Make in India initiative of the Indian government has increased the number of opportunities for domestic businesses to work together with foreign companies on collaborative research and development, co-production, and technology transfer projects in the defence industry.
The Pro-Active Role Of The Government -
Recent months have seen the government take a number of significant steps in the realm of defence, including:
Significant changes have been made from the DPP2016 to the new DAP2020. These changes include the addition of a new import embargo list as well as an increase in FDI through the automated approach to 74 per cent. This is done with the intention of bringing in cutting-edge technology as well as financial resources in due time for other projects. In addition to that, it will lead to an increase in the production of software as well as components and subsystems. The economic system has been severely disrupted by COVID-19, which has led to a shock similar to that which was experienced during the financial crisis of 2008-2009. During the Great Financial Crisis (GFC), the gross domestic product (GDP) of the world fell by 0.1 per cent in 2009, and it is expected that it would fall by 4.4 per cent in 2020. In 2009, negative growth rates were seen in 90 countries, or 47% of the world's total.
By the year 2020, it is expected that 168 countries, or 87 per cent, will have seen negative growth rates. During the Great Financial Crisis, both India and China continued to expand at large rates, which contributed to the overall economic recovery despite the former countries' severe economic downturns. In the year 2020, the situation will be very different as a result of the epidemic, which has had a significant impact on India, while China may only be able to continue positive development. There is a strong possibility that the pandemic shock caused by COVID-19 will be even more severe than the one caused by the global financial crisis.
The Rivalry For Foreign Direct Investment (FDI) Will Heat Up -
The shock caused by COVID-19 is expected to cause a severe impact on international trade as well as on foreign direct investment (FDI). The Russia-Ukraine war has led to spurt in commodity prices, and this is expected to slow down trade. World merchandise trade volume is expected to grow 3.0% in 2022 (down from 4.7% in 2021) and 3.4% in 2023. Both the International Monetary Fund and the United Nations Conference on Trade and Development (UNCTAD) anticipate that there will be a significant decrease in foreign direct investment (FDI) in the future as a large number of industrialised countries reshore their vital commodity value chains in order to develop resilience against global shocks such as pandemics. FDI flows plunged globally by 35% in 2020, to $1 trillion from $1.5 trillion in 2019.
Lockdowns caused by the COVID-19 pandemic around the world slowed down existing investment projects, and the prospects of a recession led multinational enterprises (MNEs) to reassess new projects. The fall was heavily skewed towards developed economies, where FDI fell by 58%, in part due to corporate restructuring and intrafirm financial flows. FDI in developing economies was relatively resilient, declining by 8%, mainly because of robust flows in Asia. According to the data provided by the IMF, the ratio of global FDI inflows to GDP has been on a downward trend ever since the global financial crisis, falling from between 3 and 5 per cent to between 2 and 3 per cent. Because of the pandemic, this ratio is expected to decrease even further in the years to come, eventually landing somewhere in the range of 0.9 per cent to 1.4 per cent. All of these pieces of data point to the fact that the total amount of global FDI being invested will continue to fall in the years to come.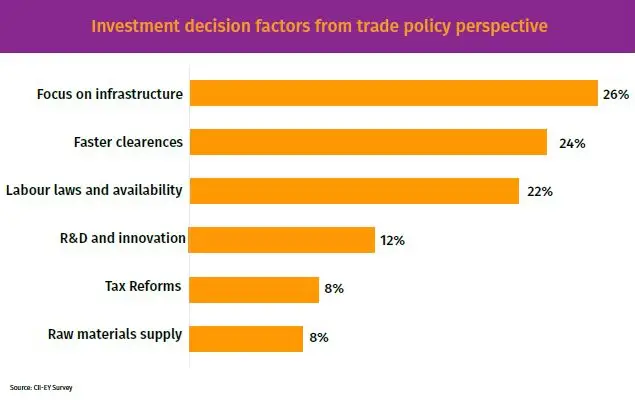 At the same time, there may be an increase in the demand for foreign direct investment (FDI) around the world, particularly from developing countries, in order to help fund their investment needs. As a direct consequence of this, the competition for foreign direct investment (FDI) that exists between various regions may grow even fiercer.
The practice of transferring production back to the country or region from where it was originally exported, sometimes known as "reshoring," is also known. The disinvestment of current value chains and the reduction of efficiency-seeking foreign direct investment will both work to facilitate the process of reshoring.
Companies in which new technologies are displacing older technologies and global value chains for such technologies have not yet been established may use this strategy. Electric automobiles and other sophisticated machinery could be produced in India with the help of this technology. COVID-19 placed an attention on the problems associated with global value chains by stressing the ways in which their geographical spread, complexity, and distance constituted substantial obstacles to the value chain restarts that were necessary during the pandemic.
More regionalization of some global value chains will be supported by the current policy climate, which includes regional economic cooperation, post-pandemic regional self-sufficiency, increase of industrial capacity, and protection. It is possible that India will be forced to go this route in the case of cotton textiles, mining, and other industries where it could be possible to construct a regional value chain. When a company has both diversification and redundancy, it means that it will leverage many of the current suppliers in global value chains, which can be found in a variety of locations.
In the future, diversification will be of assistance to businesses in their efforts to respond to pandemic-like situations. As industrialised countries continue to diversify their economies, this will present India with an opportunity to advance its low-skill manufacturing sector. In addition, India's service industry has been at the forefront of global competition for a significant amount of time, and the country will need to continue to excel in this area in the years to come.
The primary objective is to achieve as much redundancy as is humanly possible. This will ensure that several businesses inside a country are able to create the necessary commodities, which will in turn disrupt any current value chains and concentrate production within a country or sub-region. In order to increase its chances for foreign direct investment (FDI) in the wake of COVID-19, India has already started to implement this strategy in the crucial medicines and medical devices sectors. The primary factors that encourage foreign direct investment include corporate tax cuts, initiatives to make it easier for businesses to operate, simplified labour laws, and FDI reforms. According to almost forty per cent of investors, the steps taken by the government to decrease corporate tax rates, streamline labour standards, and improve the ease of doing business have been essential in attracting international investment into the country. FDI reforms and the government's emphasis on people's access to healthcare and training have proven profitable for thirty per cent of the businesses surveyed.
The Primary Approaches India Has Taken In Order To Attract FDI -
In order to position India as a top destination for international investment, the government has carried out a series of structural reforms, with a particular emphasis on land, labour, liquidity, and the law. Since the beginning of the pandemic, it has provided around 20 million crores of rupees worth of stimulation to the economy. Among the industries that are addressed are those pertaining to power, manufacturing, defence, land, education, mining, and minerals.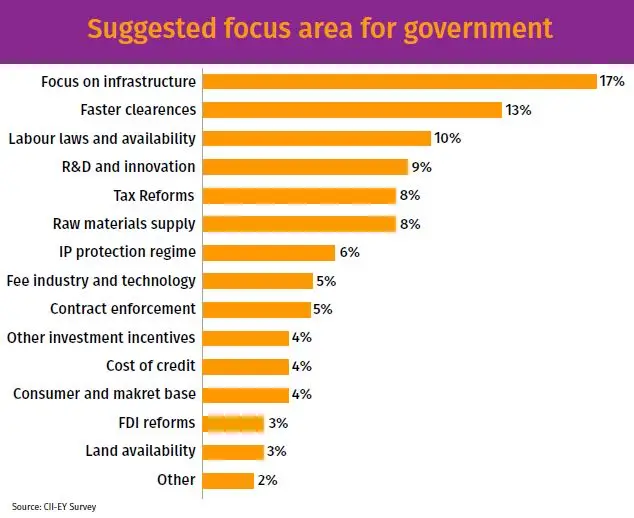 The following is a list of some of the major enhancements that have been implemented:
A 15 per cent corporation tax rate for new industrial facilities, which will make it more competitive with countries in the ASEAN region
Abolition of the tax on the distribution of dividends from corporations
A structure of duties that is both progressive and graded to stimulate domestic production of intermediate and final goods, such as electric automobiles
Production-linked incentives of 197 billion rupees, distributed across 13 industries
The government offered monetary incentives on top of incremental sales for a period of five years to counteract the effects of disability manufacturing in India. The first emphasis was placed on high-value items (cell phones, for example) and commodities associated with healthcare. The maximum on automatic route foreign direct investment for the manufacturing of defence goods has been raised from 49 per cent to 74 per cent. To support the growth of micro, small, and medium-sized enterprises (MSMEs), the definition of MSMEs has been expanded to include higher investment and turnover levels.
The consolidation of more than one hundred different labour regulations into four different codes, with more retrenchment exemptions and decreased registration requirements In order to provide information on industrial land, a GIS system has had its implementation expanded to allow the gathering of data at the plot level.
Making it easier to conduct business by implementing paperless e-assessments for taxation, legitimising company legislation, and providing the option to net eligible Financial Contracts
The beginning of coal mining for commercial purposes, as well as the establishment of an integrated licencing system for mineral mining
The Airport Authority of India (AAI) has chosen to award three of the six proposals it received for the operation and maintenance of airports on a public-private partnership (PPP) basis
The electricity departments and utility companies of the Union Territories are going to be privatised. Distribution's operational and financial efficiency will both grow as a result of this, and it will also serve as a model for other utilities all throughout the country to emulate. New Public Sector and Firms Policy, often known as the "New Public Sector and Firms Policy," is a policy that allows public sector enterprises to participate in some areas while also opening all markets to the private sector. During the COVID recovery period, the "Atmanirbhar Bharat Rozgar Yojana" programme was initiated in order to foster the establishment of new job opportunities. Reforms in areas such as corporate tax reduction, labour reforms, agriculture reforms, PLI & PMP reforms, MSME reforms, coal and mining changes, and other reforms had been sought after for a significant amount of time by industry as well as multilateral organisations. These reforms will assist in not only increasing the production capacity of the economy but also in making the economy more efficient in its use of the resources that are currently available. A fresh concentration on the nation's infrastructure is required in order to entice financial investments. In order to increase the amount of foreign direct investment (FDI), the companies that were questioned believe that the government should address the following primary focus areas. The construction of new logistical infrastructure, as well as the expansion of port capacity, is something that 17% of companies believe should be the primary priority in order to cut down on the prices of moving goods and the amount of time it takes, respectively. The development of a customs clearance system of world-class calibre earned 13% of the vote. Even if the clearance process has seen significant development in recent years, a system that enables simultaneous approvals from several departments rather than sequential clearances would make it a great deal simpler for businesses to acquire clearances in a timely manner.
In addition to this, the findings of the study suggest that there is a need for further attention to be paid to the successful implementation of new labour laws, the availability of labour, research and development reforms, tax reforms, and the raw material supply system. If attention was paid to the aforementioned topics collectively, it would be possible to alleviate the concerns of almost 65 per cent of respondents, which would ultimately result in a more positive experience for foreign investors in the country.
26 per cent of businesses believe that the turnaround time for value added production for regional or global supply chains is critical in terms of trade policy, while 24 per cent believe that cargo handling facilities at ports, airports, and land customs stations need to be improved. Both of these beliefs are related to the concept of free trade. A almost equivalent proportion of companies place a high importance on trade facilitation measures. The bulk of respondents' concerns are addressed by these three primary categories, in addition to the associated costs financially (72 per cent).
"The construction of new logistical infrastructure, as well as the expansion of port capacity, is something that 17% of companies believe should be the primary priority in order to cut down on the prices of moving goods and the amount of time it takes, respectively. The development of a customs clearance system of world-class calibre earned 13% of the vote."
What Kind Of Things Are The Competing Nations Trying To Entice Potential Investors?
The consequences of the pandemic's economic impact will continue to reverberate across the economy of the entire world for the foreseeable future. The outbreak has demonstrated the difficulties associated with relying on a single nation to fulfil the requirements of the global economy's industrial sector. A good number of industrialised nations are currently engaged in a mad dash to diversify their supply chains, reduce their reliance on the products of a single nation, and build redundancy into their manufacturing value chains for the foreseeable future.
Competitors like China had an advantage in manufacturing but not in services; Vietnam, Indonesia, and Bangladesh had advantages in low-skill manufacturing and textiles. Historically, India's comparative advantage has been in services and high-skill manufacturing. China, on the other hand, had an advantage in manufacturing but not in services.
In the realm of manufacturing, industrialised countries are mulling over the possibility of adopting a China+1 strategy, in which the new investment destination is chosen based on a number of the variables that have been discussed previously.
In the same way that India is taking advantage of this window of opportunity to entice investment; a number of other developing nations are making comparable efforts. As was said before, India has carried out a number of ground-breaking structural reforms in recent years in an effort to increase the allure of the nation for foreign nations.
Vietnam, Thailand, Indonesia, and Bangladesh (for Textiles) have focused on policy options such as investment subsidies (in the form of taxation), attracting Outward Direct Investments (ODI) from China, establishing Free Trade Agreements (FTAs) and Investment agreements with key supplier and importer countries, instituting structural labour reforms (in Indonesia), and instituting ease of doing business reforms comparable to what India has done. They have relatively inexpensive labour in comparison to China, which is rapidly expanding into the higher complexity regions of global value chains. This is because China is developing at a far faster rate than these other countries.
The Advantages That India Enjoys Due To The Following Factors -
India's gross domestic product (GDP) in 2019 was $2.9 trillion, while the GDP of its competitors—Malaysia, Indonesia, Thailand, Bangladesh, and Vietnam—was $2.6 trillion, which is 10 per cent lower than India's GDP. This highlights the unparalleled access to the market that investors will have if they choose to make their investments in India.
India has a labour force that is 320.6 million people, which is 36 per cent smaller than the total labour force of Malaysia, Indonesia, Thailand, Bangladesh, and Vietnam. India's labour force is 500.9 million people. Even after 2050, India will continue to enjoy the benefits of its demographic dividend, presenting investors with a long-term opportunity in which they do not need to be concerned about rising wage limitations.
As a direct result of all of the reforms that have been carried out by the administration up until this point, India now scores higher in terms of main investor attractiveness measures.
Finally, in contrast to other rising countries that are still developing their economies, India has a significant industrial footprint throughout all value chains. As an illustration, from the cultivation of cotton to the manufacturing of garments; from the extraction of coal and iron ore to the production of automobiles and other metal objects; and so on.
Foreign investors would have a wide variety of investment opportunities available to them, and they would be able to create flourishing value chains with their very own backward and forward links within the borders of India alone.
How much direct investment from other countries can India bring in?
The expansion of a nation's gross domestic product is connected to the inflow of foreign direct investment. The gross domestic product (GDP) of China expanded by an average of 10 per cent in the year 2000, while the ratio of foreign direct investment to GDP was 4 per cent. The Foreign Direct Investment to Gross Domestic Product Ratio Has Fallen to 2% However, because China's growth rate has slowed to 6% over the past decade, this ratio has fallen. In addition to having a high Foreign Direct Investment to GDP ratio of approximately 6 per cent, Vietnam's GDP has been growing at an average rate of 6.2 per cent.
The growth in India's GDP over the past decade was 6.8 per cent, and foreign direct investment made up 1.8 per cent of India's GDP. Recent structural changes, increasing FDI limitations in several industries, and the policy of the government known as Atmanirbhar Bharat are all contributing factors that are expected to cause the ratio of FDI to GDP to skyrocket by the year 2025. It is estimated that India will be able to attract between USD 120 billion and USD 160 billion in FDI yearly if it is successful in increasing the ratio of FDI to GDP11 to between 3 per cent and 4 per cent by the year 2025. It is possible that this will assist India's gross domestic product growth rate in returning to the 7–8 per cent range.
What Kind of Policies Should the Indian Government Pursue?
The government's concentrated reforms to boost India's global competitiveness will begin to show obvious results as investors begin to take advantage of this opportunity to expand their businesses in India. The current form of the economy's transformations needs to be maintained. The amount of foreign direct investment (FDI) that India receives should be increased to a target of 4 per cent of GDP, up from the current level of 1.8 per cent of GDP (which has been achieved in recent years).
In the same line, we have determined a few additional domains on which the government ought to concentrate its efforts in the not too distant future. Establishing Coastal Economic Zones (CEZs / SEZs) and manufacturing clusters is something that needs to be done. According to a study12 conducted by the World Bank, the increase of GDP in the SEZs that were investigated was 14.7%, which is significantly higher than the average growth rate of 3.144% seen across the entire world.
The government's Baba Kalyani Committee, which was established to study the country's Special Economic Zone (SEZ) strategy, made a large number of recommendations on several aspects of the SEZ policy. These recommendations included WTO compliance, increased manufacturing from SEZs, international comparison, and other government policies. These proposals are currently in the process of being implemented by the government.
In the future, India ought to concentrate on developing CEZs with infrastructure of world-class standard and the full supply chain present in the zones. This would cut down on transit times and make the entire chain competitive while requiring a minimal amount of compliance on their part. It is strongly suggested that:
The government should create four to five large coastal economic zones and equip them with suitable infrastructure for logistics. At least one of them has the potential to become a component of the industrial corridor that runs between Delhi and Mumbai
CEZs should place more of an emphasis on the competitiveness of their manufacturing sectors rather than catering solely to exporters
Enclaves should be able to do business with regions that are located outside the zone, and domestic supply and payments should be able to take place in rupees. Additionally, incentive linkages with exports should be severed, and the need for NFE should be eliminated
Make it possible for CEZ investments to receive External Commercial Borrowings (ECBs) in order to make access to funding easier
The government could provide indirect benefits to industries located in such zones by investing in shared infrastructure and implementing programmes like PMAY and Ayushman Bharat to provide low-cost housing and healthcare for workers. These programmes are designed to benefit workers in the manufacturing sector
Because the nation's infrastructure is considered a public good, it is essential that the government continue to invest in its maintenance and repair in all of the country's many regions. The effectiveness of customs and port clearances is another area that has to be reformed. The duration of the time required to clear incoming and leaving cargo can be greatly reduced down by the implementation of cutting-edge technology and the streamlining of processes.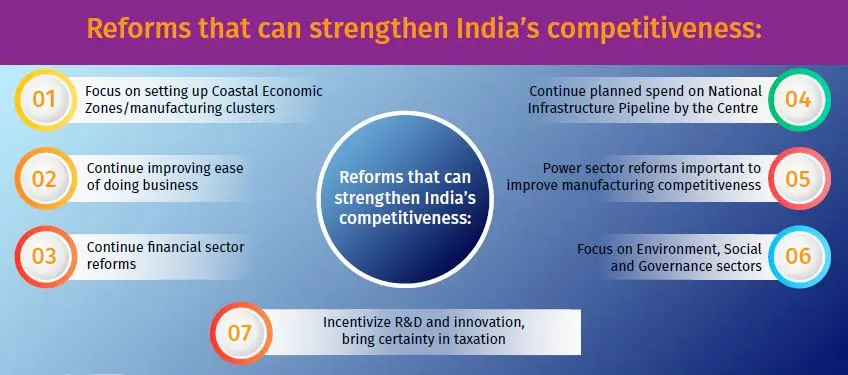 Increase the country's already favourable business climate even further. India's position in the World Bank's rankings of countries according to their "ease of doing business" (EODB) has improved from 142nd to 63rd place as a direct result of the government's unrelenting efforts to improve EODB. The score that India received for certain categories, including the enforcement of contracts, the beginning of a business, the registration of a property, and the payment of taxes, is still quite low.
The following are some potential areas that should be taken into consideration by the government:
Contract enforcement - Despite having one of the greatest economies in the world, India is ranked 163rd in terms of its ability to uphold contractual obligations. Investors want to know they may have faith in the project and that it will be implemented quickly; hence, delayed contract enforcement hinders investment. According to the Economic Survey of 2018, it is anticipated that the value of the projects that have been put on hold in six infrastructure ministries will be close to Rs 52,000 crores. It will be necessary for the government to engage the judicial system in a proactive manner and increase the rate of case clearing to one hundred per cent if it is to succeed in reducing the pendency and the accumulation of pending cases. It is essential to increase the number of judges while simultaneously increasing their productivity through the use of new procedures and technological advances. The multiplier effect of investments in the judiciary is highlighted in the government's economic assessment for the 2018-2019 fiscal year.
This effect is highlighted not only in terms of the economic benefits, but also in terms of the enhanced culture that can be attributed to the enforcement of rule of law. Decriminalization of economic law is one of the recommendations made by the Indian government for the amendment of 19 legislation in June of 2020. Furthermore, there has been a consistent demand, and multinational corporations (MNCs) in India have made several submissions, such as the decriminalisation of legal metrology law. This is one example. This procedure needs to be done out with a lot of attention to detail. It has been proposed that the government of India examine all laws pertaining to economics and reconsider the transgressions that warrant the imposition of criminal sanctions.
Make necessary changes in the way the financial sector operates -
Along with the implementation of the Atmanirbhar Bharat plan, the banking system in India need immediate reform. The following are some potential considerations that the government might give some thought to:
Improve the effectiveness of the Indian banking industry by restructuring and recapitalizing public sector banks and reducing the gap between deposit and lending rates This should help in the transmission of monetary policy as well as the absorption of loans, which should in turn kickstart the investment cycle in the economy. In accordance with the suggestions made by the RBI Task Force13, a centralised Public Credit Registry (PCR) should be established at the national level. This would result in better symmetry of data and improved efficiencies in comparison to the current systems, which have credit information distributed throughout the whole financial industry.
Initiatives pertaining to taxes -
Tax advantages to stimulate research and development and innovative thinking.
Research and development (R&D) should continue to receive support from India in the form of weighted deductions and tax incentives. The promotion of private sector investment in research and development (R&D) occupies a prominent position on the innovation policy agendas of many nations.
According to the OECD14, during the course of time, the policy mix has altered, with a larger focus being placed on the use of R&D tax incentives to stimulate business R and D.
As many nations prepare strategies to revive their economies in the wake of COVID-19, they are establishing new, expanded, or specially-focused research and development (R&D) incentive programmes. However, these initiatives are being hampered by BEPS regulations, which prevent them from being fully implemented. In order to stimulate more firm investment, a number of nations have reinforced their capital and other incentives and allowances, as well as their depreciation and amortisation policies. As an example15, countries like as Finland, Germany, Indonesia, Japan, Korea, Malaysia, New Zealand, Poland, Slovakia, Switzerland, and the United Kingdom are reducing the tax burden imposed on firms while simultaneously boosting or enhancing R&D and other business incentives.
Clarity on taxation -
The courageous initiative taken by the government to cut corporation tax rates to 22 percent for all enterprises and 15 per cent for new manufacturing companies propelled India into a competitive position against a large number of OECD and BRICS countries, in addition to regional competitors such as China, Indonesia, and the Philippines. Reduced interest rates will, over the medium term, bring down the cost of capital and drive further investment. In addition to the items listed above, a positive step forward would be to place an emphasis on honest taxpayers and transparent tax administration. E-assessment Scheme (FAS), Faceless Appeals, and the Taxpayers' Charter are all game-changing reforms that will increase the effectiveness, transparency, and accountability of the tax administration. Increasing legal certainty and building processes for preventing and resolving disputes are the two primary responsibilities that the government must focus on at this time. The Authority for Advance Rulings (AAR) process in India has had only modest effectiveness in reducing the amount of litigation; currently, there are over 470 cases that need to be resolved. This is because of the structural and administrative variables involved. Even if the functioning of the benches has significantly improved, there is still more work to be done to ensure that the procedure is successful.
It has been demonstrated that Advance Pricing Agreements (APA) are effective in minimising the number of litigation. In spite of the difficulty of the procedure, the Department of Defence has already signed 320 APAs (as of the 20th of December in 2019)16. However, there are still over 760 cases that need to be resolved before they can be closed. Both the AARs and the APAs can significantly improve their capacity, which will be very beneficial to the taxpayers. Making it possible for APAs to conduct e-site visits can help the process move along more quickly. In addition, the government ought to continue its initiative of issuing clarifications in response to the inquiries made by taxpayers regarding the nature of certain policies. New approaches, such as private rulings and tax mediation, might be looked into as potential ways to cut down on conflicts.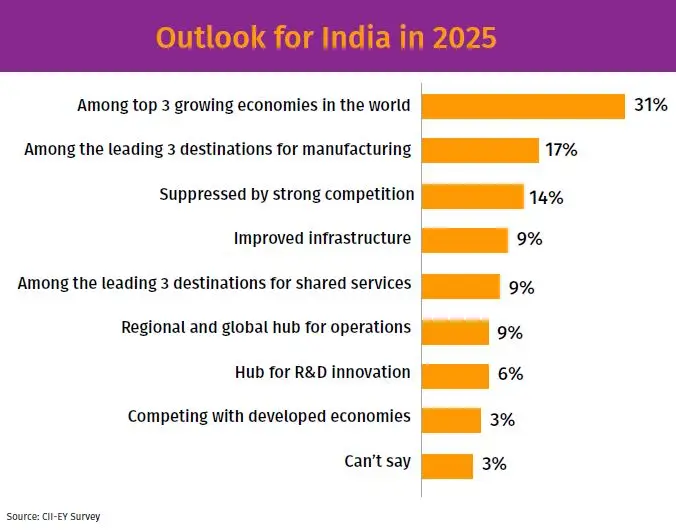 Quicker action is needed to reform the power sector -
The industry is still being negatively impacted by high electricity costs, and the high amount of nonperforming assets in the power sector has had a negative impact on the banking sector. To boost India's manufacturing competitiveness, strengthen government finances, and make the Indian power sector attractive for foreign and private investments, the government should prioritise finishing the proposed reforms to the power sector by passing the new Electricity (Amendment) Bill, 2020, implementing the new Tariff policy, and encouraging the franchisee model or privatisation of distribution companies. Doing so will help make the power sector in India more appealing to both foreign and domestic investors.
GST: The Past, Present and Future of Revolutionary Tax
The indirect tax system in India underwent a massive transformation five years ago, with taxpayers across the country being exposed to the Goods and Service Tax, consumption based indirect tax. This new system, dubbed as India's most significant and historic indirect tax reform, changed the way India looked at indirect taxes by bringing uniform taxation under the principle of "One Nation, One Tax." At the central level, GST replaced indirect taxes such as excise duty, service tax, additional excise duties and other duties and customs, while at the state level, it replaced State VAT, luxury tax, entry tax, entertainment and amusement tax, taxes on advertisements, taxes on lotteries and purchase tax. It can be said that "One Nation, One Tax" was the beginning of a tax revolution in the country. Since the Goods and Services Tax was initially adopted on July 1, 2017, we have come a long way as a country. Indian Prime Minister Narendra Modi described GST as the largest overhaul of country's tax system since independence. This article explores some of the highlights of the Goods and Services Tax's journey in India, including its challenges and accomplishments, future prospects, and most recent efforts to help the country recover from the economic downturn caused by the novel Coronavirus outbreak. Due to the outbreak of COVID-19, India implemented the world's most comprehensive synchronised lockdown in March 2020. This closure, predictably, brought already struggling enterprises to a halt.
Indian economy was already experiencing a decline in 2019, therefore the Union Budget 2020 was primarily focused on introducing automation and pushing digitization in order to combat tax fraud and propose ways to make GST compliance easier. E-invoicing and the new returns system were two major innovations expected to be implemented in April 2020. With digitised tax management and tax operations, these measures were supposed to help the country's Digital India initiative. The revisions were unfortunately postponed due to the Coronavirus pandemic. Finally e-invoicing was introduced on 1st October 2020. for taxpayers with an aggregate turnover exceeding Rs.500 crore. E-invoicing was extended to businesses with an aggregate turnover exceeding Rs.100 crore from 1st January 2021.
On 8th March 2021, the CBIC also notified applicability of the e-invoicing system from 1st April 2021 for businesses with total turnover ranging between Rs.50 crore to Rs.100 crore. The government recently extended the e-invoicing applicability to businesses having more than Rs 20 crore turnover w.e.f 1st April 2022.
Due to the Pandemic, all eyes were on the Centre's COVID-19 economic stimulus relief package, which was revealed after India was placed under lockdown in March 2020. The government announced Atmanirbhar Bharat Abhiyan that changed MSMEs' definition and thresholds. India has announced a revision in the definition of micro, small and medium sized firms (MSMEs) and their investment thresholds, which was intended to help MSMEs across the country. India has announced a revision in the definition of micro, small, and medium-sized firms (MSMEs) and their investment thresholds, which will help MSMEs across the country. Previously, MSMEs were classified based on the amount of capital invested in plant and machinery. MSMEs will now be classed based on turnover rather than investment, according to the revised definition. This makes it easier for new enterprises to start in the manufacturing and service industries. The Atmanirbhar Bharat Abhiyan economic stimulus programme is expected to inject 10% worth of India's GDP in assisting industries, particularly SMEs, in regaining their footing.
Evaluating the Meetings of the GST Council throughout the Previous Years -
The GST Council is an apex member council tasked with amending or reconciling the GST framework's statues and regulations. The council makes general recommendations on problems such as threshold limitations, deadlines and extensions, and tax rates on products and services, among other things. The Council meetings are held regularly and are chaired by the Union Finance Minister. Nearly 40 GST council meetings have been held in the last three years, with each meeting focusing on adjustments to tax slabs, tax rates, GST law modifications, and so on. Significant improvements and efforts to assist an effective tax system have been announced at these council meetings. The introduction of the e-way bill system in 2018 marked another milestone in the history of the goods and Services Tax.
This would aid in the tracking of commodities around the country and prevent tax evasion. In 2019, the GST council announced a number of key changes, including lowering the bar for claiming the input tax credit for invoices or debit notes from 20% to 10%.
Challenges in the context of the Goods and Services Tax -
The Goods and Services Tax (GST) came with a slew of advantages. It helped to abolish the tax cascade, it eliminated the Inspector Raj, boosting the supply chain industry, it regulated unorganized sectors; and it classified firms below a certain threshold.
It also changed the structure of tax payments to include a digital method for simpler access and faster filing. While this tax system has benefited the country much, it is still in its infancy and faces a number of obstacles. At this moment, the Goods and Services Tax's most pressing task is rebuilding the country's economy after the Coronavirus outbreak and accompanying state-wide lockdown. While the Centre has suggested and implemented a number of relief measures as part of the COVID-19 economic stimulus package, there are still a number of issues that need to be addressed.
Proposals that have been deferred -
The Goods and Services Tax is known to evolve over time, as new proposals to improve refund reconciliation, make filing returns more accessible, and so on have been developed during the last five years. While some ideas, such as the e-way bill system, have come to fruition, others, such as the New Returns System, GST 2.0, and e-invoicing, are still in works.
GST tax slabs are difficult to understand -
India's tax slabs are constantly changing. World Bank, in its biannual India development report, states that most countries in the world have a single rate of GST. As per its report, 49 countries use a single tax rate, 28 countries use a twin-tax rate, whereas only five countries including India use four non-zero tax rates.
The Centre must rationalize tax rates and stick to a clear tax slab structure to eliminate GST return filing confusion. Furthermore, variable tax rates frequently lead to unethical profiteering tactics, in which the consumer does not benefit from the lower tax rate and instead pays a significantly higher price for goods.
A simple and straightforward filing system should be introduced -
The present GST return filing system is complicated and inconvenient; it requires taxpayers to pay close attention to detail because any errors could result in the reversal of the input tax. The New Returns System, which is expected to make filing returns considerably easier, has yet to be implemented. There is urgent need to simplify the GST returns, rationalization of rates, and harmonization of GST thresholds. The online and offline businesses are treated differently. At present, any online business is required to be registered under the GST whereas for offline businesses the threshold is the turnover of Rs. 40 lakh. Such a disparity prevents MSMEs from being part of digital economy.
AAR decisions that is ambiguous and contradictory -
In recent years, taxpayers have seen contradicting judgements from separate benches of the Appellate Authority for Advance Ruling in several states, causing uncertainty among them. AARs are quasi-judicial bodies that offer taxpayers with guidance on how to interpret GST regulations.
In case of Nimba Nature Cure Village, the AAR Gujarat bench held that its services do not fall in the category of 'Health care services by clinical establishment.' The AAR noted that services provided by Nimba nature Cure Village were of composite nature providing accommodation, food and therapy. The payments were dependent on the rooms chosen and the type of occupancy. Hence, Nimba Nature Cure Village was not eligible for GST exemption. However, in January 2019, the Goa bench of AAR that Devaaya Ayurveda and Nature Cure Centre was a clinical establishment and services rendered by it were GST exempt. Such kind of conflicting rulings create confusion and go against the very objective of providing certainty. While the finding of one AAR is not binding on the other, efforts must be made to provide valid reasoning for not applying the ruling of another AAR.
Tax avoidance and fraud -
Owing to complex nature of GST laws, GST tax evasion has been rampant. The use of false invoices, bogus e-way bills, indirect tax loopholes, erroneous reports, and profiteering have resulted in enormous revenue losses for the government. In a written reply to the Rajya Sabha, Minister of State for Finance Pankaj Chaudhary gave details of the total tax evasion detected in GST in the last 3 years. In 2019-20, 10,657 cases of evasion, involving Rs 40,853.27 crore were detected. Recovery was Rs 18,464 crore. In 2020-21, Rs 49,384 crore worth GST evasion was detected in 12,596 cases. Recovery stood at Rs 12,235 crore.
The Federal and State governments are cracking down on tax evaders, and the GST authorities have been given targets for detecting tax cheating. The government has also suggested the deployment of artificial intelligence, machine learning, tighter checks, and stiffer punishments for those who commit tax fraud.
The need to increase the scope of the GST -
Many commodities are still exempt from the GST, owing to the on-going disagreements between the Federal government and the states over revenue collection.
There are arguments that commodities such as crude oil, diesel, gasoline, natural gas and aviation turbine fuel should be brought under the GST umbrella. But states are unlikely to support this move because these goods are still subjected to the Value Added Tax System, which allows each state to impose its own tax rate. The tax rate on motor fuels such as gasoline, diesel and natural gas varies by state ranging from 3% to 20%.
Reforms to the Goods and Services Tax structure are need of the hour -
While GST has many obstacles, the government must urgently focus on implementing measures and reforms that will make the indirect tax system really beneficial to both taxpayers and the government. The overly intricate indirect tax structure is confusing for tax payers, resulting in incorrect filing, litigation and time-consuming refund claims, all of which undermine the goal of maintaining an efficient and evasion-free tax system. At present, approximately 3% of commodities are taxed at a rate of 28 per cent, while the bulk of commodities are taxed at a rate of 18 per cent, with the reminder falling into the 12 per cent and 5 per cent tax brackets. Those are too many tax slabs, which might give rise to calls for tax increases or decreases, causing swings. The necessity of the hour is for a simpler tax slab structure to assist rationalization of the indirect tax system. Despite the fact that a tax slab reorganization was heavily hinted at in 2019, the reform has yet to be enacted. In addition, the government must fix the inverted duty structure. Union Finance Minister Nirmala Sitharaman announced at the 40th GST Council meeting that the GST Council is working to correct the inverted duty structure, in which the tax on inputs is higher than the tax on finished products, resulting in a higher amount of refunds, which has an impact on collections. However, due to the Coronavirus pandemic, this has been postponed.
Optimization of Digital Presence -
The process of collecting input tax credit is unduly complicated and time-consuming under the GST regime. It is a major source of frustration for taxpayers. Furthermore, the present GST interface is incapable of simultaneously managing massive amounts of data processing. By optimising digital resources it would assist speed up the process of claiming input tax credit. Various digital solutions, such as an e-wallet, new returns, and e-invoicing have been developed to make tax management easier and more efficient. But the same are proving to be cumbersome for taxpayers. Working on establishing digital practice is more important than ever, especially in light of the epidemic.
Other Critical reforms -
Other critical reform initiatives include clarifying anti-profiteering regulations so that taxpayers can follow the specified requirements and avoid ethical infractions. The government should ensure that the taxpayers do not make any erroneous calls and inadvertently engage in unethical profiteering practices. The government must also tighten the noose around tax evaders. Finally, the Centre needs to resolve the dispute over revenue sharing between the federal and state governments as soon as possible.
While the government must do much to promote an efficient tax administration system, taxpayers must also do their part and contribute to the Goods and Service Tax evolution, this involves changing their perspectives on indirect taxes. That means they must file their tax returns on time and not wait until last minute. According to statistics, one-fifth of registered taxpayers will wait until the last day of the deadline o file their return, resulting in overburdened servers, filing errors and time-consuming claims.
Taxpayers must also actively invest in tax technology, including automated tax solutions, and work with a partner who has substantial experience with global tax technology solutions. This will assist taxpayers in ensuring that they have the necessary guidance for meeting compliance standards. It is critical that taxpayers adapt to GST technological innovations such as e-invoicing, e-wallet, QR codes, and the use of artificial intelligence to assess tax responsibilities, among others.
Since implementing the Goods and Services Tax, India has had a lot to learn, but the most essential lessons have only been learned in the past year due to the Coronavirus outbreak. Going forward, India should concentrate on assisting firms in maintaining liquidity through speedier refund processing. The government should also concentrate on maximizing the use of input tax credits.
There is a lesson to be learned from Finland which used ITC as a credit. India should also concentrate on resolving disputes and reconcile differences as quickly as possible. Finally, while the pandemic has harmed our economic situation, it has also presented India with a tremendous opportunity. With anti-China sentiment on the rise, India has the potential to replace China's manufacturing base and become a global manufacturing and supply-chain powerhouse.
Naturally, our indirect tax system will need to be shaped or updated to ensure that the business environment remains conducive for both domestic and international enterprises.
India's Real Estate Sector: Attracting New Money and Sectors
COVID-19 changed the economies of the world. India too wasn't immune to its effects and experienced pandemic panic. India's real estate sector too suffered a setback, but this setback turned out to be a blessing in disguise. It encouraged fence-sitters to jump into the fray buoyed by record-low interest rates and incentives doled out by the government. India witnessed investments to the tune of $3.5billion in the first 9 months of 2021, 75% of what it was in 2020. Out of these, 36% of investments were made in residential and industrial sectors while the balance of investments was spread out in office space. Tier 2 and Tier 3 cities witnessed a demand boom that gives hope for affordable housing and commercial spaces.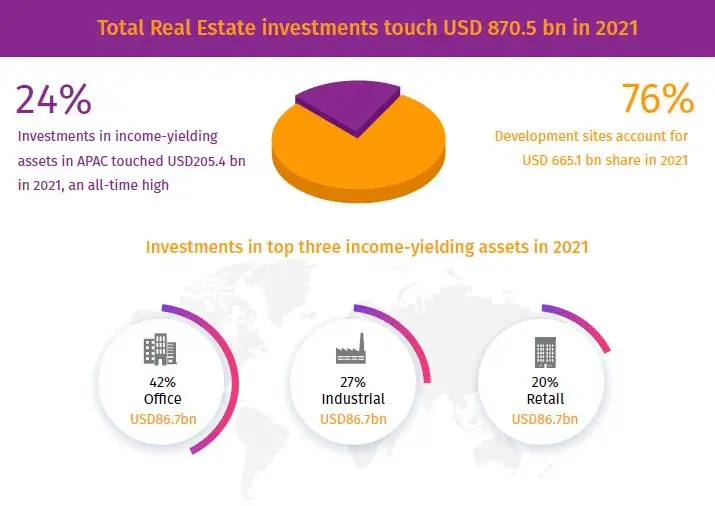 The government has played a proactive role in reviving the sector. The RERA Act of 2016 has brought in transactional transparency, and since the laws permit 100% FDI in construction, investors are flocking back to the real estate sector. The commercial real estate sector is banking on increasing demand from warehousing, logistics, and e-commerce companies to drive investments in the sector. Electronic Vehicles (EV) is also seen as a growth centre where Rs. 94,000 crore investments are expected in the next five years. The Data Centre (DC) industry is also expected to contribute to the growing demand in the commercial real estate sector. The Indian Data Centre industry is expected to add 800 MW capacities between 2022-2024. This can create demand for 9.5 Million Sq. feet in the commercial real estate market.
Indian economy is expected to become the world's third-largest economy by 2031. Earlier, real estate, as a sector, was considered highly fragmented, but with transparency, in dealings, investors are viewing the sector differently now. India's real estate sector is expected to touch $650 billion by 2025. The real estate sector is expected to contribute 13% to India's GDP thereby making it one of the most important sectors for foreign investors. Blackstone remains the largest investor in the Indian real estate sector.
It invested $1.8 billion in 2019. US-based Hines, UAE-based ADIA and Singapore-based Xander group are other big investors in commercial real estate. Total investments in real estate touched USD49.4 Billion between 2012-2021, out of which 64% have been led by foreign investors. The share of foreign investors in the Indian real estate sector has been growing steadily, it was 82% during 2017-2021 compared to 37% in the preceding 5 years.

The volume of commercial real estate transactions remained robust in 2021, and at the same time, real estate investments reached all-time highs in the APAC region. This choice was driven by a combination of long-term optimism toward the region and chances for diversification.
The aggregate value of all real estate investments in APAC was USD 870.5 billion. This figure includes both income-generating assets and building sites. New records were achieved for the amount of money invested in income-generating assets in 2021, with the total amount reaching USD205.4 billion. This represented more than a quarter of all investments. In India, the office sector commanded a 43 per cent share in total foreign investments; this was followed by the mixed-use sector which accounted for 18 per cent of investments.
Opportunities and Challenges For Real Estate Sector -
| Opportunities | Challenges |
| --- | --- |
| India's GDP growth is expected to be around 6%. This will help India become 3rd largest economy in the world by 2031 | Lack of A-Grade investible properties in key cities |
| India's ease of doing business ranking has improved significantly from 142 (out of 190 economies) in 2014 to 63 in 2020. | Many construction projects face delays and dampen investor sentiment |
| India is focussing on creation of SEZs to promote new enterprises | Lack of proper land records and title papers. Cumbersome labour laws |
| Infrastructure status for Data Centres, affordable housing to boost investor interest | Transactional costs are still high. Stamp duty charges and GST needs to be rationalized |
However, things are beginning to look up for the Indian real estate sector. Foreign investors have increased their investments from 2017 onwards. Since 2017, the share of foreign investors has been consistently rising, thanks to the regulatory reforms initiated by the government. Despite the setback from COVID-19, investors have continued to pump money into under-construction projects. Since 2017, together, USA and CANADA have maintained more than 60% share each year.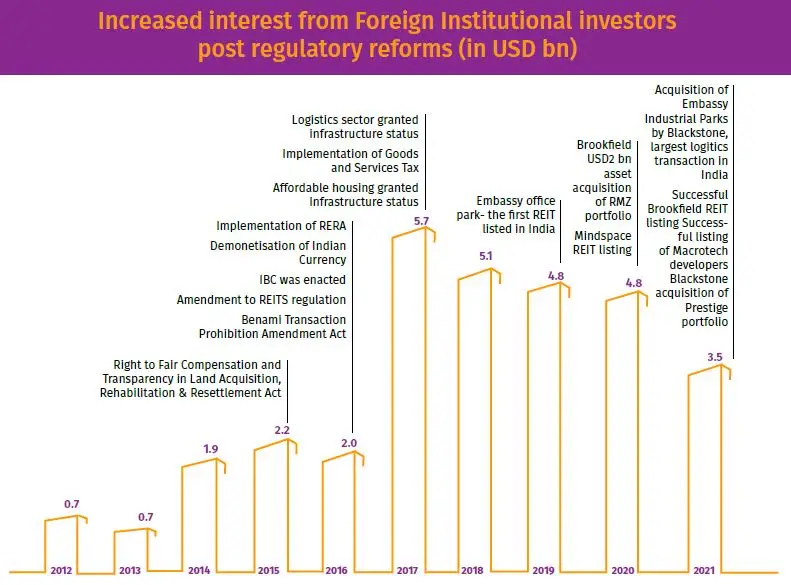 During COVID-19, the share of Asian countries declined, but the investments have bounced back in 2021 to pre-pandemic levels. Singapore leads the investment flow which was mainly targeted toward office as well as industrial and logistics sectors. Asian corporates too have been at the forefront of investing. Corporates such as Mertiz of Korea, and Sumitomo Corporation, Japan have made investments in the real estate sector in India.
Key Trends in the Industrial and Logistics Sector -
India has witnessed increasing momentum in the Industrial and Logistics space in the past five years. The demand has been mainly driven by E-Commerce, warehousing and Data Centres. These new assets have emerged as a preferred choice for foreign investors. These sectors have garnered 1/3rd of total foreign investments i.e. USD 1.1 Billion. This investment can be attributed to Blackstone Real Estate's USD717 Million in Embassy Industrial Parks. This transaction is one of India's largest logistics transactions.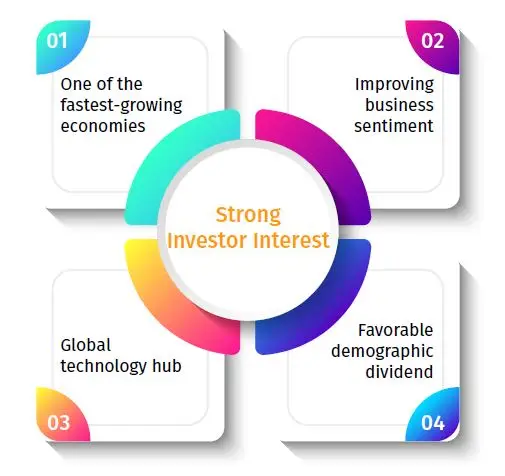 Spotlight on Tier II Cities -
Tier I cities lack Grade A industrial and logistics parks. This has pushed the investors to create platforms for modern warehousing facilities. The attraction for Tier-II cities comes from the fact that Tier-2 cities in India are well-connected to major metropolitan cities and have a higher standard of living. Another reason is that because of the congestion and pollution in Tier-1 cities, younger Indians are increasingly choosing to relocate to Tier-2 cities, thereby broadening out the talent market. In both the manufacturing and service sectors, India's Tier-2 cities are progressively becoming the preferred destination for companies. The availability of wider and more open spaces in comparison to metropolitan Tier-1 cities, as well as reduced operating expenses, are driving this change. Several Tier-2 cities in India offer cost-effective infrastructure, affordable real estate, improved transportation connectivity, the presence of education centres, and chances in numerous industrial sectors, among other things. This has made them attractive from a foreign investor's point of view.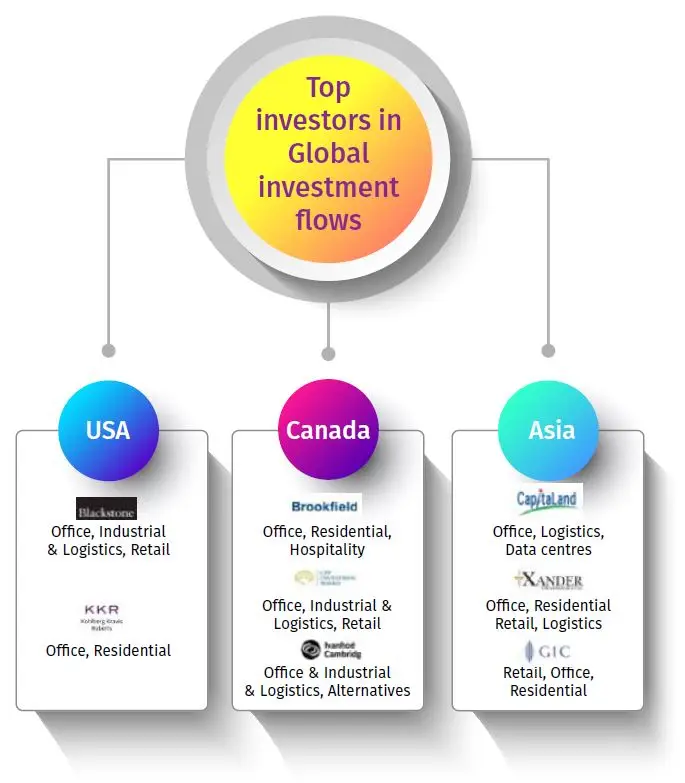 Alternatives Emerging To Capture Investor Interest -
Alternate investments rose 26% in 2021. Investor interest has been high in alternate assets. Investors have invested $500 Million in 2021, up 26% from 2020. Alternative investments like Data Centres have attracted huge investments due to robust technology consumption. New businesses like data warehousing and shared spaces (whether it is residential or commercial) are emerging. The residential sector has seen confidence returning back due to incentives provided by the government, timely deliveries, and liquidity.
E-Commerce companies too have contributed to the boom in real estate through greenfield projects, The Industrial and warehousing segment saw investments at a five-year high at USD1.1 billion. India's residential investments saw investments worth $900 Million. Most of the investments have been in the affordable housing segment. The deal-making is expected to further pick up in 2022.
REITs – Becoming Popular As An Asset Class -
REITs have established themselves as a viable alternative financial platform for raising capital in the real estate sector. Over the past five years, the real estate industry has become increasingly corporatized and transparent. The first REIT, which debuted in 2019, is revolutionizing the commercial real estate industry. Since the beginning of 2019, two additional REITs have been listed on Indian stock exchanges. More companies are considering the possibility of adopting the REIT route.
The government too has played a proactive role by permitting Foreign Portfolio Investors to participate in debt securities issued by REITs. This move is expected to expand funding sources and lower debt financing costs for REITs. This would also increase investor trust in India's office sector by making REITs more appealing to large foreign investors. A REIT, like a mutual fund, is a firm that owns, operates, or funds real estate and generates rental income while also providing an investment opportunity. This allows investors to gain access to valuable real estate while also receiving dividend-based income and returns. Thus, REIT offers an opportunity for capital growth.
Unlike physical real estate investments, most REITs are openly traded around the world. REITs invest in a variety of properties, such as residential complexes, data centres, hotels, offices, retail centres, warehouses, cold storage etc. Thus, global REITs have a greater number of diversification themes than domestic REITs which are mostly focused on commercial or residential assets. Globally, REITs have provided the best long term returns for their investors. The formation of REITs has been a great boon for investors.
It has helped developers unlock the value of their commercial assets. It has provided investors with an opportunity to invest in real estate assets without having to purchase and maintain them. REIT has proven to be a stable income generator for investors in the long run. In 2021, two REITs got listed, Embassy Office parks and Mindspace REIT. The Brookfield REIT listing was oversubscribed more than 8 times.
Low Volatility and predictable revenue despite hybrid work methods will make REITs a profitable alternative for investors in the future as the commercial office sector recovers. SEBI (Securities and Exchange Board of India) has lowered the minimum application value of REITs, making them more appealing to regular investors. As the industry matures, one can expect more REIT listings across property types to deepen capital flows.
Real estate – Asset wise Opportunities -
| Office | Residential | Industrial & Logistics | Data centres |
| --- | --- | --- | --- |
| Build to core strategy and asset acquisition of operating assets. | Last mile funding in development stage projects | Platforms to develop, own and operate logistics assets | Platforms to develop, own and operate |
| 90% of investments in 2021 were in under construction projects | | Industrial REIT | Data Centre REIT |
Green Financing Is Rapidly gaining Traction -
Through its EDGE (Excellence in Design for Greater Efficiencies) certification programme, the International Finance Corporation (IFC), a member of the World Bank Group, has established a novel approach. One can calculate the approximate incremental cost, expected operating savings, emissions reduction, and payback period of a green project can be calculated instantaneously using a free program developed by IFC. This has the potential to make sustainable construction a practical and cost-effective option.
According to the IFC, India's overall green building investment opportunity is expected to be around $1.4 billion by 2030. A majority of these opportunities are expected to be in the residential sector. In fact, tremendous demand for houses, particularly affordable housing, is fuelling the construction industry's resurgence. Indian government's efforts like the Pradhan Mantri Aawas Yojana (PMAY) are helping to fuel this growth. The country's leading housing finance institution, Housing Development Finance Corporation Limited (HDFC), offers special loans to green home buyers in India. IFC provided HDFC Ltd with a loan of $250 million in 2021, with at least 25% of the funds earmarked for green affordable housing. This will assist the company in expanding its affordable housing portfolio by providing access to low-income people.
This is in line with the government's goal of providing 'Housing for All," it will also help to create more jobs, and expedite economic recovery. It must be noted that only 4% of India's buildings are green, which means there is a huge opportunity for green construction investment. There is a growing interest among financial institutions for green bonds and green loans in India. All key players, including developers, banks, and homebuyers, can benefit from green finance.
Developers can use tools like EDGE to reduce additional costs which will help build green units at a lower cost. The cost reductions from green homes can enable banks to offer tailored green mortgage solutions to their customers. Banks can ensure better financing terms as they can access green international finance thereby boosting their bottom line and at the same time strengthening their borrower profile. Affordable housing is critical to India's story of innovation, productivity, competitiveness and economic growth.
Green financing has the potential to take off in India if all parties work together. Some Asian countries demand sustainability reporting on stock exchanges in order to incentivize sustainability goals. This can go a long way towards establishing a framework for the country's long term sustainability.
PLI Schemes: Booster Dose for Indian Manufacturing
PLI is the magic phrase that can instantly make a sector investor's favourite. Production-Linked Incentives or PLIs have been at the forefront of the government's efforts to create Atmanirbhar Bharat. According to Prime Minister Narendra Modi, PLIs have the potential to generate approximately $520 billion in additional output over the next few years.
What exactly is a Production-Linked Incentive scheme?
The central government issues PLIs to specific industries in order to promote manufacturing in India. The scheme is open to companies that are registered in India and have one or more production locations there. For around five years after the base year, these enterprises receive an incentive in the form of a cash subsidy on new sales of items manufactured in India. The incentive is based on additional investments made during the course of the time.
For example, the PLI for mobile phones and large scale electronics will be 4%-6% of incremental sales and will require a minimum investment of Rs. 100 crore/ Rs. 200 crore/ Rs. 1000 crore by the businesses. PLI will eventually be expanded to 13 industries, including vehicles, pharma, telecom, food items, ACC batteries, solar PV modules, textiles, other electronic technology products, speciality steel and white goods. Over a five-year period, the total outlay for all PLI schemes is Rs. 1.97 lakh crore. Over the previous few months, various ministries have been hammering out the contours of the strategy for each industry, with telecom being the most recent.
The significance of the PLI scheme -
A series of game-changing reforms have been introduced to enhance the ease of doing business in India under Prime Minister Narendra Modi's 'Atmanirbhar Bharat Abhiyan' programme.
The government's efforts are directed toward spreading the red carpet for global investors to choose India as their preferred investment destination.
The PLI schemes are based on the following essential premise:
Outcome-based and result-oriented meaning that incentives will only be given out when manufacturing has begun in the country
Incentives will be calculated based on incremental production. Thus incentives will directly be linked to the output. Beneficiaries are required to make additional expenditures on Greenfield facilities or expansion of existing facilities in order to achieve incremental production
The sectors are chosen entirely on the basis of their ability to cover cutting-edge technologies and integrate with global value chains
By 2025, India hopes to become a $5 trillion economy. India needs solid growth in manufacturing to achieve this. Today, manufacturing accounts for roughly 16.75 per cent of the economy's GVA (gross value added at constant prices), while services account for 64.5 per cent. The recent COVID supply chain interruptions have also demonstrated that India is significantly reliant on imports, notably from China, for numerous products and is unable to establish itself as a worldwide exporter. The PLIs are designed to address this by incentivizing firms to try their luck in industries that allow import substitution or growth in exports. PLI is a continuation of the government's efforts to stimulate local manufacturing, such as the 15% tax rate for new manufacturing enterprises announced in 2019 and the recent increases in import levies on a variety of commodities. PLI ties incentives for local manufacturers to meet desired output targets.
The PLI plan also allows India to compete with China in the global supply chain by promoting the country as a world-class manufacturing destination and attracting foreign investment. Global manufacturers have learned to de-risk from China as a result of the COVID epidemic, and India is hoping to gain from this development.
In terms of growth and jobs, this push for manufacturing is expected to have a trickle-down effect. For example, the PLI scheme is projected to boost the export potential for industries like textiles, pharmaceuticals, and steel, all of which are already exported by India. A smaller import bill benefits the country since it relieves pressure on the rupee's value against key foreign currencies like the dollar and increases its purchasing power.
PLI incentives are implemented by the central government through relevant ministries. The procedural bottlenecks have been taken care of. Once the investor gets the approval, he is given additional time to complete his investment obligation. The scheme has a built-in evaluation and monitoring mechanism. Furthermore, since the incentives are directly linked to capacity creation and sales, there is certainty surrounding their receipt. The PLI scheme reflects the government's strong emphasis on scale and expansion. The ecosystem is designed in such a way that smaller players receive the same incentives as their larger peers.
In March 2020, the first tranche of PLI schemes for three industries was announced, with a budgetary allocation of almost US$ 7 billion. The second batch of PLI schemes was announced in November 2020, covering ten new sectors, with a budgetary allocation of around US$ 20 billion.
The PLI schemes were launched under the Atmanirbhar Bharat, and this announcement comes at the right time when global investors are considering diversifying their manufacturing operations from China.
States too have offered incentives to Indian Manufacturers that allow them to recoup their investments. Besides providing infrastructure, the states have played a proactive role in attracting investments. For example, Maharashtra has identified 12 industries for promotion. Maharashtra's new industrial policy provides industrial promotion subsidy, interest subsidy and electricity duty exemption on fixed capital investment.
Response to PLI scheme -
The PLI scheme was notified on 1st April 2020, the last date for application was 31st July 2020 and the scheme commenced on 1st August 2020. The scheme received an encouraging response. In the first round of the scheme, 16 applications were approved i.e. 5 companies under the Global Champions category, 5 companies under the Domestic Champions category and 6 companies under the Electronic Components category. The incentive outlay was Rs. 36,440 crore. During the first five months of the scheme, despite challenging times, the applicant companies invested Rs 1300 crore and produced goods worth Rs 35,000 crore. 22,000 jobs were added during this period. The second round of the PLI scheme was launched on 11th March 2021. The last date for application was 31st March 2021. In the second round, qualified applicants were offered a 3% to 5% incentive on increased sales (over the base year i.e., 2019-20) of items manufactured in India and covered by the target category for a four-year term. The second round of the PLI scheme focused on Large-Scale Electronics Manufacturing. The major industry leaders responded enthusiastically to the second round of the scheme. Companies like Samsung, Foxconn Hon Hai, Rising Star, Wistron and Pegatron applied in this round. Foxconn Hon Hai, Wistron and Pegatron are contract manufacturers for Apple iPhones. Indian companies like Lava, Micromax, Padget Electronics, UTL Neolyncs and Optiemus Electronics were approved under this scheme. By focusing on Large-Scale Electronics manufacturing, the government aims to create a thriving and stable ecosystem for electronic component manufacturing. This will also improve manufacturing in a variety of industries, including IT hardware, LED products, automotive, medical devices, solar cells and energy storage etc.
The scheme is estimated to generate approximately Rs 10.5 lakh crore in total production over the next five years. Exports are estimated to account for more than 60% of total production. The initiative is estimated to bring in an additional Rs 11,000 crore in investment by 2025. Value addition is expected to increase from 20-25 per cent to 35-40 per cent in the next five years. The PLI initiative is expected to create around 2 lakh job opportunities, as well as nearly three times the amount of indirect job opportunities.
The Journey So Far -
Various sectors have already begun to reap the benefits of the scheme's incentives. The electronic goods exports surged by 49% to US$11 billion in the first three-quarters of FY22. The PLI scheme for automobiles has authorized around 20 applicants. 42 enterprises have been licenced in the white goods industry which might result in additional production of Rs. 81,254 crore. To supplement solar PV manufacturing, the government has announced an additional allocation of Rs. 19,500 crore. The scheme is estimated to result in a 1.3 fold increase in aggregate industrial investment from FY2018-2020 to FY 2022-2024 generating Rs. 2.2 lakh crore in CAPEX.
According to the World Bank, India's economy is expected to increase by 8.7% in 2022-23. This is quite impressive considering its peer China's growth rate of 5.1%, Indonesia's 5.2% and Bangladesh's 6.4%. The scheme is expected to add 1.7 per cent to India's GDP by 2027 and produce US$150 billion in additional sales.
"The scheme is estimated to generate approximately Rs 10.5 lakh crore in total production over the next five years. Exports are estimated to account for more than 60% of total production."
| What Has Worked Under PLI? | What Hasn't Worked Under PLI? |
| --- | --- |
| Output generated under PLI is helping cut import dependency on key row materials | PLI for mobile phones saw delay in starting operations. Due to COVID, companies found it difficult to meet first year targets |
| Strict timelines and committed annual increase in production help companies draw up clear business plan. | Lack of penalty to adhere to timelines may discourage companies to increase production if the demand remains subdued |
| Lesser ambiguity on the government's part as output is determined on incentives that in turn are defined by pre-fixed prices and production targets | More government measures are needed to avoid unfair competion |
One can expect decent growth in India's manufacturing capacity over the next five years as leading industry players commit to increase the output in the country. The increase in export potential, which is also a primary driving force behind the PLI scheme, is witnessing growth at exponential rate. Such encouraging participation from the industry will assist the country in achieving its goal of domestic value addition, which is expected to increase from the current 15-20 per cent in the case of mobile phones to 35-40 per cent in case of electronic components and 45-50 per cent in the case of electronic components. India has always proven to be a resilient economy in the face of global pandemics and trade shocks. According to official figures, India's total export value (goods and services) in April-March FY 21 was US$493 billion, down from US$528.37 billion in April-March 2020. Improvements in the ease of doing business, the construction of plug-and-play investment and manufacturing environment, and the rollout of the PLI plan across multiple industries have all contributed to India's recovery from the COVID-19 crisis.
Even though the PLI promises to make India more competitive in the global market, there is a pressing need to reduce the cost of disability in the sector. India's special economic zones (SEZs), for example, play a significant role in electronics manufacturing. SEZ facilitate the establishment of manufacturing enterprises by allowing duty-free imports of capital machines and components. The selling of finished items from these SEZs in the Indian market, on the other hand, is treated the same as export of the same products to India. This puts SEZ at a disadvantage because they are subject to custom duties. As a result, for such a differentiation between domestic and SEZ produce, policy optimization is essential. Manufacturer's cost of disabilities are not limited to PLI, but also include land and labour subsidies, interest on working capital, land leasing, power, logistics and insufficient R&D at central and state levels. Such challenges must be addressed together yet separately by the central and state governments.
It is hoped that PLI schemes will rekindle manufacturing capacity in India. The schemes are being looked upon as a sort of shock-proofing the manufacturing sector. They are not only concerned with provided services, but also produce the goods that the world needs. It is hoped that PLI schemes and the manufacturing capacities created by them will generate ecosystems that will have a spill-over effect on other industries. PLI schemes are important because they have started a process to make India a global manufacturing hub.
The Interest Rate Hikes: What It Means For Markets and the Economy
Inflation has hit the highest level in 40 years in the U.S. and this is spooking the Central banks which have begun an attempt to squeeze liquidity rates by aggressively hiking rates. In India, Reserve Bank of India have hiked the rates twice, in an aggressive manner, to combat the menace of rising inflation, and this seems to be the trend among Central Banks in the US and Europe too. The hike by US Federal Reserve hiked the interest rate by 0.75 percentage points, the most aggressive since past 30 years. In India, the RBI has hiked interest rates twice, by 90 bps, in its monetary meetings. The rate hikes can have different impact on the economy, industries and finally the consumer.
Impact of Interest Rates on Industries -
When interest rates rise, banks are quick to adjust lending rates, and this affects the cost of funds for the corporates. Companies will use earnings to pay interest which in turn decreases their profitability.
Many companies put their expansion plans on hold, or shelve the investments in new projects, and this impacts the economy on the whole.
Small and mid-sized companies find it difficult to raise the capital. For small and medium-sized Housing Finance Companies the risk of defaults rise and this could threaten their existence. Higher borrowing costs eventually slow down borrowing which impacts economic activity in the country.
When RBI embarked on rate hike cycle in 2011, it was observed that in the first half-of 2012-13, companies paid 3.7% of their sales as interest. This was just 1.6% four years ago. The hike in interest rates severally dented the profitability of the companies across all sectors. The net profit of the companies as a percentage of sales too took a beating; it stood at 6.4% in the first-half of 2012-13 compared to 9.2% in 2008-2009.
Impact on Consumers -
The hike in interest rates affects the consumer, albeit indirectly. The hike is passed on by the banks which affect the industry and finally the consumer. For example, the home loan rates will rise, and as a result many first time buyers might postpone their purchasing decision. Not only home loan, but education loans, personal loan, credit cards become costly too. The tightening of money supply affects the purchasing power of the consumer which kicks in the chain reaction and eventually impacts demand for products. Many consumers postpone purchasing of luxury items like cars which affect the auto industry as the whole. It is not only interest rates that affect common man, the geo-political tensions in Ukraine has already caused spike in the price of commodities thereby making it difficult for the common man to manage his finances efficiently.
Impact on Stocks -
The hike in interest rates in the US makes the stocks unattractive in the emerging markets like India. The Foreign Institutional Investors (FIIs) will resort to selling the stocks in India and buying the stocks in the US. FIIs have sold stocks worth US$29 Billion in 2021-22. The low interest rates in the US prompted FIIs to take risky bets and invest aggressively in India. The rise in interest rates severally affects the companies' ability to raise capital and dents their profitability. Investors anticipate further rise in rates and prefer to stay away from volatility. In the rising rate environment investors prefer to invest in fixed income securities like fixed deposits and debt funds that are considered a safer bet.
Impact on Currency -
The withdrawal of investments by the FPIs could accelerate the pace of capital outflows and this may put pressure on Indian currency Rupee. The depreciation in Rupee could result in rise in imported inflation. Due to outflows, the value of Rupee has depreciated by 5% till now in this year. The Rupee has already breached the 78 per dollar mark in this year. The depreciation in Rupee will put pressure on companies' borrowing through External Commercial Borrowing route. India is a big importer of crude oil. The depreciation in currency and the increase in price of crude oil could become catalyst for widening India's current account deficit. India's current account deficit is expected to widen to 3% in 2022-23. However, the fall in the value of Rupee can become a boon for the exporters.
Impact on Bonds -
Bonds are extremely sensitive to changes in interest rate. As soon as RBI hikes rates, the prices of bonds begin to decline. The new bond issuers introduce bonds at higher interest rate and the existing bonds experience decline in prices to themselves appealing to the investors. Thus, bond prices are inversely related to the interest rates. Here is an example of how the bond market works, Let's say, a corporate issues bond at 6% interest rate, and the Central bank hikes interest rates by 1%, the price of the existing bond falls to Rs 750 in the secondary market to compensate for the hike in the interest rates. The buyer who purchases the bond at a discount could earn higher interest rate.
Impact on Savings Account and Bank Deposits -
The hike in interest rates must be a cause for celebration for savers, but that is not the case. The savings interest rate lags behind the lending interest rate for quite some time before it catches up. Banks have very little incentive to raise rates since it will be eating out their margins. Presently there is plenty of liquidity in the system, and banks are in no hurry to increase interest rates for the saving community. Even in falling interest rate regime, banks are quick to slash the savings interest rates compared to lending rates. For example, during 2020, the RBI cut policy repo rate by 115 bps between March and May. During this period, the Weighted Average Lending Rate decreased by 122 bps whiles the deposit rates were slashed by 150 bps. The hike in interest rates is expected to slow global growth. There are fears that it might lead to Stagflation. On one hand, the governments of the world are concerned about the rising inflation, and on the other hand, they are grappling with slow economic growth. The rising inflation along with depreciating currencies is expected to hurt economy which can have cascading effect on unemployment. China is a classic example of text-book Stagflation. China is second-largest economy in the world. China has experienced year-on-year contraction of 11% in its April sales. Its industrial out experienced 2.9 per cent contraction amid the tightening supply and worsening food protectionism. A rising dollar is putting pressure on emerging market currencies, and many countries have yet not recovered from the oil supply shock. It will be first time since 1976 that China's growth could be lower than that of the US.
Europe too is experiencing high inflation. Germany's April inflation was at 7.40%, a 41 year high. Similarly, United Kingdom's March inflation was 7%, a 30 year high. Italy's April inflation was 6.2%, a 31 year high. The International Monetary Fund (IMF) projects the global inflation to 5.7% for the developed economies and 8.7% for the emerging economies for the year 2022. Coming to India, the retail inflation is at 8 year high. April's retail inflation was 7.79% up from 6.97 witnessed in March. India recorded 8.5% growth in the second quarter of 2021 which further slowed down to 5.4% in October-December quarter. The RBI believes that by hiking interest rates aggressively, it will be able to tame inflation.
The Russia-Ukraine war has resulted in the supply cut of crude oil, and the impact of higher fuel prices has begun reflecting on other goods and services as well. Inflation for the miscellaneous goods and services jumped to 115 months high of 8.03%. Inflation in health services have remained elevated at 6% since past 16 months. In a desperate bid to tame inflation, the government has banned wheat exports from the country. Agriculture grew by 3.9% in the last financial year and its share in Gross Value Added (GVA) was 19%. As per latest data, capital goods output, a barometer of investment grew just 0.7% in the March quarter compared to the jump of 50% in the previous year. The consumer durable segment declined 3.2% against the growth of 59.9% a year ago. This shows that India must focus on growth of farm incomes to support the economy.
Are Aggressive Interest rate Hikes A Solution?
India's trade deficit widened in January 2022 to US$20 Billion representing an increase of 30% over the corresponding period last year. It is estimated that India might end the current fiscal with the trade deficit of US$250 Billion. The World Bank brought down India's growth projections from 8.5% to 7.5%. However, given the external factors like Russia-Ukraine war can keep the oil prices elevated for longer than anticipated. This could hamper growth projections in the next year as well. The economic collapse of Sri Lanka and Pakistan is the classic case of fiscal mismanagement. Interest rates alone cannot solve India's inflation problem. Taming the inflation is going to prove to be a long journey for India. It is expected that the policy of hiking rates in the developed countries will continue till 2023. India's rate hike is just an alignment with the world policy. The government is doing everything it can, from cutting the taxes on edible oils to banning the export of commodities like wheat. However, the problem of inflation is much bigger than food and fuel. The overall demand has to be managed and government must play a pro-active role in cooling off the demand. By hiking rates aggressively, the RBI may slow down the exponential growth that India has experienced. Though, by hiking rates, RBI hopes to cool down demand for borrowing. The people who are planning to buy a home, or a consumer durable like air-conditioner on EMIs may postpone their purchase due to rise in EMIs.
However, RBI believes that with the hike in interest rates, the inflation might soften. The RBI seems confident about the improvements in the economy and feels that India is better placed to avoid Stagflation. Though retail inflation receded in May 2022, it is still above the comfort zone of the RBI. The decline in inflation was a welcome move after rising for seven consecutive months. A closer look at numbers reveals that most of the constituents of the GDP have surpassed pre-pandemic levels. Given the inherent domestic strength India seems to be better placed to counter the threat of Stagflation. The recovery in the Indian economy seems to be on track demonstrating the resilience of the Indian economy. On the global level, the RBI expects considerable monetary tightening to continue leading to volatility in the markets. However, the tax collection numbers seem buoyant. Net direct tax collections rose by 45% to Rs. 3.4 Trillion during April 1 – June 2022. The figure was Rs. 2.3 Trillion a year ago. Gross collection of direct taxes, before adjusting for refunds, during 1 April-16 June 2022, stood at Rs.3.7 trillion as compared to Rs.2.6 trillion in the corresponding period of the preceding year. This represents an increase of almost 40 per cent over the gross tax collections of the preceding year.
With the Gross Domestic Product surpassing its pre-pandemic level by 1.5 per cent, India will be able to avoid Stagflation. The robust momentum in growth continues in 2022-23 as well. The RBI's focus seems to bring the inflation back to its comfort zone of 4%. The RBI has given clarity that it will not hesitate to raise rates if inflationary pressures continue to persist.
Media
"InvestOnline strives to share knowledge and actionable strategies to manage money smartly. Read our blog and latest articles to gain valuable insights in the world of finance."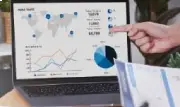 How Do Debt Funds Generate Returns?
Equity funds generate returns from the fluctuations of the equities, but as an investor you may be curious to know how debt funds generate returns. Debt funds are different from fixed deposits. They are in the business of lending money. When....
Read More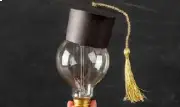 Education Inflation: How It Can Hurt and How To Prepare For It?
"Generally people associate inflation with the prices of groceries and essential items. Inflation affects every sphere of life, and education is no exception. While it's popular to talk about how much lemon, tomatoes, and potatoes cost, unfortunately...
Read More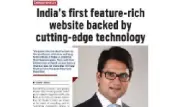 India's first feature-rich website backed by cutting-edge technology
The professional journey of InvestOnline can be summed up in three words; going upward, learning and constantly evolving. At InvestOnline we are extremely proud of our people-first culture. Today InvestOnline actively covers more than 6000 families clients across their products and services and over the globe...
Read More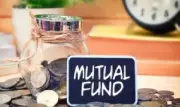 How to pick the right mutual fund in a bear market?
The Indian stock market has witnessed its sell-off trend, with the Nifty 50 index recently plunging below the critical 16,000 level, a 14.50 per cent drop from its all-time high of 18,604 levels. If we look at history, the current downturn is a good time to buy stocks, and India is currently in a stronger position in terms of economic strength in the medium...
Read More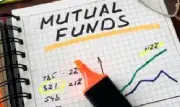 How to manage your active mutual fund portfolio?
Mutual funds are investment vehicles that can assist you in meeting both your immediate and long-term financial goals. However, you won't be able to take advantage of compounding's full potential until you put in the effort to manage your portfolio responsibly...
Read More
Market Update
Fund Performance - Large Cap
| | 1yr | 2yr | 3yr | 5yr | 7yr | 10yr |
| --- | --- | --- | --- | --- | --- | --- |
| KOTAK BLUECHIP FUND (G) | -1.38 | 24.04 | 12.32 | 10.39 | 10.02 | 13.27 |
| EDELWEISS LARGE CAP FUND (G) | -1.47 | 22.03 | 10.27 | 10.45 | 9.31 | 13.19 |
| PGIM INDIA LARGE CAP EQUITY FUND (G) | -6.42 | 19.76 | 7.92 | 7.79 | -2.04 | 12.08 |
| BARODA BNP PARIBAS LARGE CAP FUND REG (G) | 0.69 | 20.81 | 11.50 | 9.88 | 9.27 | 13.86 |
| IDFC LARGE CAP FUND REG (G) | -0.79 | 20.76 | 10.08 | 9.04 | 8.83 | 11.10 |
Fund Performance - Mid Cap
| | 1yr | 2yr | 3yr | 5yr | 7yr | 10yr |
| --- | --- | --- | --- | --- | --- | --- |
| PGIM INDIA MID CAP OPP FUND REG (G) | 5.20 | 45.05 | 28.78 | 15.39 | 13.95 | - |
| EDELWEISS MID CAP FUND REG (G) | -0.64 | 36.49 | 19.07 | 12.73 | 12.81 | 19.49 |
| QUANT MIDCAP FUND (G) | 6.83 | 43.03 | 26.89 | 17.11 | 13.45 | 14.37 |
| BARODA BNP PARIBAS MIDCAP FUND REG (G) | -1.29 | 31.53 | 17.85 | 10.21 | 11.30 | 17.89 |
| AXIS MIDCAP FUND (G) | -2.00 | 26.06 | 17.49 | 15.23 | 12.78 | 18.91 |
Fund Performance - Small Cap
| | 1yr | 2yr | 3yr | 5yr | 7yr | 10yr |
| --- | --- | --- | --- | --- | --- | --- |
| QUANT SMALL CAP FUND (G) | -0.65 | 67.27 | 36.19 | 18.01 | 15.22 | 13.54 |
| KOTAK SMALLCAP FUND (G) | 5.08 | 51.88 | 27.36 | 15.31 | 16.07 | 19.61 |
| CANARA ROBECO SMALL CAP FUND REG (G) | 15.01 | 53.76 | 29.51 | - | - | - |
| EDELWEISS SMALL CAP FUND (G) | 3.67 | 46.07 | 25.28 | - | - | - |
Fund Performance - Tax Saving
| | 1yr | 2yr | 3yr | 5yr | 7yr | 10yr |
| --- | --- | --- | --- | --- | --- | --- |
| IDFC TAX ADVANTAGE REG (G) | 2.05 | 36.77 | 15.42 | 11.98 | 11.66 | 16.68 |
| QUANT TAX PLAN (G) | 4.98 | 49.70 | 29.02 | 19.01 | 19.84 | 18.91 |
| PGIM INDIA ELSS TAX SAVER FUND REGULAR (G) | 3.49 | 29.42 | 13.86 | 10.83 | - | - |
| EDELWEISS LONG TERM EQUITY (TAX SAVINGS) FUND (G) | -0.52 | 24.03 | 10.12 | 8.31 | 8.31 | 12.94 |
| CANARA ROBECO EQUITY TAXSAVER FUND REG (G) | -1.50 | 27.52 | 15.01 | 13.67 | 12.07 | 14.55 |
Know More