Mutual Funds
ICICI Prudential Advisor Series - Dynamic Accrual Plan

31.85 0.00(0.00%)
Equities Indices
Nifty 50
10,195.15

10.2600 (-3.3%)

16-03-2018

12:00

Prev Close

10,360.15

Open

10,345.15

High

10,346.30

Low

10,180.25

Details
Equities
Asian Paints Ltd.(INE021A01026)
NSE: Asian Paints
BSE: 500820
Sector: Chemicals
NSE Mar 16 2018, 4:01


1,160.80 23.90(+3.90%)

BSE Mar 16 2018, 4:01


2,260.90 23.90(+3.90%)

View Details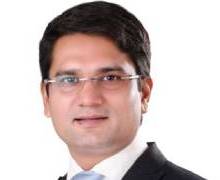 CEO'S DESK
Equity markets have been very volatile during January to...
Read More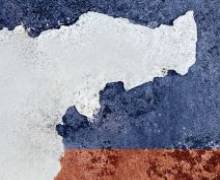 Sanctions On Russia
The sanctions on Russia have put the Indian government in a...
Read More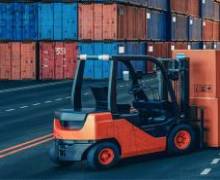 India's $1 Trillion Export Gamble
Productivity Growth - India's productivity growth rate has...
Read More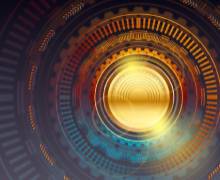 About RBI's digital currency
Last year RBI spoke about CBDC or Central Bank digital currency...
Read More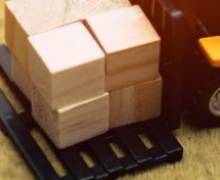 Growth of MSME Sector
Small and Medium Enterprises is a significant growth driver...
Read More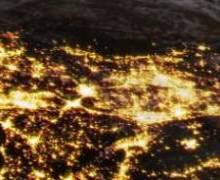 India - a hidden powerhouse
At the end of the first quarter of the year...
Read More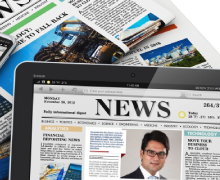 Media
InvestOnline strives to share knowledge and actionable...
Read More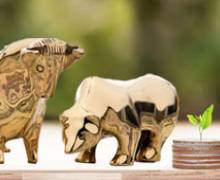 Market Update
Performance of Select Mutual Fund Schemes as on...
Read More
CEO's Desk -
Dear Investors,
Equity markets have been very volatile during January to March quarter due to Russia-Ukraine war crisis, rising crude oil prices and global uncertainties.
After falling sharply at the outset of war, markets have largely recovered due to prospects of Russia-Ukraine peace talks. The Benchmark Indices – S&P BSE Sensex and NSE Nifty ended the March quarter to close at 58568.51 points and 17464.75 points respectively. On a quarter on quarter basis large caps have been flattish but midcaps and small caps have settled in the red. BSE Midcap and BSE Small cap indices are down -3.45% and -4.22% respectively during the quarter.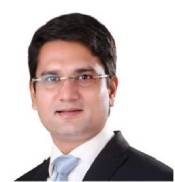 Among sectoral indices BSE Metals and BSE Power were top performers while BSE Healthcare and BSE Consumer Durables were laggards during the quarter. The retail inflation rate in India - measured by the Consumer Price Index (CPI) rose 6.07% YoY in February 2022 from 6.01% YoY in January, as per data released by the National Statistical Office.
Wholesale inflation - measured by the Wholesale Price Index (WPI), increased to 13.11% year-on-year in February 2022, 11th straight double-digit reading. India's industrial production (IIP) growth rose marginally to 1.3% in January 2022 year-on-year compared with 0.7% in the month before, slightly better than most expectations.
India's manufacturing PMI increased to 54.9 in February, a slight improvement from January's 54.0, signalling a stronger improvement in the health of the sector. Goods and services tax (GST) collection soared to an all-time high of Rs 1.42 trillion in March, staying above the Rs 1.10-trillion level since July last year. The previous high was recorded in January this year at over Rs 1.40 trillion.
The 10-year Government bond yield ended the quarter at 6.843%, up by 0.389 bps from the previous quarter due to the rising crude oil prices which could force the government to borrow more.
The calendar for issuance of G-Secs shows that about 59 per cent (or Rs. 8.45 lakh crore) of the gross Government borrowing aggregating about Rs. 14.31 lakh crore for FY23 will happen in the first half. The government will borrow Rs. 4.32 lakh crore via T-Bills in the first quarter. This huge supply of paper will create upward pressure on bond market yields.
As we navigate into new financial year, Russia's invasion of Ukraine has caused concerns about the impact of the surge in global commodity prices and likely slowdown in global growth due to risk aversion. The war has caused a surge in global commodities from crude oil to wheat due to the sanctions imposed on Russia by Western economies. The Indian economy faces a potential threat of stagflation from the ongoing Russia-Ukraine war, driven by trade disruptions and rising oil prices which will push already high inflation further up, thus hurting growth prospects.
However, much depends on the extent and outcome of the ongoing Russia-Ukraine war. An early end to the Russia-Ukraine war and resultant cooling off of inflationary pressure could be positive triggers for the markets. But if the war lingers on, high energy and commodity prices are likely to cause earnings downgrades in several sectors over FY23 which can keep markets under pressure. Prior to Russia-Ukraine war, Nifty earnings were expected to grow around 16-17% in FY23 but now there could be some downward revision due to margin pressure. Another important factor for the markets to watch out for is how liquidity is withdrawn by US Fed and global central banks in the next few months. Overall, we are cautiously positive about equity markets at the moment. We feel that government initiatives on thrust to infrastructure development, improving public spending, better capacity utilization, exports, healthier corporate and banks' balance sheets and government incentives (corporate tax cut, PLI schemes) are expected to revive private capex and support growth over medium and long term. However, geopolitical tensions due to Russia-Ukraine conflict, rising oil prices, rise in inflation and hawkish interest rate outlook are likely to cause heightened volatility in the markets in the near term. In such times of geopolitical and economic uncertainty the investors need to be a bit cautious in near term considering current rich valuations. In our view, for investors looking to increase equity exposure it is advisable to put money initially in a fixed-income investment and then invest systematically or in a staggered manner into equity or an equity mutual fund. For debt fund investors, low duration funds and shorter duration funds should be the preferred option given the rising interest rate outlook.
The present issue covers an interesting mix of articles. It analyzes the impact of sanctions on Russia and its impact on Indian trade. It is no surprise that India has set its eyes on garnering a larger share of world trade by setting ambitious $1 Trillion export target. The article analyzes opportunities and threats for India in global context. It also contains a sneak peak into RBI's plan to launch its own digital currency, and MSME's contribution to India's Industry.

Sanctions On Russia: An Overview Of Impact On Indian Trade -
The sanctions on Russia have put the Indian government in a tight spot. The country is heavily dependent on Russian imports for its energy needs and has been using it as an intermediary to circumvent US sanctions against Iran.
India had taken a neutral stance, born of its historic strategic partnership with Russia. This alliance, harking back to Cold War times, spans several fronts—diplomacy, defence, nuclear energy, and technology—making Russia a pivotal part of India's nation-building process, especially during its infancy.
IIDF has since disbursed more than Rs 690 billion to date. It is difficult to assess the impact of sanctions on trade between Russia and its immediate neighbours. This is because most of these countries have been taking advantage of cheaper imports from China, which does not face any restrictions on importing goods from Russia. For example, Indonesia, a major importer of Russian oil, has not faced any disruption in supplies despite being sanctioned by Moscow over Ukraine. The Philippines, another important trading partner for Russia, did not suffer from a significant reduction in crude oil exports in recent months due to US-led sanctions. As a result, it was able to maintain an uninterrupted supply of fuel to power the country's infrastructure and military operations in the southern islands of Mindanao.
However, if the current standoff in Ukraine escalates further, it is likely that Russia will introduce more stringent measures to restrict trade. With the exception of India, which is already dependent on Chinese imports, most countries in the region do not have enough alternative suppliers to replace Russian products. Furthermore, many of them depend heavily on Russian financing and investment, especially for infrastructure projects. Hence, they might find themselves at a disadvantage as far as their energy security and development plans are concerned.
In the long term, Russia could also lose out because of reduced access to capital markets in developed countries such as the United States. It would be harder for Moscow to raise money through bond issues as investors might be wary about investing in bonds issued by a country facing Western sanctions. Moreover, Western banks will be reluctant to offer credit facilities to state-owned companies in Russia, including Gazprom, Rosneft and Transneft. This will reduce the funds available to finance large infrastructure projects, which are essential for increasing productivity and improving living standards.
The current situation makes one thing clear: Russia's trade relations with its immediate neighbours will change dramatically if Moscow chooses to escalate the crisis in Ukraine.
To what extent Russia can compensate for the loss of trade with its immediate neighbours depends on how much it is willing to sacrifice its ties with other countries. In particular, Russia has been seeking better relations with the European Union (EU) ever since the Ukraine crisis began. However, the EU is unlikely to give Moscow what it wants unless it demonstrates a genuine willingness to resolve the conflict in Ukraine.
At the same time, the West should be careful about imposing sanctions on Russia, at least until it takes concrete steps to defuse tensions in Ukraine. If the EU imposes sanctions on Russia while Russia is still unwilling to negotiate with Kyiv, the Russian leadership will interpret the move as proof of Western duplicity. It is possible that Moscow might respond by restricting trade with Western countries, thereby undermining the global economy. At the very least, this would slow down progress towards the eventual resolution of the Ukraine crisis.
The key question is whether Russia will be willing to make concessions. At present, Russia's strategy seems to be focused on gaining economic benefits without compromising its interests in eastern Ukraine. However, it would be a mistake to assume that Moscow will not compromise its position in the long run. If Russia finds itself in a situation where it needs the support of the West to protect its sovereignty in Ukraine, it will be forced to do so. In fact, Moscow might even decide to reverse its current policy and accept Western terms of engagement.
How Russia_Ukraine War May Affect India's Trade Balance?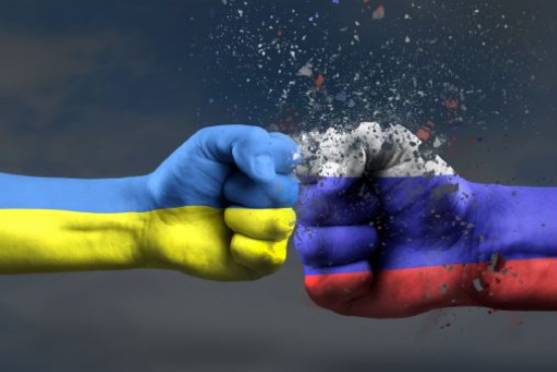 The Russian invasion of Ukraine, and punitive sanctions imposed by the US and the EU against the former, could impact India Inc in two ways. One, if the resultant spike in commodity prices is not passed along, it could push up input costs and squeeze margins in downstream industries.
Additionally, trade and banking sanctions can halt India's export-import activity in the affected region until workarounds are found.
In due course, as the geopolitical situation improves, a clearer picture, including the credit quality of affected companies, will emerge.
Prior to the Russian invasion, Brent crude was trading at US$97/barrel. After the invasion, the price soared to US$130/barrel. The oil marketing industry is already making losses without a corresponding increase in retail fuel prices. This is also affecting industries such as chemicals and paints that rely on crude oil-linked derivatives as a primary feedstock. As inventories purchased at low prices run out, businesses in these sectors could face margin squeezes during the first quarter of the next fiscal year.
Meanwhile, prices of other commodities are also expected to rise. Metal prices, which have shot up in recent months from their already high levels (Russia contributes almost 6% to world primary aluminium production), are expected to continue rising. In addition to benefitting domestic primary steelmakers and aluminium smelters, this would have negative cascading effects on the construction, real estate, and automobile sectors.
Spot natural gas prices could also continue to rise, as they are linked to crude oil prices. However, this will not affect downstream sectors as much. The producers of urea, which uses it as a feedstock, can pass the higher prices on to their customers. Urea availability could be a problem for the farm sector if the war goes on since 8% of the need for urea is imported from Russia and Ukraine.
Sanctions linked to trade and banking can also interfere with the supply of key raw materials, such as crude sunflower oil and rough diamonds. Sunflower oil makes up nearly 10% of India's edible oil consumption, 90% of which is imported from Russia and Ukraine. The duration of the war could disrupt oil supplies to domestic oil mills, which typically carry inventory for 30-45 days and are unable to change their sourcing at short notice.
Diamond polishers may face a squeeze on their margins due to continued disruptions of trade. The Russian diamond giant Alrosa produces nearly 30% of the world's rough diamonds, whose prices surged by 21% in 2021. Automobile manufacturers are unlikely to get a break from the current semiconductor shortage. It is because Russia and Ukraine produce almost 75% of neon gas, which is used in several semiconductor manufacturing processes including etching circuit designs into silicon wafers. In the event of prolonged strife, and sanctions on Russia, semiconductor production would further be curtailed. Palladium and platinum, which are used in catalytic converters and nickel, which is used as a cathode in lithium-ion batteries, are relatively low in import dependence and could, therefore, have only a minimal impact on the automotive industry. The export of tea, known as chai in both Russian and Ukrainian, may also be difficult. With an 18% share of Indian tea exports, Russia is one of the largest importers of Indian tea. Russian tea exports are crucial to Indian tea exports since payment issues continue to plague Iranian tea shipments, which has led to a drop in export volumes.
Wheat – A Ray Of Hope In Crisis -
The Russia-Ukraine crisis may give India an opportunity to export more wheat. Bilateral trade with Russia in 2020-21 was $8.1 billion. Indian exports were $2.6 billion while imports from Russia were $5.48 billion. With Ukraine, the bilateral trade was $2.59 billion in FY21.
In April-October (2021-22) period, India's wheat exports surpassed $ 872 million from only $135 million achieved in April-October (2020-21) and are set to achieve an all-time record shipment in the current financial year. India's wheat exports are mainly to neighbouring countries with Bangladesh having the largest share of more than 54 per cent in both volume and value terms in 2020-21. In 2020-21, India entered new wheat markets such as Yemen, Afghanistan, Qatar and Indonesia. The top ten importing countries for Indian wheat in 2020-21 are Bangladesh, Nepal, United Arab Emirates, Sri Lanka, Yemen, Afghanistan, Qatar, Indonesia, Oman and Malaysia, according to data by the Directorate General of Commercial Intelligence and Statistics (DGCIS). India accounts for even less than one per cent of world wheat export. However, its share has increased from 0.14 per cent in 2016 to 0.54 per cent in 2020. India is the second-largest producer of wheat with a share of around 13.53 per cent of world total production. India produces around 107.59 MT of wheat annually while a major chunk of it goes towards domestic consumption.
A prolonged war could increase the dependency of wheat importing countries on large exporters such as India. A stronger dollar amid rising oil prices could also work in favour of Indian exporters. Among South Asian countries, the Philippines, which happens to buy a lot of Russian wheat, is looking at India to meet its demand. Although Asia Pacific countries do not directly import large quantities of food from Russia, the only exception is the Philippines, where wheat is the second-largest import from Russia. India can tap into new markets if the Russia-Ukraine crisis gets prolonged. It is important to bear in mind that the Russian sanctions are still evolving in direct reaction to the situation in Ukraine. Many sanctions have been announced but the nuances of implementation are expected to follow.
In the meantime, the Indian government is also expected to undertake mitigating measures to protect trade with Russia. Indian banks also continue to await directions from the government on how to deal with Russian banks and related transfers. Already, India's top lender (SBI) has announced that it will not process any transactions involving Russian entities subject to international sanctions in compliance with US and EU regulations.
The agriculture sector in India is likely to be hit by hostilities between Russia and Ukraine, which are expected to push up the price and supply of potash-a key component used to make fertilisers.
Currently, Belarus and Russia are the world's leading suppliers of potash. In contrast, India is a major importer of potash, a mineral used in fertilizers. Russian, Ukrainian, and Belarusian fertilisers together contribute 10%-12% to India's total fertiliser imports. Furthermore, with already higher prices, government subsidies, which are necessary to maintain a fair retail price for the farmers, will also, rise sharply.
The sanctions have got the pharma industry worried, not because of the volume of trade—the Pharmaceuticals Export Promotion Council (Pharmexcil) reported that in 2020-21, pharma exports to Russia and Ukraine amounted to $591 million and $181 million, respectively, or less than 3 per cent of total pharma exports—but because companies are worried about receiving payments.
The country is dependent on drugs from Russia for many reasons. First, Russia is home to many of the most advanced scientific institutions in the world. The pharmaceutical companies in the country have developed several drugs and vaccines that are considered superior to those available in India. Second, the pricing of the drugs from Russia is much lower than the ones produced domestically or imported from other countries. Third, the quality of the drugs from Russia is superior to what is manufactured locally. Fourth, as per reports, nearly 10 per cent of the total population of the country gets vaccinated every year. About 80 per cent of the vaccines are imported from Russia.
Sanctions in Russia will have a direct impact on the Indian pharmaceutical industry as many of its drugs are manufactured there. For instance, some of the major Russian suppliers to the Indian pharma market include Pharmstandard in Tambov and Novosibirsk; Rospotrebnadzor in Lipetsk and Sverdlovsk. Russian suppliers make up about one-third of the world's supply of generic drugs and about half of the high-end generics.
Many of these companies have now been blacklisted by the US government for their alleged involvement with Russian sanctioned entities such as Rosoboronexport, which sells defence equipment. The other big supplier is Pharmstandard which distributes in India through its wholly-owned subsidiary, Biotec Pharma Ltd., based out of Mumbai.
The impact of sanctions may be significant but it cannot be quantified yet as the entire mechanism has not come into play. Some of the potential outcomes include:
There could be a shortage of medicines in the domestic market due to reduced imports from Russia
There may be a rise in drug prices due to increased import costs
Pharmaceutical companies and distributors may have to invest more in order to source raw materials from alternative countries like China or South Korea and
Companies may have to shut down factories in India where they manufacture Russian origin products. It would be interesting to see how the government responds to this. It can either increase the number of manufacturing plants to ensure the availability of medicines at affordable rates. Or, it could develop alternate sources of medicines so that consumers do not suffer. The biggest issue will be if the United States decides to impose further sanctions on the supply of certain active pharmaceutical ingredients (APIs) used in manufacturing drugs and vaccines. This may lead to shortages of critical life-saving medicines such as antibiotics, anti-cancer drugs, antimalarial agents and vaccines.
A part of the export revenue is also attributed to active pharmaceutical ingredients (APIs). In fact, most of the vaccines currently available in India are sourced from Russia. Apart from vaccines, over 90 per cent of the drugs consumed in India are made using APIs. If there is a sudden disruption in the supply chain, then the country will face an acute shortage of life-saving drugs. To help mitigate the situation, the government needs to take action immediately.
Lofty Ambitions Or Realistic Dream: India's $1Trillion Export Gamble
India is a country with immense natural resources and the population of 1.3 billion people can be further enhanced by providing better education to all Indians. The Indian economy has been on an upward trajectory for the past few years owing to strong economic fundamentals, structural reforms and government initiatives like Make in India. India was ranked seventh among the top emerging economies this year as per the World Bank report. It is projected that India will grow at 7.2% for the next two years which will help it achieve its aim of attaining a GDP of $5 trillion by 2030. To meet the growing demand from other countries, there is a need to improve infrastructure, increase productivity, reduce corruption and remove bureaucratic hurdles. If such steps are taken, then the target of becoming one of the biggest economies by 2050 seems achievable. Achieving a $1 trillion export figure would not only provide an impetus to the economy but also build confidence among foreign investors. One of the main reasons why India has failed to make full use of its potential so far is due to the fact that it has not invested much in research and development (R&D). According to a report published by US National Science Foundation, India spends just 0.8% of its gross domestic product (GDP) on R&D which is way below the global average.
No doubt achieving a $1 trillion export figure may seem impossible given the current state of affairs. However, if we look closely, there are several sectors that have been performing well in recent times. In the agriculture sector, the production of food grains, fruits, vegetables and milk is on the rise while the country has successfully curbed inflation to a large extent. In the manufacturing sector, exports in chemicals, engineering goods, textiles, gems & jewellery, pharmaceuticals, etc., are increasing significantly. In the services sector too, India has performed well with regard to tourism, IT outsourcing, financial services, business process outsourcing, etc. A holistic and aggressive exercise to boost exports could take the figure for merchandise exports to US$ 1 trillion by 2029-30 at a CAGR of 14%.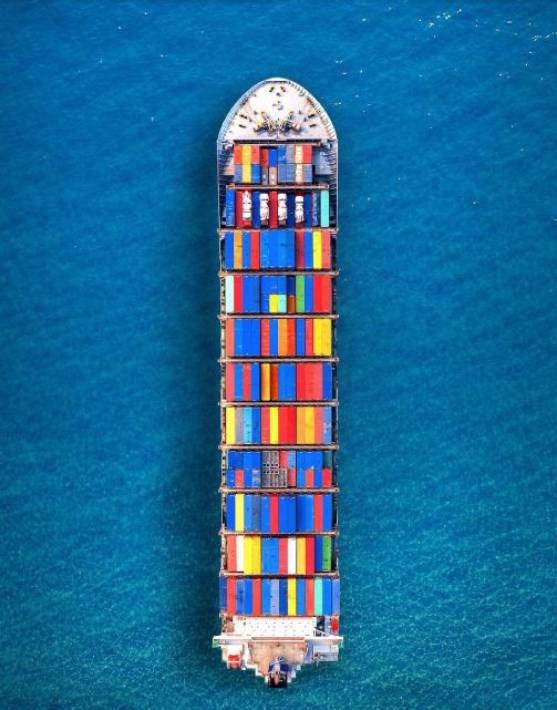 The question is whether India's export sector can grow rapidly enough to make up for the loss of manufacturing jobs. The short answer: yes, it will be able to. At least that was what a recent survey conducted by the Confederation of Indian Industry showed. It predicted an increase in exports from $300 billion currently to over $1 trillion by 2020. In fact, it projects that our share in global markets would go from 2% now to almost 10%.
So the big question remains: how will we create those jobs? That's where the government needs to step up. We need to put more emphasis on high-skill sectors such as IT and telecom, which have a good future ahead even if they don't offer the same returns as, say, steel or chemicals. With more people entering the workforce every year, the demand for skilled workers in these areas could easily outpace supply and cause serious trouble down the line. This means we need to focus on improving education at all levels.
"In the services sector too, India has performed well with regard to tourism, IT outsourcing, financial services, business process outsourcing, etc."
India needs to brace itself for strong policy actions on two fronts – On the one hand, it needs to address demand-side concerns at the international level and on the other hand, it needs to increase its competitiveness on the supply side. Thus, export policies need to focus on addressing multiple issues such as manufacturing capabilities, infrastructure connectivity, and export finance.
It is critical to liberalize imports at the same time to ensure that India is able to leverage imported inputs for competitive value-added exports. India's average applied tariffs rose from 13.5% in 2014 to 17.6% in 2019 and stood at 15% in 2020. The applied weighted mean of tariffs in 2019 was 6.59% in India compared to 2.53% in China and 1.66% in Vietnam. Thus, a reduction in import barriers can ensure that India's export capabilities are enhanced.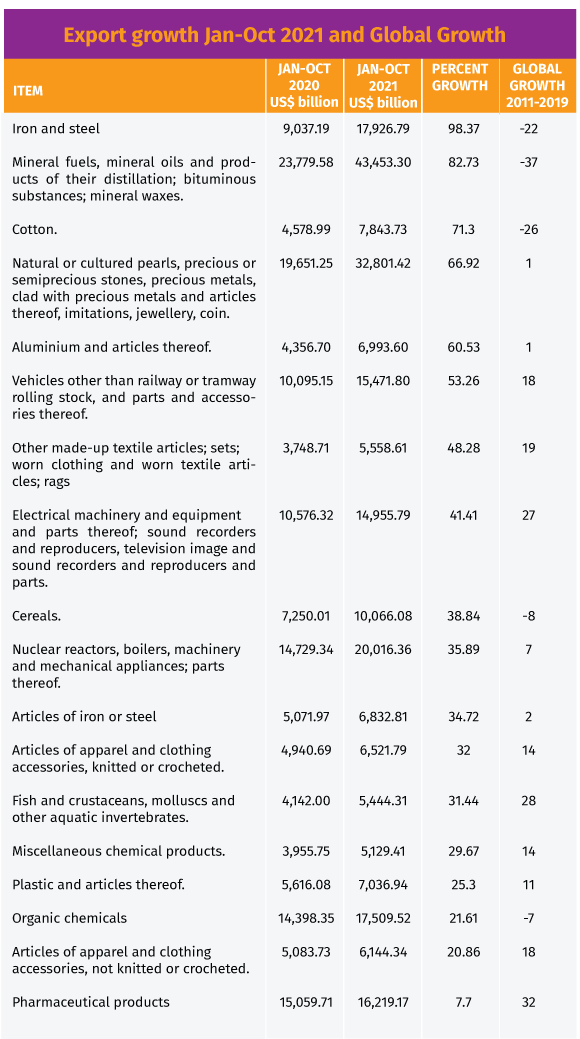 It's not just about having the right policy framework either. If we want to compete with China in manufacturing, we'll also have to invest in research and development. And even though we're catching up quickly when it comes to science and technology, we still lag behind our Asian neighbours in terms of our scientific prowess.
We can learn from countries like Israel, where the combination of strong academic institutions and industrial partnerships has led to a thriving R&D ecosystem. Companies like Intel and Microsoft have built a large presence in Israel with an emphasis on university collaborations. While India has a long way to go before we can claim similar success, we need to start somewhere.
How India Can Improve Its Demand Competitiveness?
The government has been working to bring down the country's trade deficit, which stood at USD 62.2 billion in June 2017 against a trade surplus of USD 25.9 billion in June 2016.
In recent times, India is not only competing with China but also other emerging economies like Vietnam and the Philippines. In order to stay ahead of the competition, it needs to focus on increasing its export competitiveness by making improvements in three key areas—productivity growth, technology absorption and market access.
Productivity Growth: India's productivity growth rate has remained stagnant since the early 2000s when it was at 2% per annum. This is due to inadequate infrastructure and a lack of skilled human resources. With the introduction of GST (Goods & Services Tax), which aims to streamline business processes across all states, it is possible that the economy would witness an improvement in productivity. Also, e-commerce platforms such as Amazon and Flipkart are helping Indian businesses reach new markets and improve their productivity with global best practices. However, it will take time for these results to show up on the ground.
Technology Absorption: The digital revolution is transforming every aspect of our lives. It is creating opportunities for India to increase its productivity and create high-value jobs. For example, Artificial Intelligence (AI) can be used in data analytics and predictive modelling to achieve better outcomes from any kind of data. AI can also help in improving agriculture productivity through precision farming. The government should encourage start-ups to commercialise new technologies in fields such as robotics, the Internet of Things (IoT), 3D printing, machine learning, AI, big data analysis and cyber security.
Market Access: India has recently signed agreements with African countries to boost its exports. Given the huge population base and high purchasing power, the domestic market alone cannot absorb all the products manufactured in India. It is imperative that the country focuses on expanding its export market, especially in developed countries. There are several initiatives taken by the government to promote the services sector. However, boosting the manufacturing sector is still a challenge.
For instance, there have been problems getting certain critical inputs like steel, aluminium and copper, which are essential for the creation of quality goods. If India wants to compete with major exporters like Korea or Germany, it must ensure the availability of materials at reasonable prices. Besides, the government also needs to adopt policies that ease trade barriers and facilitate faster processing of applications for licences and clearances.
India's current account deficit is a result of import overconsumption, and this is mainly because of the low-income levels of Indians. So, if the government takes steps to increase incomes, then the consumption gap will automatically shrink. This will eventually lead to more exports as well as imports. As of now, the Indian rupee is weaker than many of its rivals. However, according to estimates, the exchange rate will weaken further in the coming years. A weak currency makes exports competitive in international markets, which will help generate higher revenues from exports.
"For instance, there have been problems getting certain critical inputs like steel, aluminium and copper, which are essential for the creation of quality goods. If India wants to compete with major exporters like Korea or Germany, it must ensure the availability of materials at reasonable prices."
However, to make sure that the rupee continues to remain strong, the government should take measures to check volatility in capital flows as well as manage inflation. This can be done by reducing the fiscal deficit, controlling private borrowings, ensuring adequate foreign reserve coverage and moderating credit growth. Hence, it is important for the government to take steps to bring down the country's trade deficit. An increase in exports will not only reduce the current account deficit but also strengthen its position in the global economy.
How India Can Improve Its Supply Competitiveness?
The Indian government's policy of promoting local manufacture has been a major contributor to the decline of exports. The focus on domestic production and protectionism, which were seen as necessary for national development at the time, are now seen as restraining factors that have contributed to the country's poor performance.
India needs to move away from policies that prevent it from competing effectively with other countries in global markets. It should adopt more market-oriented approaches to encourage exports. This would allow the country to compete by offering better value to consumers than its competitors, rather than restricting trade or imposing tariffs.
In order to increase the supply side competitiveness of Indian exports, the following steps need to be taken:
Freeing up trade barriers. According to the World Bank, India is among those economies that maintain higher tariff rates compared to their economic size. The country also has high non-tariff barriers such as licensing requirements, product certification, and intellectual property rights.
Reducing subsidies for agriculture. India heavily subsidises agricultural products through the Public Distribution System. These subsidies distort prices and limit the ability of farmers to respond to market signals. This harms both the environment and productivity. In addition, this policy discourages many people from leaving farms so that there are fewer workers available in the economy as a whole.
Eliminating restrictions on foreign direct investment (FDI) in key manufacturing industries. Foreign companies should be allowed to open factories in India without requiring any special approval from the government. This is needed to create competition and reduce costs.
Promoting innovation and technology transfer. A recent report by the World Economic Forum ranked India 130 out of 140 countries in terms of intellectual property protection. If the country wants to attract more foreign investment in technological development, it needs to improve its protections.
Reforming labour laws. One of India's biggest weaknesses is its low rate of female participation in the workforce. It is estimated that around 13% of women participate in India's formal sector, but the figure may be even lower when informal sectors are included. There are no clear rules about maternity leave, and few employers offer childcare facilities for their employees. Women who enter the workforce often face discrimination and harassment, which makes them less likely to stay in the job. Many mothers also return home after having children, meaning that they do not contribute to the economy as much as men. In addition, many jobs require long hours of work. Such practices restrict women's freedom and make it difficult for them to combine employment with family responsibilities.
Improving the business climate. India has strict regulations regarding industrial safety, environmental management, and land use. This leads to higher compliance costs and reduced efficiency. As a result, the cost of doing business is much higher than the average for other developing economies.
Increasing infrastructure spending. Investment in transport, energy, water, and sanitation systems is crucial for increasing supply-side competitiveness. However, the government has prioritised other areas of expenditure during the last decade.
These measures will help India overcome its current economic challenges. However, the country still faces many problems relating to the structure of its economy. To provide a comprehensive solution, the following recommendations are made:
Encouraging entrepreneurship and reducing the role of large firms: Entrepreneurship is one of the main drivers of economic growth. Small businesses, particularly those owned by women, are vital for creating new jobs and helping people escape poverty. However, the government does little to support this process. Instead, it encourages the formation of giant conglomerates and provides incentives for multinational corporations to invest in the country. The latter group includes Tata Group, Reliance Industries, and Adani Enterprises, which control many of India's largest companies. It is important to encourage small firms and startups instead of relying on big businesses.
Highlighting the benefits of free markets: A lot of criticism has been levelled against India's lack of state intervention in the economy. However, the reality is more complicated. The state plays an active role in the economy through public goods like education, health care, and housing. However, there are many private firms involved in these activities. For instance, most schools and hospitals are run by trusts established by well-off families, while health insurance is provided by private insurers. Furthermore, most residents in urban areas own homes that are privately owned. A large proportion of Indians live in slums, where they pay rent to landlords.
Regulating banks to ensure that they serve customers fairly: Corruption and mismanagement are rife in the banking system. Banks have failed to implement proper safeguards against fraud. They do not adequately monitor financial transactions, leading to money laundering and tax evasion. In addition, they lend too much to large corporate groups, encouraging crony capitalism.
Implementing a minimum wage to protect workers: India has no official minimum wage. Workers often earn below the subsistence level. The country's government can play an important role here by introducing a legally binding minimum wage. Changing the way land is allocated. Land ownership in India is highly concentrated. Large landowners hold almost half of all agricultural lands. This has resulted in a shortage of farmland. Farmers cannot afford to buy enough food for their families, forcing them into debt. Some communities have resorted to violence to protest against this situation. To resolve this issue, the government must change the way land is allocated. It should emphasise social justice and distribute land to poorer households, especially farmers. This would enable them to grow crops and feed their families.
The Role Of MNCs In Exports -
MNCs should be encouraged to set up plants in India. MNCs invest heavily in countries with labour competitiveness and a good investment climate to address global markets. In the case of Vietnam, overseas companies and FDI accounted for 72% of export turnover and 63% of import turnover in 2020. Even in China, foreign companies accounted for nearly half of its exports and 30% of its industrial output. This was possible only because of the liberalized FDI policy. The $1 trillion export target may sound too ambitious. The global growth trajectory should remain on an upward curve. . In 2011-2019, world trade growth remained largely flat, exhibiting just over 3% total growth in this period. China's exports showed 32% growth in 2019 over 2011, Vietnam at 185% and India at 7.3%. Therefore, China's share in global exports rose from 10.5% to 13.3%. India must focus on increasing its share in global trade and design appropriate policies to facilitate the same.
The first step would be to identify goods for export promotion and the countries they can be exported to. This will enable India to take advantage of its capabilities in the best way. Goods exports expanded by 44%5 in Jan-Oct 2021 and services exports grew 18%6 in April-Nov 2021, with total exports at US$ 419 billion. Non-fuel, non-jewellery exports accounted for US$ 200 billion of the total merchandise exports of US$ 267 billion in Apr-Nov 2021 and expanded by a robust 38%.
The following table shows export growth and global growth of major items: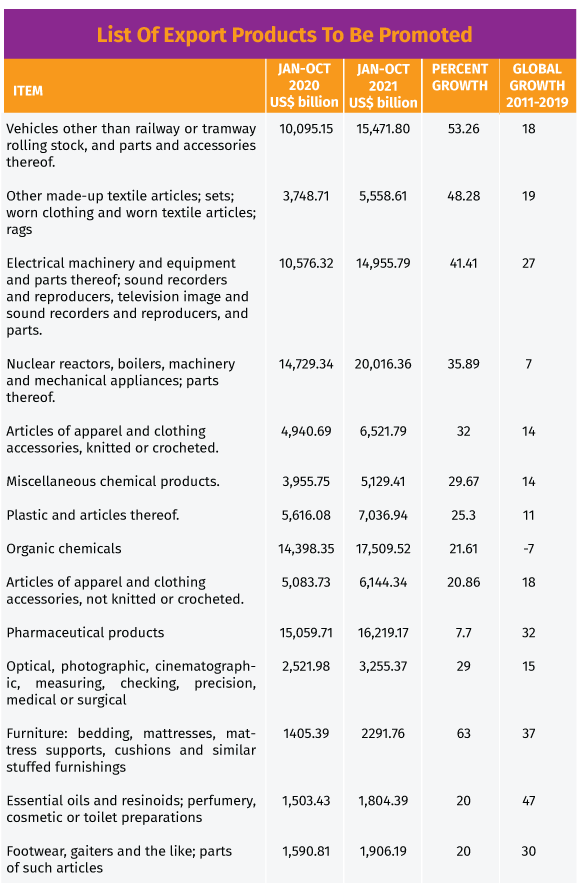 List of Export Products to be Promoted:
The above table shows India's potential in exports of various items. For example, in the category of electronics which is the largest globally exported item and one of the fastest-growing. India's share in global exports was just 0.55% in 2019 and this must be pegged at 5% in 2030, entailing 11x growth.
India should focus on exporting to the following countries that either have a high population or high GDP. Countries like Indonesia, Russia, the Philippines, Argentina, Ukraine, Poland have a very low share in India's exports, and these countries should be targeted for achieving an increase in exports.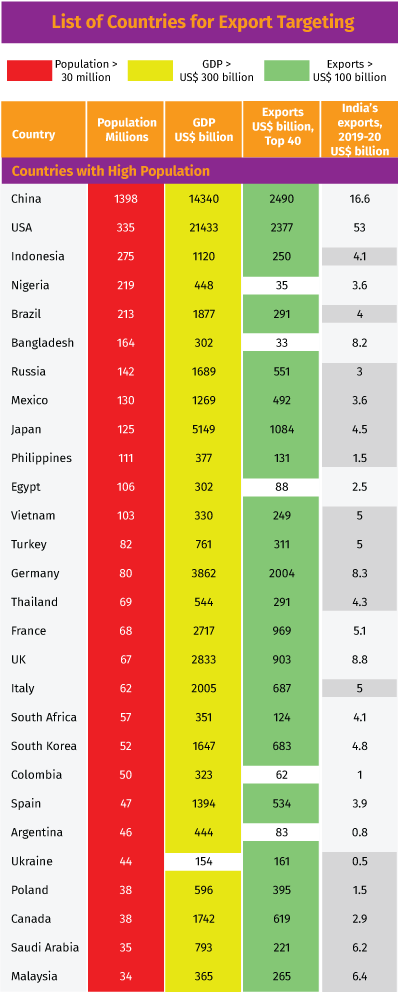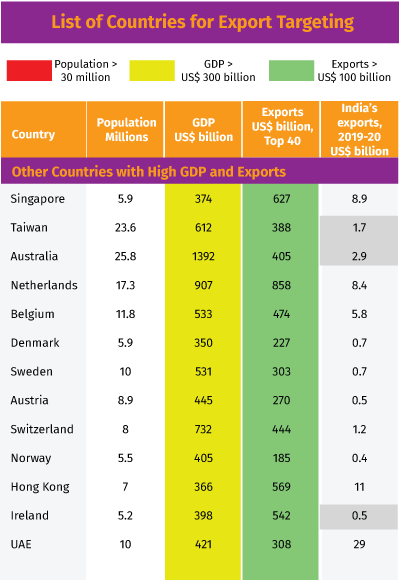 These countries currently account for US$ 250 billion of Indian exports and are dominant as current and potential markets. Specific export promotion for intensive and aggressive marketing to these destinations needs to be undertaken.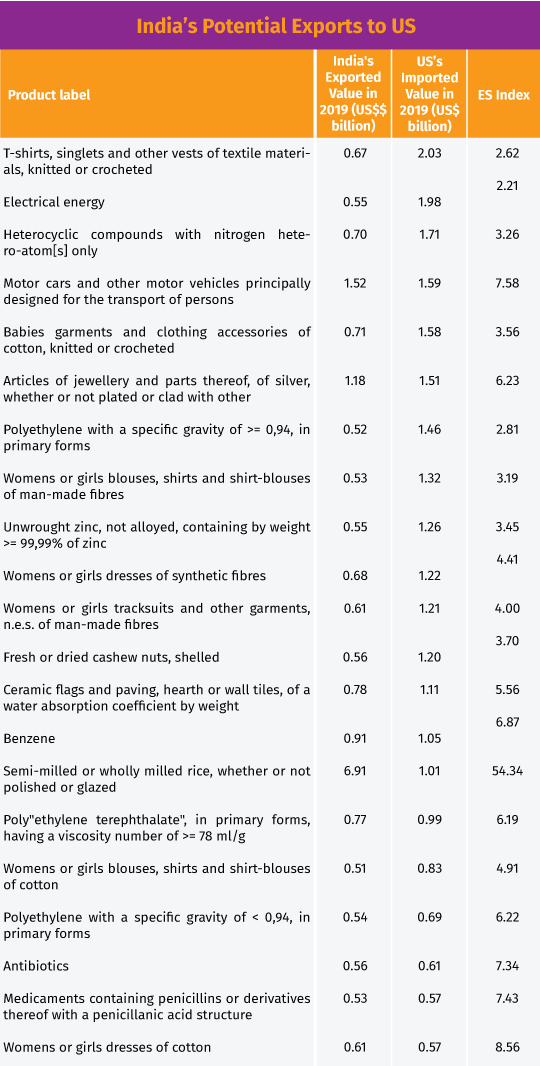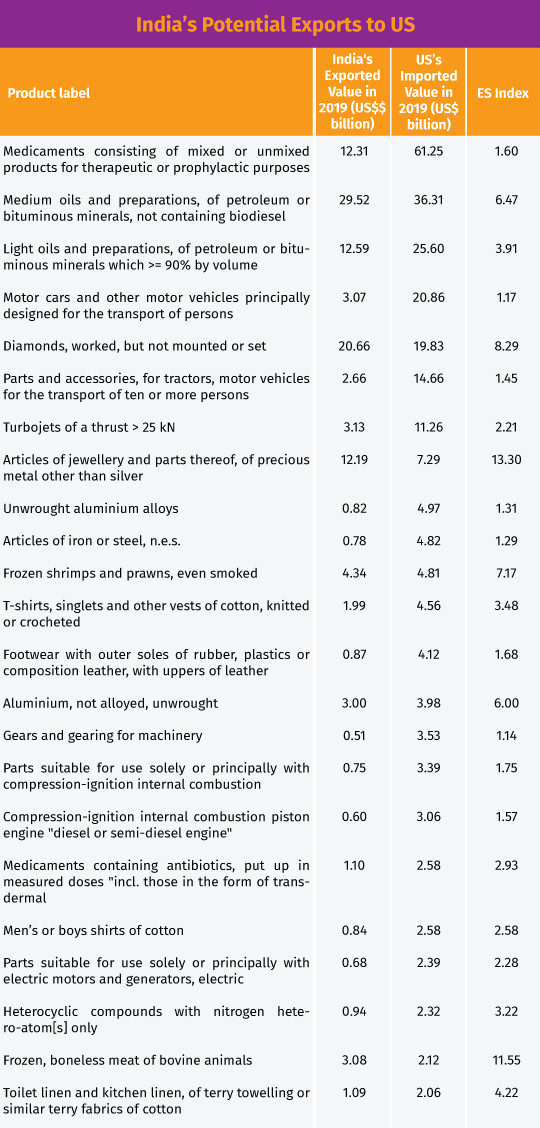 How India can compete in International Markets?
Review existing FTAs -
After the implementation of GST, India is now seen as a more open economy. The FTA route will help Indian companies to negotiate better terms and conditions in international trade. It will also enable them to avail of preferential treatment on tariffs and other government-imposed restrictions.
The FTAs signed by India with ASEAN, Japan, and Korea have not helped Indian industry. The problem is further aggravated by the increase in imports and this has impacted the industry most.
The tariff structure under the existing FTAs needs to be re-examined to avoid inverted duties. FTAs should not only cover tariff liberalisation but also address the Non-Tariff Measures in partner countries. India should also take up markets where it has a competitive edge and geopolitical concerns should be kept aside while dealing with such issues. FTAs can also be used as a vehicle to channel investments in the country. Countries with high potential to invest in India and effective participants in global value chains should also be a priority consideration in entering into FTAs.
Countries like the UK, UAE, Canada, Australia, Israel and the EU should have more focus since these countries have a higher potential to import from India.
How does it benefit India?
The benefits of an FTA include:
Increased market access for domestic goods
Improved competitiveness by reduction of trade barriers
Enhanced foreign direct investment (FDI) inflows
Increase in exports of local products
Reduction in costs related to imports and exports
Employment opportunities
Higher return on investments
Does India have any FTAs with countries like China or Singapore?
India has signed and implemented several FTAs with various countries across different sectors. Some of these are with Singapore, South Korea, Japan, ASEAN, Switzerland, Mauritius, Nepal, Bhutan, Australia and New Zealand. However, there are still many countries with which India hasn't yet entered into any kind of agreement. The most notable ones are China, Russia, the United States, Canada, Mexico, Norway, Finland, Denmark, Sweden and Iceland. There is also the possibility that India can enter into a free trade agreement with European Union (EU).
What is the status of the negotiation with the EU?
While negotiations between India and the EU have been going on since 2003, they were discontinued in 2014 when the then Narendra Modi government decided against ratifying the proposed deal. As per the reports, the talks got stalled due to differences over issues like agriculture, services and intellectual property rights. The two sides have agreed to continue the dialogue and hopefully reach a conclusion soon.
How FTAs can help India's export sector?
On the one hand, an FTA would allow Indian companies to penetrate new markets by reducing tariffs and non-tariff barriers. On the other hand, it would also give an impetus to domestic manufacturing industries which could use the opportunity to expand their operations.
How do you see the prospects of trade agreements with major economies?
There are several reasons why we need such agreements. First, there are many emerging economies like Indonesia, Malaysia and Vietnam which are highly dependent on trade. An FTA can help us in capturing these markets faster than our competitors. Second, it will also reduce the cost of doing business for both parties. For instance, if we have FDI from another country, then our production costs could be reduced significantly. Third, FTAs can provide impetus to the overall economic growth of the nation. This would encourage more investments in the country. Fourth, the opening up of the foreign market and competition would force Indian firms to improve their quality and reliability.
Do you think India should sign bilateral or multilateral agreements?
Bilaterally is the best option because it is much easier and less cumbersome. However, multilateral agreements may also work out well for India. There is no harm in signing such deals as long as they are beneficial to the economy.
If we look at the example of Singapore, it has signed several FTAs with different countries. The country has managed to become one of the fastest-growing economies in Asia. India needs to follow suit. In fact, India can even lead the way in the region by helping other developing nations develop their own trade relations.
Can India achieve this without any formal FTA with the US?
No, not unless we want to remain a second-class player in the global economy. We need to have proper agreements in place with major trading partners, especially the US. One of the primary reasons for India's poor performance in global trade is that it lacks strong relationships with its major counterparts.
We have signed several MoUs with the United States but there is no progress so far. That is why we need to revive the ongoing discussions with the US and break the logjam.
Is it possible to get better terms and conditions under FTAs?
Yes, it is possible. But only if we have good negotiators at home and abroad who can put forward our case effectively. If we fail to negotiate well, then it wouldn't matter whether we have signed FTAs with multiple countries or not.
Should India aim to become a member of the WTO?
Yes, of course!
In your opinion, what are the main challenges in implementing trade pacts?
Most of the problems come when we don't understand the terms and conditions clearly. Most of the time, we end up committing ourselves to things we didn't intend to do. Therefore, it is important to read through all the terms and conditions carefully before signing the final document. After all, it is always better to have everything in writing.
Is it true that the Indian government is unable to enforce the provisions of FTAs?
Yes, it is true. However, there are many examples where India has successfully enforced its agreements and won compensation from countries that were found to be in violation of the rules. A recent example is that of the US. It had committed several violations of the World Trade Organisation (WTO) Agreement. However, the dispute was settled in favour of India.
Where do you see India in the next few years? Do you think the country is prepared for the future?
It is very difficult to say right now. We need to be proactive and take steps to ensure that we are ready for the changes that are coming our way. With the implementation of the GST, the country is already moving towards becoming a single market. Also, with the rise of the digital economy, more people are likely to become connected and engaged with each other.
Identifying emerging products for export in India -
The Indian economy is highly dependent on the domestic market and has remained almost stagnant during most of its post-independence history. The country's exports have grown steadily, particularly over the last decade or so. Over time, India has acquired a good reputation as an exporter of goods that are competitively priced yet high quality. However, there is still considerable scope for growth in several areas where India excels but does not currently export to foreign markets. The following list details some of the potential product categories with significant export prospects:
Electronics
India ranks among the leading countries in terms of electronics manufacturing and design capability. Its position in the global mobile phone production chain has been eroded by China and Thailand, but it retains its dominant role in producing components and low-end consumer electronics. Indeed, many of these items remain popular with consumers across the world despite being available elsewhere at lower prices. India could therefore benefit from increased international sales of such products.
Textiles and apparel
Textile exports in India were worth US$20 billion in 2016, which equates to about 4% of the country's total merchandise exports. This figure represents more than double what it was 10 years ago. While much of this increase is due to higher demand from overseas markets, many firms are also keen to capitalise on growing opportunities within India itself. With rising incomes, consumers are increasingly willing to pay a premium for locally produced clothing and fashion accessories. There is also plenty of potential for additional niche product lines within the textile industry, especially given the emergence of new fabrics and production techniques.
Food products
In recent years, food exports have risen dramatically. In fact, they now represent 11% of India's total merchandise exports. Most of the growth has occurred in the dairy sector, while vegetables, fruits and spices are also becoming increasingly popular with international buyers. Although meat exports have declined slightly since 2006, they remain a substantial and growing industry. More recently, the government has begun promoting the consumption of milk and other dairy products, which should lead to even greater gains in the near future.
Agricultural products
India is rich in natural resources, including fertile land, abundant rainfall and a temperate climate. As such, agriculture remains an important part of the country's economy. It is also one of its key strengths when it comes to competing in international markets. Other agricultural exports include cotton, tea, coffee and sugar, although these sectors face stiff competition from rival producers around the globe.
Transportation equipment
Transportation is another area where India excels on the global stage. Much of this success can be attributed to the rapid expansion of its road network. By 2020, the country aims to have built more than 400,000 kilometres of roads, which would bring its total to 830,000 km. As well as creating jobs, this is expected to open up new transport routes into neighbouring countries. For example, the Delhi-Kanyakumari Expressway will soon provide access to South Asia, allowing Indian traders to reach customers in Sri Lanka, Bangladesh and Myanmar.
Petroleum and petroleum products
During the 1980s, India had to import most of its oil. However, with the construction of its new refineries, combined with booming demand and a surge in domestic fuel consumption, India is now capable of meeting all its own needs. As a result, it has become a net exporter of refined petroleum products and is hoping to expand its business by exporting crude oil and natural gas.
There is no doubt that India possesses numerous strengths when it comes to boosting its export trade. However, its relatively closed economy limits opportunities for expansion beyond its borders. Only about 13% of the workforce is employed in industries related to international trade, compared with an average of 45% in the United States. Moreover, India still relies heavily on imports, meaning that it is vulnerable to changes in the value of its currency against other currencies. At present, however, the rupee is relatively stable against the US dollar.
Petroleum and petroleum products
During the 1980s, India had to import most of its oil. However, with the construction of its new refineries, combined with booming demand and a surge in domestic fuel consumption, India is now capable of meeting all its own needs. As a result, it has become a net exporter of refined petroleum products and is hoping to expand its business by exporting crude oil and natural gas.
There is no doubt that India possesses numerous strengths when it comes to boosting its export trade. However, its relatively closed economy limits opportunities for expansion beyond its borders. Only about 13% of the workforce is employed in industries related to international trade, compared with an average of 45% in the United States. Moreover, India still relies heavily on imports, meaning that it is vulnerable to changes in the value of its currency against other currencies. At present, however, the rupee is relatively stable against the US dollar.
Defence:
$7.1 billion (of which $2.8 billion is for Indian-built systems) The overall value of India's defence sector will increase by a factor of 4.5 between now and 2020, according to the report, from $4.9 billion in 2008 to $14.3 billion. This growth has been driven largely by increases in exports, which are expected to rise from $2.6 billion in 2016 to $3.5 billion in 2020.
How India can establish Global Value Chains for MNCs
The global value chain (GVC) is a strategy used by multinational corporations, especially those in the manufacturing sector. It involves contracting with suppliers and subcontractors located in low-cost countries to produce goods that are then sold to consumers in high-income countries at higher prices. GVC strategies have been successful for many companies, but they also present challenges related to managing supply chains.
The Indian government has recognized that its companies need to adopt more advanced production methods if they hope to compete in the global marketplace and it recently established new initiatives designed to promote these changes.
In November 2017, India's Ministry of Commerce and Industry introduced several new programs aimed at increasing the competitiveness of local businesses. One initiative seeks to improve the quality and variety of available raw materials so that companies can use them as inputs for final products. Another program encourages domestic manufacturers to develop their own brands rather than relying on those made by foreign companies. A third program promotes innovation by encouraging startups to commercialize new technologies and products. These programs are designed to encourage MNCs to set up production facilities in India and bring more jobs to the country's workforce.
These initiatives are part of a larger effort by the Indian government to increase economic growth and reduce poverty. The nation currently ranks as one of the world's fastest-growing economies, and it hopes to continue expanding this trend over the next few years. As part of its plan, India intends to attract more foreign investment from large multinational companies such as Samsung, Oracle Corporation and Nestlé. By establishing itself as an attractive destination for global firms, India expects to gain valuable experience that it will be able to apply when competing with other emerging markets.
India's recent moves toward economic development are likely to help the nation reach its long-term goals. According to a report published by the World Bank Group, India is expected to become the world's third-largest economy by 2030. This rapid expansion could have significant implications for the entire region, including Pakistan and Sri Lanka, which are both home to a number of Indian ethnic minority groups. These communities might benefit from the improved health and education opportunities that result from increased economic activity. However, they may also face some unique challenges as a result of the success of Indian enterprises. If their governments do not take steps to ensure that these marginalized groups receive equitable access to resources, they could find themselves at a disadvantage.
How India Can Build Presence in Global Value Chains?
The Indian government has been working on several flagship initiatives to strengthen the country's manufacturing sector. One such initiative is the 'Make in India' programme, which aims to increase the share of manufacturing and services sectors in GDP from 15 per cent to 25 per cent by 2025. The government recognizes that developing a strong manufacturing base will be crucial for creating more jobs—India faces an annual shortage of 10 million skilled workers, and estimates show it needs to create 100 million additional job opportunities between 2015 and 2020.
To encourage local production and consumption of goods, the government has also launched various schemes such as the Merchandise Exports from India Scheme (MEIS), duty-free import of capital goods under the Generalized System of Preferences (GSP) scheme, Export Promotion Capital Goods Scheme (EPCGS), and various other programmes. These measures have helped improve India's trade balance by around $21 billion during 2014–17. While this step has improved the country's international competitiveness, there are still many challenges facing India's manufacturing sector. Most importantly, India lacks the requisite infrastructure and supply chain capabilities to manufacture products across all stages—from raw material sourcing through value addition to final distribution. Another challenge is the lack of a robust IT ecosystem to support domestic manufacturers with seamless integration of information technology systems. Thus, even though the Indian government has taken several steps to boost its manufacturing sector, there remains much work to be done in order to maximize benefits.
A recent report from McKinsey & Company examines how India can build a presence in global value chains (GVCs). GVCs refer to business activities that span multiple countries, involving coordinated planning and operations among firms in different locations. Such activities are usually carried out by multinational companies engaged in export-oriented production and require them to manage complex supply chains. Currently, India's share of global exports is less than 2 per cent, despite the fact that it has several competitive advantages over other emerging markets, including low labour costs, access to a vast consumer market, and widespread availability of natural resources.
However, if India wants to take advantage of these comparative advantages to become a major player in the world economy, it must build strong relationships with foreign buyers and sellers. This will allow it to gain valuable insights into the international marketplace and help develop a stronger manufacturing industry.
There are four key areas where India can focus its efforts to enhance its presence in global value chains: strengthening the country's physical infrastructure; improving its logistics capabilities; developing human capacity and skills; and encouraging innovation.
Strengthening Physical Infrastructure -
For years, the government has focused on building new roads, railways, ports, airports, and industrial parks. These projects have helped boost the nation's economic growth, but India still struggles to meet the demand for transportation and logistical services. In particular, its road network is inadequate when compared to other emerging economies such as China and Brazil. Similarly, the country's air traffic management system is not efficient enough to handle the high volume of flights. Furthermore, the lack of adequate port facilities is holding back the development of deep-sea shipping, which would reduce freight transport costs.
Improving Logistics Capabilities -
The government plans to invest $200 billion over the next five years on developing its logistics sector, with a special emphasis on developing ports and inland waterways. Some of these investments include expanding the Port Authority of India's container terminal at Kandla and Mangalore, upgrading the National Waterway 1 between Allahabad and Haldia, constructing a new container terminal in Kolkata, and improving rail links in the eastern part of the country. But even with this investment, the country's logistics infrastructure will remain insufficient unless it addresses three main issues: improving connectivity; enhancing efficiency, and reducing cost.
Connectivity refers to the ease with which a product can be transported from one location to another within the country. For instance, if a large number of people want to buy a certain product, the logistics company might use a truck to deliver the product directly to their homes. On the other hand, if many people need to purchase small quantities of a single item, the logistics firm may decide to set up a retail outlet nearby so that customers can pick up the items themselves. Improving connectivity reduces delivery costs since it allows firms to store fewer inventory items and sell more products. It also improves customer satisfaction, because consumers do not have to wait long for the goods they ordered.
Efficiency refers to the operational costs associated with transporting a product. A logistics company should strive to minimize the amount of time required to move a product from one place to another. It can achieve this by using the most direct route available, coordinating shipments with other vehicles, and managing inventory effectively. Efficiency helps logistics firms reduce costs, but it also improves customer experience, since a longer delivery window means that customers have more flexibility in choosing a convenient delivery date.
How defence can help Indian exports
The defence will be an important sector for Indian exporters, especially in the wake of our increasing engagement with ASEAN countries and China. With greater security challenges come opportunities: we have a chance to enhance our domestic manufacturing capabilities, which has been largely neglected so far. We need to focus on developing new technologies for defence products that are technologically advanced, cost-effective and environmentally friendly. We should also ensure there is a balance between imports and indigenous production.
The government's efforts towards encouraging private investment in defence production through strategic partnerships will definitely help us boost our manufacturing capability. In recent times, several public-private partnership models have taken off in India; some of them include Make in India, Start-Up India, Stand up India and Skill India. They are helping improve productivity by harnessing the power of both the public and private sectors. The Defence Production Policy 2016 is another such initiative that aims to encourage domestic manufacturing of defence equipment under 'strategic partnerships' while maintaining a level playing field for all players. It proposes a policy framework to support various activities across the entire supply chain. This will not only provide India with more options but also allow it to strengthen its industrial base.
Manufacturing locally is a good way forward as it helps us achieve economies of scale, leverage global technology, develop our human capital and create jobs. For example, we cannot hope to become a leading player in aviation without developing skills and expertise at home. There is no point in importing aircraft or engines when we already have a large number of skilled workers who can do the job. Similarly, if we want to produce our own submarines, then we must invest in training professionals from scratch and make sure they get opportunities to work with the best minds in the business. But this will take time, and therefore, the government needs to facilitate skill development programmes along with funding.
In addition, we should consider providing tax incentives for companies that manufacture defence products locally. These could include cutting corporate taxes and allowing duty exemptions for machinery used in defence production. This will ease the burden on smaller firms and enable them to raise funds.
There are many other measures that can be adopted to promote local manufacturing in the defence sector. A few include setting up an exclusive incubation centre for new start-ups, expanding the scope of the 'Make in India' programme to include defence and promoting the establishment of high-tech clusters.
Another important step would be to expand our exports market beyond traditional destinations like Europe and North America, where competition is fierce. New markets such as the ASEAN region are emerging due to their growing middle class. This presents us with the opportunity to penetrate these markets. We can take advantage of this by investing in technologies that are suited to the needs of these new markets. For instance, we can look at producing sophisticated surveillance drones that are popular among ASEAN countries, given the lack of access to modern defence systems. We should also see how we can export our products to Myanmar and Bangladesh, as both of them have shown interest in acquiring technology-led solutions to combat terrorism. Our maritime capabilities are also quite impressive; however, we face stiff competition from Singapore in this space. Therefore, we need to offer them technological advancements that are unique to our country. We have to realise that there is a lot of untapped potential in the defence sector, and we are yet to exploit most of it. We have to act now before we lose out to other nations. We have to make our products affordable and attractive so that they can compete against foreign ones. We also need to adopt a long-term strategy by building up our manufacturing capabilities over the next decade. Only then will we be able to compete effectively in the international arena.
Everything You Wanted to Know about RBI's Digital Currency
Last year the RBI spoke about CBDC or Central Bank digital currency innards report on "currency and finance 2021."
What is a CBDC?
A CBDC is the digital form of Fiat currency that is issued by the central bank of the country instead of paper currency issued. It is the direct liability of the central bank. A CBDC is safe, backed by the government and the ultimate medium of settlement.
The Bank for International Settlements (BIS), defines CBDCs by contrasting them with existing forms of central bank money viz. as "a digital form of central bank money that is different from balances in traditional reserve or settlement accounts". This definition distinguishes CBDCs from the other two forms of central bank money, namely physical cash (which, as opposed to CBDCs, is not digital in form) and reserve/settlement accounts (which, while digital in form, are accessible only to select financial institutions like banks, whereas CBDCs are intended for wider access or use). There is also another form of money that is indeed digital, namely the money created by the banking system, but this is however not central bank money.
The above broad definition is based on the identity of the issuer (central bank vs. private entities) and form (digital vs. physical). Within this broad definition, the BIS also goes on to identify different types of CBDCs based on two other criteria of accessibility (restricted, like central bank reserves currently, or wide access like cash) and technology (account or token-based) viz.,
A token-based "general purpose" CBDC that is available primarily for retail transactions but may also be available for broader use
A token-based "wholesale" CBDC whose availability is restricted and used for wholesale payment and settlement transactions
An account-based "general purpose" CBDC that is widely accessible
Apart from the BIS definition, there are other definitions of CBDCs in use that highlight some or other criteria mentioned above depending, inter alia, on the focus of their research and experimentation, or centrality of certain features to the definition of CBDCs. For example, the Bank of England defines CBDCs as "an electronic form of central bank money that could be used by households and businesses to make payments and store value."11 That is, the focus is on retail access only. The RBI defines CBDCs as "a legal tender and a central bank liability in digital form denominated in sovereign currency and appearing on central bank balance sheet". According to them, CBDCs are a form of electronic currency that is exchangeable at par with similarly denominated cash and traditional central bank deposits.
In terms of possibilities, CBDCs could be designed as:
a direct CBDC, where the central bank is entirely in charge, from issuance to maintenance of the ledger and compliance with laws,
a hybrid CBDC, where the CBDC represents a direct claim on the central bank, like cash, and the private sector would continue to focus on offering customer-facing services such as onboarding, KYC, execution of payments etc. The central bank would retain a copy of all retail CBDC holdings and also have both the technical and legal ability to transfer customers from one payment service provider (PSP) to another in cases of insolvency or other failures.
An intermediated CBDC, which is a nuanced version of the hybrid model where the central bank would not have any access to the retail ledger, which would be fully retained by the private sector.
Central banks around the world including China Russia Bahamas USA are researching the use of CBDC. In 2021 bank for international settlements (BIS) revealed that 86% of Central banks across the globe were actively researching the potential for CBDCs.
How is CBDC beneficial in the payment system?
Wholesale CBDC can help in the evolution of wholesale payments something which Central banks are trying to modernize. CBDC can help in the interbank settlements on a net basis. It can also support a conditional letter of payment where settlement is dependent on another payment transaction or security of some asset. Thus wholesale CBDC can help to make existing payment transactions efficient. CBDCs can be categorised into two broad categories based on usage. Wholesale CBDC and retail CBDC. The retail CBDC is meant for the general public and is used by consumers for carrying out day to day activities. The retail CBDC is based on distributed ledger technology (DLT) similar to the blockchain network. The only difference is that the network is handled by the government which helps to trace the transaction at the same time ensure user anonymity. In the case of India, the RBI can directly issue retail CBDC to the general public. Alternatively, it can be distributed through the intermediaries like public or private banks who can distribute to the public much like the Fiat currency. Since CBDC is distributed ledger technology, the latest technology-intensive and does the choice of technology depends upon the design of the CBDC. Thus in the case of India, the RBI must also consider if the CBDC will be issued directly or indirectly or in a hybrid manner.
What are the scope and purpose of CBDCs?
A central bank creates a digital currency by issuing it as part of its monetary policy operations. This is the case for central banks in Canada, China, Japan, Korea, Russia and Switzerland where they have been experimenting with digital currencies since 2016 or earlier. Central banks usually issue digital currencies to support their existing fiat money systems. They do this because they want to improve the efficiency of financial transactions and make them more secure. Digital currencies can be used anywhere and at any time without having to worry about inflation or currency exchange rates. Central banks also use digital currencies to combat money laundering, terrorism financing and tax evasion. In that respect, digital currencies can help to minimize transaction costs as well as reduce capital flight, which is a major problem in countries such as Argentina, Turkey and Venezuela. Citizens' Bank Accounts (CBDCs) are only issued by central banks and they are not connected to the issuance of fiat money. For example, CBDCs was created by the People's Bank of China. Although these digital currencies are not issued by commercial banks, but rather by central banks, they function like debit cards linked to a CBNA account. Citizens are able to transfer their funds from one CBNA to another using a mobile app or online banking.
Another type of digital currency is so-called cryptocurrencies, including Bitcoin and Ethereum. Cryptocurrencies are issued via an open-source protocol and peer-to-peer networks. It is possible to send cryptocurrency payments directly through the Internet without going through a bank or other financial institution. The total market value of all digital currencies has recently exceeded $500 billion. However, this does not mean that digital currencies have become mainstream. The vast majority of digital currencies are still speculative investments.
The technology behind digital currencies has also emerged outside the realm of central banks and commercial banks. Blockchain, the underlying infrastructure of digital currencies, was originally developed to serve as the public ledger for recording transactions on the Bitcoin network. Since then, blockchain has been used by companies in different industries to create new business models. One example is the R3CEV consortium, which consists of nearly 100 banks and other financial institutions that aim to develop blockchain applications. There are now many companies that use blockchain technology as a foundation to build new services. A good example is IBM, which uses blockchain to develop smart contracts: blockchain solutions that automate contractual agreements between two parties.
Monetary Sovereignty Concerns -
In this section, we discuss issues that are important from the point of view of a country's monetary sovereignty. The issues here are most relevant for the central bank of a country.
Possible Benefits of CBDCs related to Monetary Sovereignty -
CBDCs could improve monetary policy transmission. Unlike bank deposits, cash cannot carry interest. CBDCs however provide the option of ascribing interest rates. Interest-bearing retail CBDCs issued directly to households potentially raises the central bank's ability to improve and control monetary policy transmission. Greater visibility of transactions, in turn, could provide better feedback loops and improve policy decision making. Interest bearing CBDCs may also help address the "zero lower bound" on policy rates (that is, where lowering interest rates does not boost demand and consumption) and enable central banks to charge negative interest rates to spur consumption and growth. Negative interest rates are constrained today due to the presence of cash as negative rates simply incentivise shift into cash. However, it is important to note that the same could also transpire if negative interest rates are charged on CBDCs as long as cash is present.
Further, even if cash is replaced, the ability to charge negative interest rates is likely to only materialise as long as CBDCs themselves do not replace cash by either not charging or charging more interest. CBDCs could improve the efficiency of monetary systems Central banks can harness CBDCs to better pursue their public policy objectives such as more efficient and safe payment systems, financial inclusion, and so on. Other benefits are seen in terms of fostering innovation and competition and improving financial integrity by enhancing visibility and tracking of transactions, and reducing illegal activities such as money laundering.
Excessive use of cash in an economy is another problem faced by some central banks. This gives rise to costs associated with the issue, storage and distribution of cash as well as costs associated with losing economic activities to informalisation, where cash dominates. The introduction of CBDCs can reduce these outcomes significantly. CBDCs could provide a safe alternative to private digital monies Private alternatives to traditional forms of money, such as cryptocurrencies and stable coins, have become much more pervasive than before. One of the key reasons for intensifying research into CBDCs has been the proposed launch of Diem by Facebook. The advantages offered by stable coins like Diem (formerly, Libra) comes from the efficiencies in costs, speed and reach (driven by network effects offered by their large presence in social media).
However, without the backing of any sovereign agency, these currencies remain vulnerable to risks. Central banks could retain monetary sovereignty against the rise of such private digital currencies by introducing risk-free CBDCs backed by them as legal tender.
CBDCs could mitigate the risks of alternative payment methods In some countries like China and Sweden, the use of alternative payment services offered by private entities (for e.g., mobile payment systems such as Swish, Alipay and WeChat) have become dominant among the public, with such payment services concentrated among few players.
China, for example, has seen near-universal adoption of digital payments with nearly 94% of mobile transactions supported by Tencent or Alibaba. Both entities have also combined several other financial services with their social media apps.
How central bank regulates CBDC transaction?
Central banks have the power to create new money. That's why they are considered to be the most powerful institutions in the world. Every year, central banks print almost $7 trillion worth of new money. This is the source of fiat money. The goal of central banks is to regulate inflation. Inflation occurs when prices rise faster than wages or salaries, and the purchasing power of money falls. Therefore, central banks usually aim to keep inflation under 3%.
CBDC is created by a private institution, but it must be controlled by a government and available only for the citizens of that country.
However, central banks can control CBDC transactions just like with fiat money. CBDCs are issued by commercial banks and then purchased by the central bank. Therefore, both parties are aware that the central bank holds the coins and has the power to redeem them. To prevent the excessive creation of CBDCs, central banks usually set certain limits on the number of coins that can be issued each year. Central banks also decide whether these coins can be used for international payments. For example, the Chinese government does not allow its citizens to use the yuan as payment outside the country.
What do CBDCs mean for bitcoin and altcoins?
The main difference between CBDC and bitcoin is that CBDCs are backed by a national currency. Bitcoin is not backed by anything except the idea that it's valuable. But the biggest differences come from the point of view of central banks and governments. The primary goal of a government is to maintain full employment and low inflation.
According to the theory of Keynesian economics, the best way to do so is to stimulate the economy by lowering taxes and increasing government spending. However, this requires a certain level of confidence in the government's policies. To increase faith in the ability of the government to conduct macroeconomic policy, central banks need to intervene.
As a result, CBDCs provide a tool that supports the government's economic and monetary policies.
The government can spend more and cut taxes if its citizens believe that the government can control the amount of money in circulation. When the government needs to finance its budget deficit, it can borrow money at low-interest rates. Central banks are in charge of maintaining the stability of the financial system and keeping inflation under control. They achieve this goal by printing money. If people are afraid that the government will run out of money and start printing too many bills, they will hoard dollars and euros instead. In the end, the government must find a compromise between the interests of the government and those of the citizens.
CBDCs from an Indian Perspective -
It is clear from the previous discussions that the introduction of a CBDC is an institutional change that will completely redesign the monetary and financial sector in India in a major way, and has implications for almost all parts of the economy. In this context, it is important to understand that such major institutional changes are gradual and continuous processes, rather than a one-time alteration in policies. Moreover, all successful cases of institutional changes have been based on experimentation using "transitional institutions" as well as path dependence.
In the Indian context, gradualism and the use of transitional institutions and path dependence implies that rather than considering an abrupt institutional change from the current system to a CBDC-based system, we need to understand what are the current institutional arrangements – particularly in terms of digital payments systems - and whether there are strong arguments to move ahead to CBDCs, given the strengths and weaknesses of the current system.
Traditionally, the Indian monetary and financial systems were mainly bank-based, with money taking the form of cash and bank deposits. Digital transactions were based on money created by banks. This payments infrastructure changed significantly in the last decade or so, with India becoming a pioneer in developing digital payments systems. It was triggered by the setting up of the National Payments Corporation of India (NPCI), a not-for-profit company, promoted by a large number of private and public sector banks, in 2007. The NPCI understood the diverse needs of the economy and came up with a number of products that help in making retail payments for different types of transactions. The game-changer in this space has been the Universal Payment Interface (UPI), which acts as a real-time payments system that can enable the instantaneous transfer of funds between two banks, using a mobile device. Using this platform, apps like Google Pay, Paytm and PhonePe have popularized digital payments tremendously. This rapid success in the digital payments space has also encouraged the RBI to move towards a more market-based 'for-profit' addition to the NCPI. Termed the New Umbrella Entity (NUE), this is expected to be a consortium of private companies that will bring more innovation in the payments space. It is clear that even without the CBDCs, the Indian Central Bank has been actively encouraging the development of the digital payments space. One important feature of this initiative is that it is distinctly pro-market, hoping to grow through the dynamism of the private sector.
This vision of the payments space poses a dilemma about the introduction of CBDCs, as in countries like China, CBDCs are expected to provide the State with a mechanism to control the large private sector payments companies. To put it succinctly, the question for India is, if the private players in the payments space and the banking sector can work together to provide an efficient payments system, then why do we need CBDCs in India? Interestingly, two important justifications for an Indian CBDC come from outside our domestic context. First, in most of the major economies in the world, the development of national CBDCs and their interoperability is being seen as a major driver of international trade and payments in the near future. The current system of cross-border payments, based on the SWIFT platform, is increasingly being thought to be costly and time-consuming, and even the BIS is taking an active interest in pursuing countries to consider the international aspect when they design their CBDCs. While the private sector-based payments system may work well enough within India, it is only a sovereign-backed digital currency that will be trusted in a global system, at least for some time to come. The other external factor that is relevant for India is the strong push that is being given by China to establish the digital Yuan, not only as a domestic currency but also to be used for cross-border payments to their trade and investment partner countries. Once the digital Yuan gains acceptability as a global currency, it is a matter of time before these will start flowing into the Indian economy.
This leads not only to the possibility of a dollarization-type problem in the conventional sense but also involves grave implications of data vulnerability. Given India's contentious relationship with China, it is in India's interest to limit this possibility. The best way to deal with this is to establish global protocols on the development of cross-border use of CBDCs. In order to have a say in the development of these international standards as well as collaborations to evolve cross border use cases for CBDCs, it will be very useful for India to have a credible and working CBDC. An Indian CBDC can also help domestic digitalization. While the current UPI-based digitalization drive has been highly successful, it does not preclude the possibility of a digital divide. The current efforts at financial inclusion have entailed very limited participation by private sector banks, with the bulk of the burden being placed on public sector banks at considerable loss to them.
Since the for-profit NUE mechanism is also bank-account-based, it might strengthen the divide. This will make the inclusive digitalization of India a challenging project. Here, CBDCs may provide an alternative to the NUE, by working outside the banking sector, through the postal system for example. RBI could directly regulate and pay for the logistics of these accounts, so the banks will not bear the losses on account of these activities. This will also enable our public sector banks to become more profitable. Of course, in order to avoid significant disintermediation of the banking sector, the volume of such activities need to be restricted by design. While the arguments for an Indian CBDC are compelling, the challenges are not trivial either. As discussed earlier, if CBDCs are considered as better financial assets than bank deposits by savers, then the introduction of CBDCs has the possibility of disintermediation of the banking system and the possibility of bank runs. There are of course, certain design solutions that minimize such risk as long as there is a well-working banking system. In the Indian context, these design choices also need to keep in mind the major structural weaknesses in Indian banking that manifests themselves in terms of large volumes of non-performing assets (NPAs) and possibilities of insolvency. While liquidity and solvency are two distinct problems, it is well-known that they reinforce each other. A weak banking sector in India will imply that far more support will be needed by banks in case of systemic disintermediation or the possibility of a bank run due to CBDCs.
Clearly, any decision to introduce CBDCs in India will have to take into account all of these considerations. The upshot seems to be that it's not a question of if, but when, and in what form, should CBDCs be introduced in India. In order to remain internationally competitive and to ensure the digital and financial security, we have to adapt and develop CBDCs sooner rather than later. There are, however, genuine concerns over disintermediation and financial instability, and all precautions need to be taken to minimize and control these problems. Also, relatively quicker success will be achieved if CBDCs are designed to work in tandem with the current and planned future payments infrastructure, rather than substitute them. If the designs work well, CBDCs can be of help in many ways, including the possibility of minimizing the digital divide. There is a long journey ahead for this institutional reform in India and we need to make sure it contributes to our development process, rather than destabilize it.
Growth of MSME Sector and its Contribution to Exports of India
Small and Medium Enterprises (SMEs) is a significant growth driver for the Indian economy. The contribution of SMEs to the Gross Domestic Product (GDP) has increased from 13.8 per cent in 2016-17 to 14.9 per cent in 2017-18, which means that the share of SMEs in India's GDP has increased by 1.1 percentage points. This is equivalent to Rs 6 lakh crores per year or almost 1/3rd of total FDI inflows into the country. It also helps create more than 37 million jobs every year.
In a recent study, it was found that MSMEs in India will generate $1 trillion in revenues by 2025. The study further states that if this trend continues, the contribution of export to the Indian GDP would increase from 2.4 per cent today to 3.5 per cent by 2025.
Most of these small businesses are struggling with multiple issues such as lack of access to credit, weak infrastructure and poor domestic sales. While some have managed to overcome all these challenges, many others still remain underdeveloped.
However, there is a huge opportunity available for those who can manage to tap the market effectively. They need to be able to deliver quality products at competitive rates. In fact, they should also find ways to sell them across international borders.
The role of gst in the growth of small businesses -
The Goods and Services Tax (GST) has been one of the most important economic reforms undertaken by the government since independence. Since its implementation in July last year, the GST has had a positive impact on the entire economy. It has brought down the cost of doing business by reducing the burden of taxes and duties. At the same time, it has helped improve transparency and efficiency.
There are many benefits associated with GST. For instance, it enables the seamless flow of goods across different regions of the country.
As a result of the reduction in tax barriers, it becomes much easier for businesses to expand their reach and grow their revenue base. Moreover, it allows traders to save money and reduce costs. Also, the simplified procedures make it easy for even a newbie to operating within the framework of the GST regime.
India has implemented GST after a long wait of 8 years. Prior to its introduction, the tax system was highly complex and very difficult to understand. With GST, the situation has changed completely. Now, individuals and businesses are no longer required to deal with multiple sets of indirect taxes. They can now pay only one set of taxes instead of dealing with multiple levies. The indirect taxation structure has thus become simpler, and the overall process has become streamlined.
Moreover, GST has enabled an improved standardization of tax rates across various commodities. All goods are taxed at the same rate, irrespective of whether they are used domestically or exported. This makes it easier for companies to calculate their total taxable income and ensures that everyone pays their fair share of taxes. A few months ago, the government announced that it would be bringing in some changes to the GST framework. One of them was the decision to impose a cess on coal and iron ore. Another change was the inclusion of petroleum products under the ambit of GST. The current tax structure is expected to undergo some major changes once the next budget is unveiled. These developments are likely to improve the efficiency of the GST system, making it easier for businesses to operate within its framework.
With GST being implemented, India can hope to see an improvement in the overall conditions for SMEs. As we have seen, it has already played a key role in improving the efficiency of the domestic trade and manufacturing sector. Going forward, we can expect further improvements in the performance of the MSMEs as well.
Transparency is key to development of small and medium enterprises -
The Government has taken several initiatives to encourage the growth and development of Micro, Small and Medium Enterprises (MSMEs). Recently, the Cabinet Committee on Economic Affairs (CCEA) approved the National Policy on MSMEs, 2018. A number of steps have been taken to ensure transparency in public procurement.
Initiatives like the e-Marketplace, Make in India platform and Startup India programme has benefitted the MSME sector. Several schemes and policy measures have been introduced to help improve the overall competitiveness of the industry. The Government is committed to providing every possible support to the MSME sector.
How does transparency help micro, small and medium enterprises (MSMEs)?
As discussed earlier, transparency is a vital aspect of the business. This is especially true for the MSME sector. It is imperative for smaller units to ensure that they maintain complete transparency to avoid any kind of conflict of interest.
Several leading brands have come up in the country due to the efforts of the MSME sector. Many of these firms have achieved success through the promotion of transparency. By ensuring that their financial records are up to date, they are able to attract investors. They are also able to build trust among customers and other stakeholders.
What are the benefits of transparency?
One of the benefits of transparency is that it encourages competition within the same sector. This not only improves the efficiency of operations within organisations but also enables companies to achieve better results. It also helps in reducing the wastage of resources.
Transparency enables organisations to establish credibility with both buyers and sellers. As a result, they are able to do business with high-profile clients. Such large deals allow MSMEs to earn valuable publicity, which may eventually lead to an increase in revenue generation.
Another benefit of transparency is that it boosts the reputation of businesses. It also helps them in building strong relationships with suppliers. As a result, they are able to obtain raw materials at competitive rates. The Government has taken several steps to promote transparency.
How has this impacted the MSME sector?
Earlier, the MSME sector used to face numerous hurdles when it came to procuring essential supplies. Suppliers were reluctant to provide their services to smaller entities for fear of exploitation. Consequently, small businesses suffered losses, while larger ones gained additional profits. The Government, however, has taken several steps to address this issue. For instance, the e-Marketplace platform has enabled businesses to procure essential raw materials at competitive rates. The Make in India initiative has allowed small businesses to manufacture products at low costs. The Startup India programme has offered innovative solutions to small enterprises by enabling them to enter the global marketplace. All these initiatives have greatly benefited the MSME sector. They have encouraged entrepreneurs to adopt innovative methods of production and develop effective strategies for marketing their products.
The National Policy on MSMEs, 2018 -
The Government has recently approved the National Policy on MSMEs, 2018. This policy will go a long way towards facilitating the growth and development of the sector. Some of the key aspects outlined in the document include:
Development of a vibrant ecosystem for MSMEs
Strengthening of institutional mechanisms for the MSME sector
Improving the skills of entrepreneurs through various training programmes
Promoting entrepreneurship and innovation
Facilitating easy and timely access to finance
Providing suitable infrastructure facilities to enhance productivity and facilitate market access
Growth of the MSME sector -
Over the years the size and importance of the SSI sector have undergone a vast change since the planned development of the country started. The no. of SSI units over the years has increased in many folds including investment, output, employment and export. In the year 1973-74, there were about 4.16 lakhs of units consisting of both registered and unregistered with a production of Rs.7200 crores and giving employment to 39.70lakhs of people. In the year 1970-71, the no. of units have increased to 19.48 lakhs with an output of 155340 crores and creating employment for 125.30 lakhs of people.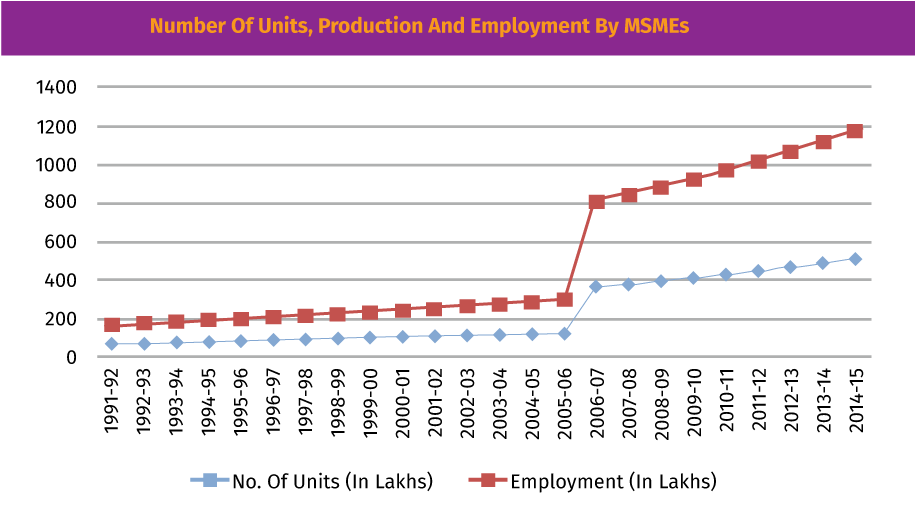 In the year 2002-03 particularly after the 3rd census of SSIs "s was conducted the composition of this sector somewhat depict a different picture.
The registered units which are reported by the registering authorities at the state level were not properly reflecting the closed and de-registered units.
In the third census, the number of units under the registered category reduced significantly whereas the unregistered units which were under reflected earlier have been realistically estimated on the basis of the sample survey. So the total number of units has arrived at 109.49 lakhs with a production of 3, 11,993 crores and generating employment for 260.21 lakh people. In the year 2005-06 the number of units has further increased to 123.42 lakhs with a production of 4, 76,201 crores and giving employment to 294.91 people.
The details are reflected in table 2 given below. In recent years the MSME sector has consistently registered a higher growth rate compared to the overall industrial sector in India.
During the first 4 years of the XI Plan, MSME Sector exhibited a growth rate of 13% on average, an impressive performance compared to most of the other sectors.
As per the 4th Census of the MSME Sector, this sector employs an estimated 59.7 million persons spread over 26.1 million enterprises. It is estimated that in terms of value, the MSME sector accounts for about 45% of the manufacturing output and around 40% of the total export of the country.
The major advantage of the sector is its employment potential at low capital cost. Establishment of specific Funds for the promotion, development and enhancing the competitiveness of these enterprises, notification of schemes for this purpose, progressive credit policies and practices, preference in Government procurement to products and services of the micro and small enterprises, more effective mechanisms for mitigating the problems of delayed payments to micro and small enterprises and assurance of a scheme for easing the closure of business by these enterprises are some of the other features of the Act.
We have seen from the above table and figure that the number of units of MSMEs has been consistently increasing over the years. It has been increased from 70.63 Lakh in 1991-92 to 510.57 Lakh in 2014-15. On the other hand, the number of employees has been increased from 165.99 Lakh in 1991-92 to 1171.31 in 2014-15. There is no negative growth rate of the number of units in the entire period. But in 2006-07 there is a sudden increase in the number of units from 123.42 Lakh in 2005-06 to 361.76 Lakh in 2006-07 and number of employment also increased from 294.91 in 2005-06 to 805.23 in 2006-07. The main reason behind this sudden increase in units is the enactment of MSMED-Act 2006 which brings reform in this sector to enhance productivity, employment, export etc.
Exports of MSMEs -

MSMEs are, at present, operating in a wide variety of sectors such as manufacturing, trade and services and thereby constitute a formidable component of the country"s industrial production. Over the year MSME reached a level on the optimum utilization of available domestic resources and produces quality products and services. The sector contributes much to the industrial growth of the country. The sector accounts for more than 90 of the per cent Industrial units in India and it has been increasing impressively for last many years. MSME had an impact on various issues of the economy such as industrial progress, entrepreneurship, job creation, economic empowerment etc. MSME made possible an inclusive and balanced growth. Around 50% of MSMEs are owned by rural people and hence increase the standard of living of people. (Katyal and Xaviour, 2015) When we talk about a country"s export, it is noticeable that MSME contributes 40 per cent of the total export. The current account deficit (CAD) has been subjected to hot debate during the third and fourth courter of the 2012 -13 financial year. The alarming decline in the CAD can be, to a great extent, arrested by promoting the MSME sector though CAD is influenced by many other variables like economic turndown. The data show that the MSME always shows an increasing trend in the contribution to the total export of the country. It has an increase from Rs. 71244 crores in 2001-02 to Rs. 855874 crores in 2015-16.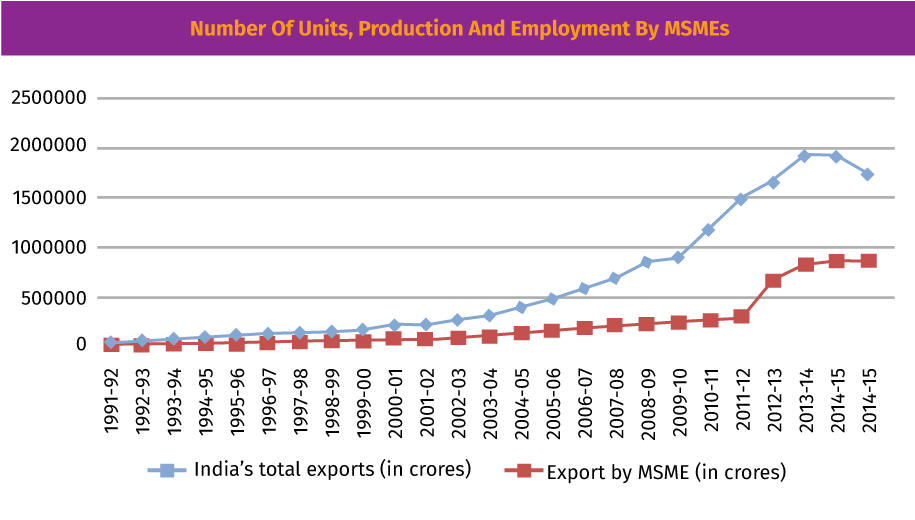 We have seen from the above table 2 that the total exports have been increasing at a positive rate. Total exports increased from 44042 crores in 1991-92 to 1717378 crores in 2015-16. On the other hand, the share of MSME exports in total exports of the country is also increasing at a positive rate. It has been increased from 13883 crores in 1991-92 which is 31.520 per cent of the total export to 855800 crores in 2015-16 which is 49.86 per cent. But we have noted that there is no impact of the new policy initiative (MSMED-Act 2006) on the total exports of the country as well as the exports of the MSME sector. The percentage share of MSME export to the total export fluctuates over the whole period but remain almost above 30 per cent except 2008-09 to 2011-12. After 2012 this has been increased to above 40 per cent and in 2015-16 it reached almost 50 per cent (49.86).
What does the future hold for the MSME sector?
The MSME sector is one of the most promising sectors in the country. According to the latest report released by the Ministry of MSMEs, the MSME sector is estimated to contribute about 35 per cent to India's GDP by 2026. Several policies have been introduced to help the sector grow and prosper.
This is definitely good news, considering that the sector has tremendous potential to drive the country's economic growth. The MSMEs sector is responsible for creating more than 37 million jobs annually. It is also responsible for generating nearly 44 per cent of the industrial output of the country. The sector offers immense opportunities for young graduates and professionals looking for career advancement.
MSME sector of India is today at the gateway of global growth on the strength of competitive and quality product range. However, facilitation from the Government is required to minimize the transaction costs of technology up-gradation, market penetration, modernization of infrastructure etc. In this paper, we have looked at the growth of the Indian Micro Small and Medium Enterprise sectors over the last twenty-five years. The MSME sector has often been termed the "engine of growth" for developing economies. We begin with an overview of this sector in India and look at some recent trends which highlight the development and significance of this sector vis-à-vis the Indian economy. We have analyzed the growth of MSMEs in a number of units, production performance, employment and export contribution. The MSME Development Act of 2006 is perhaps the most crucial of these recent policy changes. In the much talked SEZ Schemes the export-oriented Small Scale Industries are also getting the priority and the incentives through the scheme to set up their units. The clusters approach for the development of small and medium scale industries which provides the benefit of economies of scale apart from other benefits is the global approach to make the products internationally competitive. As per the National Knowledge Commission finding small and medium enterprises are more innovative than large firms. The huge potentiality of the Small and Medium industries with an enabling environment created through different policy measures will benefit this sector in archiving a higher growth including exports in the coming years.
The Government is committed to enhancing the productivity of the sector. It has introduced several measures to boost the national economy. We can look forward to greater progress in the days ahead.
India - A hidden powerhouse
At the end of the 2019, India's gross domestic product was estimated at US$2.5 trillion - it would have been higher had not demonetisation and GST disrupted it. It grew by 7.7 per cent in 2018. Its population of 1.3 billion people constitutes one-sixth of the world's total. According to World Bank estimates, India will overtake China as the fastest-growing economy globally by 2022.
In the previous five years (2014-18), India had registered double-digit growth with a low inflation rate of less than 4 per cent. In its last budget before the 2019 General Elections, the government allocated Rs 2 lakh crore for infrastructure development. The total expenditure on infrastructure in the past four years was over Rs 11 lakh crore.
According to an ASSOCHAM estimate, between 2017 and 2030, the Indian economy will grow at seven per cent annually. This growth is likely to be driven by rising consumption, investments and exports.
The current economic model of the country has three pillars: manufacturing; agriculture and services. While manufacturing accounts for only 17 per cent of GDP, it provides employment to more than 50 per cent of the workforce. Agriculture contributes 28 per cent of GDP but employs just 20 per cent of the workforce. Services contribute around 60 per cent of GDP but employ less than 40 per cent of the workforce. The focus of the government is to increase the contribution of manufacturing from 17 per cent of GDP to 25 per cent by 2025 and that of agriculture from 28 per cent to 30 per cent.
With regard to employment generation, the share of organised sector jobs has increased from 22 per cent in 2011 to 30 per cent in 2018. And the number of unemployed in the unorganised sector has come down from 18 million to 10 million during this period. The government is also taking steps to create more quality jobs through Skill Development and Start-up India programmes.
In terms of global competitiveness, India ranks highly in sectors like information technology, pharmaceuticals, biotechnology, chemicals and petrochemicals. It is also a major player in areas such as textiles, gems and jewellery. For instance, India is the largest exporter of readymade garments and is home to many innovative start-ups in various fields.
India is currently ranked 63 out of 140 countries in the Ease of Doing Business Survey conducted by the World Bank. But it is steadily improving its performance. The government has launched several initiatives to improve the ease of doing business, including GST, e-banking and online tax filing. The Modi government's reform agenda includes liberalising FDI and encouraging startups. Since 2014, foreign direct investment into India has grown from $37.6 billion to $52.4 billion in 2018. The government has also allowed 100 per cent FDI in the defence sector.
It has also initiated a Startup India programme and recently approved a new policy that aims to facilitate funding for these firms. The government has announced plans to set up National Aerospace Laboratories and a Defence Research and Development Organisation.
In the past, Finance Minister Arun Jaitley has spoken about the need for an 'eastern revolution' - similar to the western industrial revolution of the 19th century. He believes that a transformation in the eastern part of the country can help boost India's overall economic growth.
The government has focused on building infrastructure across the country. This includes roads, ports, airports, electricity transmission lines and gas pipelines. For this purpose, the government has spent billions of dollars on projects undertaken through public-private partnerships. The government has also embarked on an ambitious plan to build 100 smart cities and a high-speed railway network.
As a result, the construction industry is booming, with demand far exceeding supply. Housing prices have risen sharply, leading to concerns of an asset bubble. However, the government is working on ways to cool property markets. In the area of financial inclusion, the government has made significant progress. It has already surpassed its target of providing banking facilities to two-thirds of all households by 2020. As many as 35 crore bank accounts were opened under the Jan Dhan Yojana in the last five years.
The government has also taken steps to curb corruption and black money. It has introduced the Aadhaar system for identity verification and digitized land records. It has also implemented the Goods and Services Tax. These measures have helped bring greater transparency to the economy.
According to India's Central Statistics Office, the poverty ratio has declined from 47 per cent in 2004-05 to 26 per cent in 2016-17. Per capita income has grown from Rs 45,813 to Rs 75,522 during this period and rural poverty rates have declined from 49 per cent to 32 per cent.
In the education sector, the government has launched the Pradhan Mantri Kaushal Vikas Yojana to improve the quality of teacher training and research in higher education institutions. It is also focusing on skill development for graduates and has introduced a free digital learning platform called Saahas.
The government has also started several flagship programmes in health care. These include Ayushman Bharat, which aims to provide insurance cover of around Rs 5 lakh per family per year. Under this scheme, over 100 million families will get access to treatment for serious diseases.
There has been some criticism about the government's handling of the economy, especially regarding the slow pace of implementation of various schemes. This slowdown was primarily due to the disruptive impact of demonetisation and the roll-out of the GST regime.
However, the economy is expected to recover in the second half of the current fiscal year with a pick-up in private investment and exports. The government has said that it will implement the remaining parts of the GST law in the next few months. This should help stabilise the economy and boost investor confidence.
The path ahead for India -
Looking at the above figures, one is tempted to say that India has no real problems. However, there are issues.
One is the rising unemployment among educated youth. There are also concerns about the growing income disparity. The government has taken steps to address these challenges.
Another challenge is rising debt levels. Although the country has seen a reduction in its overall external debt, the corporate sector's debt has gone up. Furthermore, the ratio of public debt to GDP has crossed 70 per cent. This has made India vulnerable to any unexpected macroeconomic shocks.
The government has initiated several schemes to reduce dependence on oil imports and promote renewable energy sources. However, it needs to do more to improve the quality of basic infrastructures such as roads, railways, ports and airports.
The Modi government has rightly identified the education and health sectors as a priority area. According to a World Bank report, literacy rates in India have increased from 74 per cent in 2011 to 82 per cent in 2016. In 2015, the government launched a programme called Sarva Shiksha Abhiyan to ensure universal elementary education.
More than 90 per cent of schools in India now provide free mid-day meals, and nearly 50 million children benefit from this initiative. The National Health Protection Scheme, which started in September 2018, seeks to provide insurance cover of Rs 5 lakh for every poor family. The government has also launched the Pradhan Mantri Matru Vandana Yojana to provide affordable housing for all Indians by 2022. To enable this, the government has waived stamp duty on houses costing less than Rs 7 lakh.
The government has also introduced an Aadhaar-based payment system called BHIM to promote cashless transactions. It has also expanded the scope of the UPI (Unified Payments Interface) by allowing more banks to participate. The government is taking steps to develop road and rail infrastructure to aid economic activities. It has also increased power tariffs for commercial users to encourage them to shift towards cheaper solar and wind energy.
It has taken several other measures to boost the economy. These include raising customs duties on several products, cutting corporate taxes and reducing import and excise duties. These initiatives have helped push up the stock market.
Despite all this, there are still challenges facing India. First, the country's tax revenue is insufficient to fund its spending requirements. Second, India suffers from a shortage of skilled manpower and a lack of infrastructure. Third, it lags behind China in terms of quality of life indicators such as infant mortality rate and life expectancy. The government has initiated several programmes to improve these areas. For instance, it has allocated Rs 1.3 lakh crore for infrastructure development in the 12th Five Year Plan period (2017-22). Similarly, it has allocated Rs 1.5 lakh crore for education in the same period. It has also launched a National Nutrition Mission to tackle malnutrition among women and children. It plans to allocate Rs 100,000 crore for the scheme over the next five years.
The government has also announced several schemes to promote small and medium enterprises. These include the Mudra loans, which have benefited over 20 million entrepreneurs. In addition, it has reduced the Corporate Income Tax rate to 25 per cent from 30 per cent. The government has also rationalised the Goods and Services Tax and simplified its procedures. The Indian economy is projected to grow at 8.3 per cent in 2020-21, the fastest pace among major economies. It is also expected to expand at 8.7 per cent in 2022-23, aided by higher investments and exports. The government is also focused on creating jobs. It has pledged to create 10 million new positions in the formal sector. This will be achieved by increasing the share of manufacturing in the gross domestic product from 17 per cent to 25 per cent by 2025. The government has also promised to provide housing for all by 2022. According to the Real Estate Regulatory Authority Act, passed in May 2017, developers are required to register their projects within 15 days of receiving buyers' payments. Any developer who fails to comply with this rule faces a jail term of up to three years and/or a fine of Rs 1 lakh.
The government is also taking steps to improve the quality of education and healthcare. It has introduced several measures to boost innovation and entrepreneurship. The Startup India and Standup India programmes have received tremendous responses from young Indians.
India's future -
The Modi government has clearly laid out a vision for transforming India into a global superpower. It has shown a strong commitment to achieving this goal. This is evident from the fact that it has retained most of the key ministers and officials from the previous government. This ensures continuity in policymaking, thereby boosting investor confidence.
The government has also worked hard to meet its revenue targets. Its efforts have paid off, as its tax revenues have exceeded expectations in each quarter since the beginning of 2018-19. With inflation under control, the central bank feels comfortable in lowering interest rates. Lower borrowing costs should help revive private investment, which has slowed down since 2014.
The government has also taken steps to curb black money and corruption. It has introduced laws to regulate cryptocurrencies such as bitcoin. It has also launched a programme called Operation Clean Money to detect unaccounted wealth.
The government has also launched several flagship programs to improve education, health and social welfare.
It has set up the National Skill Development Corporation to train people in digital skills and launched several initiatives to promote innovation and entrepreneurship. It is also trying to improve the quality of basic infrastructures such as roads, railways and ports.
What remains to be seen is whether the Modi government can sustain its momentum over the long term.
Although India has succeeded in improving its GDP growth numbers, it is still one of the poorest countries in the world when compared to China. For example, China's per capita GDP is around $10,500, while India's is just $1,900. But this gap is gradually narrowing. Moreover, China's population is ageing faster than India's, making its labour force smaller. This limits the scope of employment opportunities.
Another concern is that India's gross national savings are low. This means the country cannot afford to invest enough in infrastructure. It also raises the risk of another economic crisis like the one in 1991. To overcome these challenges, the government will need to focus on two things:
It must continue to build infrastructure and strengthen institutions. This will help raise productivity and enhance the country's competitiveness.
It needs to increase investments in education and health so that it can transform into a knowledge-based economy. This will help spur innovation and facilitate the creation of new industries. The Modi government has focused on creating an environment conducive to business. It has created a favourable climate for foreign investment and liberalised trade policies. It has also worked hard to improve the ease of doing business in India.
According to the World Bank's Doing Business Report, India has improved its ranking by 24 places in the last three years (2014 to 2018). The country's rank went from 130 in 2014 to 77 in 2018.
It is also ranked amongst the top five countries in the areas of protecting minority investors and enforcing contracts. The Modi government has also taken several steps to reduce red tape and promote transparency in the banking sector. It has launched a number of programmes to encourage entrepreneurship and promote technology adoption across various industries.
As a result, annual FDI inflows have increased substantially. From $30 billion in 2013 to $62 billion in 2017, the total foreign direct investment flows into India have risen sharply. The government has also continued to maintain a stable political environment. This helps attract investments and provides stability for businesses. It has also launched several flagship programmes to improve the quality of life.
These include the Pradhan Mantri Jan Dhan Yojana, which aims to provide financial inclusion; the Swachh Bharat Abhiyaan, which encourages cleanliness; and the Smart City Mission, which focuses on improving urban governance. The government has taken several steps to improve the education and healthcare sectors. It has been successful in expanding access to primary education. It has also launched a number of schemes to improve sanitation facilities and reduce infant mortality rates.
The government has also launched several schemes to promote affordable housing. These include the PMAY (Prime Minister Awas Yojana), which is aimed at providing housing for all citizens; the Atal Mission for Rejuvenation and Urban Transformation, which is focused on improving basic infrastructure in cities; and the National Housing Bank, which works to promote credit flow for housing.
"Another challenge is that the government's fiscal deficit target of 3.3 per cent of GDP may not be met. This is because the government has failed to contain its expenditure. It has incurred a higher-than-budgeted expenditure due to rising non-plan expenditures."
The government has also launched several initiatives to improve the quality of basic infrastructure. These include building roads, railways and ports, and developing smart cities. The government has also launched the Smart Cities Mission. Under this scheme, it plans to develop 100 smart cities across India. Each city will be developed using futuristic technologies. The government has taken several initiatives to boost the economy. These include increasing customs duties on certain products, cutting corporate taxes and simplifying procedures for investing in India. For instance, it has simplified the Foreign Investment Promotion Board (FIPB) approval process for foreign acquisitions worth up to $800 million. It has also lowered the minimum capital requirement for startups from Rs 50 crore to Rs 25 crore.
The government has also launched a new bankruptcy law that will help resolve insolvency cases quickly. The government has also taken several steps to improve the quality of education and healthcare. It has launched several schemes to promote innovation and entrepreneurship.
It has also launched a programme called Startup India to promote start-ups and encourage innovation. The government has allocated Rs 5,000 crore for this initiative.
The government has also launched the Pradhan Mantri Matru Vandana Yojana to provide affordable housing to all Indians. It has allocated Rs 200,000 crore for this scheme over the next five years.
It has also launched the Pradhan Mantri Gram Sadak Yojana to improve road infrastructure in rural areas. It plans to spend Rs 57,000 crore on this scheme over the next five years.
These initiatives have helped boost investor confidence. They have led to higher FDI inflows in India.
But there are some risks too. One challenge is that India's tax revenue is insufficient to fund its spending requirements. This puts pressure on its budget deficit.
Another challenge is that the government's fiscal deficit target of 3.3 per cent of GDP may not be met. This is because the government has failed to contain its expenditure. It has incurred a higher-than-budgeted expenditure due to rising non-plan expenditures. The current account deficit has widened sharply in recent years. This poses a significant risk to the rupee's value against other currencies.
Despite this, the future looks bright for India. It is one of the few countries in the world that can hope to become a global superpower.
Media
"InvestOnline strives to share knowledge and actionable strategies to manage money smartly. Read our blog and latest articles to gain valuable insights in the world of finance."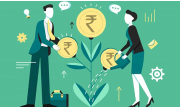 5 Top performing equity funds you can bet on for higher returns
The year 2021 belonged to equity funds with markets bouncing sharply from the lows seen in 2020. Along with equity markets, equity mutual funds have delivered returns that have kept investors smiling....
Read More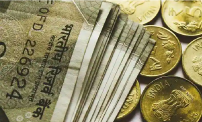 How international MFs investment provides exposure to global markets
"The Indian mutual funds have been very active in investing abroad. The main reason for such large-scale investment by the indian financial institutions is the low-interest rates offered by the domestic banks. These funds have also found it easier to invest in the...
Read More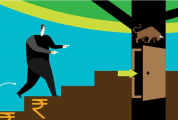 Why should your mutual fund SIP frequency be: daily, weekly or monthly?
This is a question one gets asked a lot. This depends upon the frequency of the investor. You can make your own decisions based on what works for you. But here are some facts to consider when deciding how often to invest your money...
Read More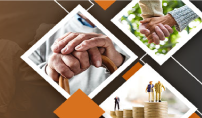 Retirement Planning - An important aspect of life that is often ignored
Many people never give retirement much thought. It's probably the last thing on someone's mind, especially if they're in their late thirties or early forties. People frequently believe that they have a long way to go and that retirement planning should be done just when they are close to retiring. This is misconception....
Read More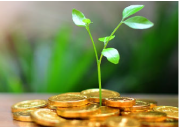 Why you should invest in gold?
This is an obsession that Indians seems to have with gold it kind of dictates someone's status. Also, Gold id used as collateral during on emergency. But, owning gold does not do much for your financial independence...
Read More
Market Update
Fund Performance - Large Cap
| | 1yr | 2yr | 3yr | 5yr | 7yr | 10yr |
| --- | --- | --- | --- | --- | --- | --- |
| KOTAK BLUECHIP FUND (G) | 17.33 | 41.67 | 16.30 | 13.40 | 11.36 | 14.25 |
| PGIM INDIA LARGE CAP FUND REG (G) | 10.90 | 33.96 | 11.89 | 10.41 | 9.21 | 12.96 |
| IDFC LARGE CAP FUND REG (G) | 18.86 | 38.39 | 14.81 | 12.91 | 10.21 | 12.40 |
| CANARA ROBECO BLUECHIP EQUITY FUND (G) | 15.76 | 37.62 | 18.05 | 15.49 | 12.46 | 14.43 |
| BNP PARIBAS LARGE CAP FUND (G) | 12.47 | 32.21 | 14.77 | 12.27 | 9.63 | 14.41 |
Fund Performance - Mid Cap
| | 1yr | 2yr | 3yr | 5yr | 7yr | 10yr |
| --- | --- | --- | --- | --- | --- | --- |
| PGIM INDIA MID CAP OPP FUND REG (G) | 35.25 | 71.49 | 32.10 | 18.36 | 15.27 | - |
| EDELWEISS MID CAP FUND REG (G) | 25.66 | 56.97 | 22.90 | 16.49 | 14.34 | 20.67 |
| BNP PARIBAS MID CAP FUND (G) | 19.50 | 47.72 | 20.97 | 13.15 | 12.90 | 18.76 |
| CANARA ROBECO EMERGING EQUITIES REG (G) | 22.52 | 45.30 | 18.79 | 15.09 | 15.28 | 21.16 |
| AXIS MIDCAP FUND (G) | 23.38 | 43.87 | 22.77 | 19.37 | 15.17 | 20.33 |
Fund Performance - Small Cap
| | 1yr | 2yr | 3yr | 5yr | 7yr | 10yr |
| --- | --- | --- | --- | --- | --- | --- |
| QUANT SMALL CAP FUND (G) | 57.82 | 108.08 | 36.60 | 21.73 | 17.75 | 15.15 |
| KOTAK SMALLCAP FUND (G) | 36.44 | 76.29 | 31.35 | 18.60 | 18.03 | 20.78 |
| EDELWEISS SMALL CAP FUND (G) | 37.04 | 70.04 | 29.46 | - | - | - |
| CANARA ROBECO SMALL CAP FUND REG (G) | 57.21 | 80.92 | 32.35 | - | - | - |
Fund Performance - Tax Saving
| | 1yr | 2yr | 3yr | 5yr | 7yr | 10yr |
| --- | --- | --- | --- | --- | --- | --- |
| IDFC TAX ADVANTAGE REG (G) | 31.19 | 61.79 | 19.90 | 16.32 | 13.60 | 18.03 |
| QUANT TAX PLAN (G) | 45.46 | 81.97 | 34.34 | 23.79 | 21.67 | 19.69 |
| AXIS LONG TERM EQUITY FUND (G) | 12.84 | 33.37 | 16.15 | 14.71 | 11.98 | 18.54 |
| CANARA ROBECO EQUITY TAXSAVER FUND REG (G) | 20.29 | 44.51 | 20.03 | 17.33 | 13.25 | 15.90 |
| BNP PARIBAS LONG TERM EQUITY FUND (G) | 9.44 | 31.66 | 14.16 | 11.55 | 9.19 | 14.52 |
Know More